We will probably never ever stop talking about guitars here at The Fellows of Acoustics. So if anyone has something interesting to say about the most beautiful instrument in the world, we listen. And that is why we selected five podcasts.
1 Gitaarmannen (Dutch)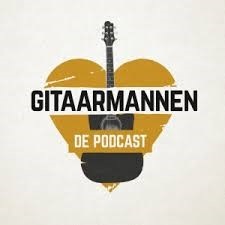 Made in Holland by Ed Struijlaart. He started it to promote his theatre tour, but now that has come and gone, what remains is his podcast. If you understand Dutch it is great fun to hear Paskal Jakobsen talk about his first guitar, Spike (Direct) tells us which pick he prefers, Rob Winter spills the beans about his adventures with Marco Borsato and Jaap Kwakman of the 3J's explains why he can't live without his Lowden guitar.
That joy of listening to this podcast is mainly due to host Ed Struijlaart, because you can tell straight away that this man is somewhat possessed. Fun fact: he bought a Blueridge guitar here at TFOA and wrote his biggest hit on it.
In addition to being a great singer and guitarist, Ed is an awesome host who makes sure that guitarmen and women talk freely about what playing guitar means to them.  
Can be heard on his website and seen on YouTube
2 The Fretboard Journal

Want to know more about the very best guitars in the US? Then the Fretboard Journal is the  place  to  be. In the US they call the absolute best of the best in the guitarworld:  'boutique'.  And such, this is  best described as a 'boutique' podcast that by now has hundreds of interesting conversations with the likes of Richard Hoover of Santa Cruz, Dana Bourgeois  and many, many others. Not only do luthiers get a stage here, professional  players such as Julian Lage and Al Petteway also tell in great detail about their likes and dislikes and share a lot of in depth knowledge.
More at www.fretboardjournal.com
3 Rig Rundown

How do Phil X (Bon Jovi), Roger Waters, Tom Morello (Rage against the Machine, E-street Band) The Edge, KT Tunstall and hundreds of other world-famous guitarists and bassists get their stage sound? How do they get their amps to work just as good or even better in a stadium than they do on an album? Rig Rundown of Premier Guitar provides answers to those questions.
From acoustic to deafening metal: this podcast serves all because all players talk with equal  enthusiasm about their very best ingredients that help to create the sound they are proud of.
More often than not you hear the musicians themselves, but sometimes their techies provide you with even more info, straight from the professional kitchen. That makes Rig Rundown a convenient and quick way to see and hear the secrets behind hundreds of world-famous  guitarsounds..
Listen through Spotify and watch through Premier Guitar.
4 Chasing Tone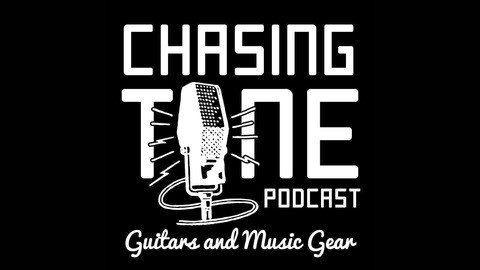 Trying to find that Sound? To get it you obviously need new  pedals,  amplifiers, and  guitars!  This podcast is about all the gear you will ever need, because Brian, Blake and  a wide array of guests will talk you through the most important innovations in just half an hour. This will definitely help you in your search for 'The Tone'.
Especially because Chasing Tone also answers questions and provide listeners with lots of Do-It-Yourself Tips. So just by listening you learn a lot about all kinds of buttons, switches and cables.
Since they have been doing it for years, this podcast also provides you with a lot of inside info about what's currently for sale, what is and is not working, and what the gearmakers up to in the near future.
Listen through Spotify
5 Acoustic Tuesday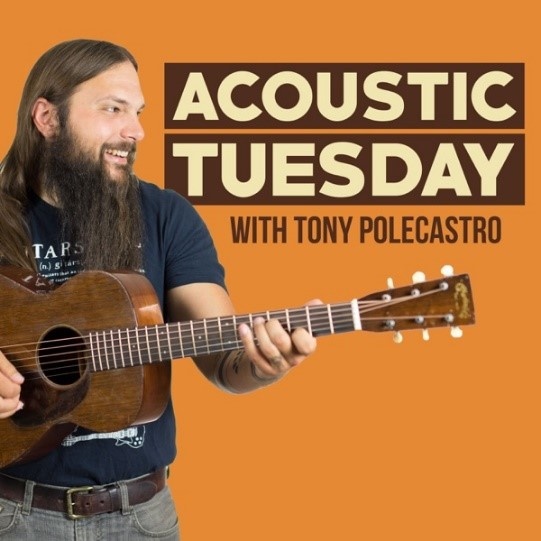 Tony Polecastro is an absolute guitar fanatic who teaches thousands of GuitarGeeks online in the United States. Every week he hosts his show: Acoustic Tuesday during which he talks about just about everything that has anything to do with playing  acoustic guitar. From capo's and guitar straps, to folk-artists you have to listen to, and from the most expensive droolworthy guitars to great buying tips for your very first guitar on a budget- Tony covers it all in his podcast. A really, truly inspiring hour of guitar talk after which the only thing you want to do is pick up your acoustic guitar… or by a new one.
Listen to and view via Spotify and Acoustic Life
Are you listening to other podcasts that are worth while? Let us know in the comments below.