Whether you strum some chords to accompany your singing or fingerpick complete melodies; for all styles and players there is a guitar that fits his or her needs best. But the number of types and models can be somewhat overwhelming. Let us help you in the right direction.
Dreadnought
By far the most popular model and we could not agree more. With a good  dreadnought  you can play anything! More than a century ago,  the builders at Martin were looking for a guitar sound that did not get lost in an orchestra or band. They decided to make the guitar body a bit bigger and the neck slightly longer. The result reminded the creators of a battleship and this model was named accordingly because a dreadnought was known only to the Navy until 1916.  An anomaly at the time, but now a standard for many guitar builders. What does a dreadnought sound like? In one word: Big! Are you in pursuit of an all-rounder that sounds great out of the box and will grow with you over the years? Take a look at a the classic Martin D18: pretty much the 'Mother-of-all dreadnoughts'
Great to strum chords, but separate notes in  bluegrass  and  fingerstyle will ring like a bell. The size can be somewhat demanding, depending on your posture. And if you like playing on the couch at home, a  dreadnought may get in the way. For this, the smaller OM Parlor or guitars are better suited.
Parlor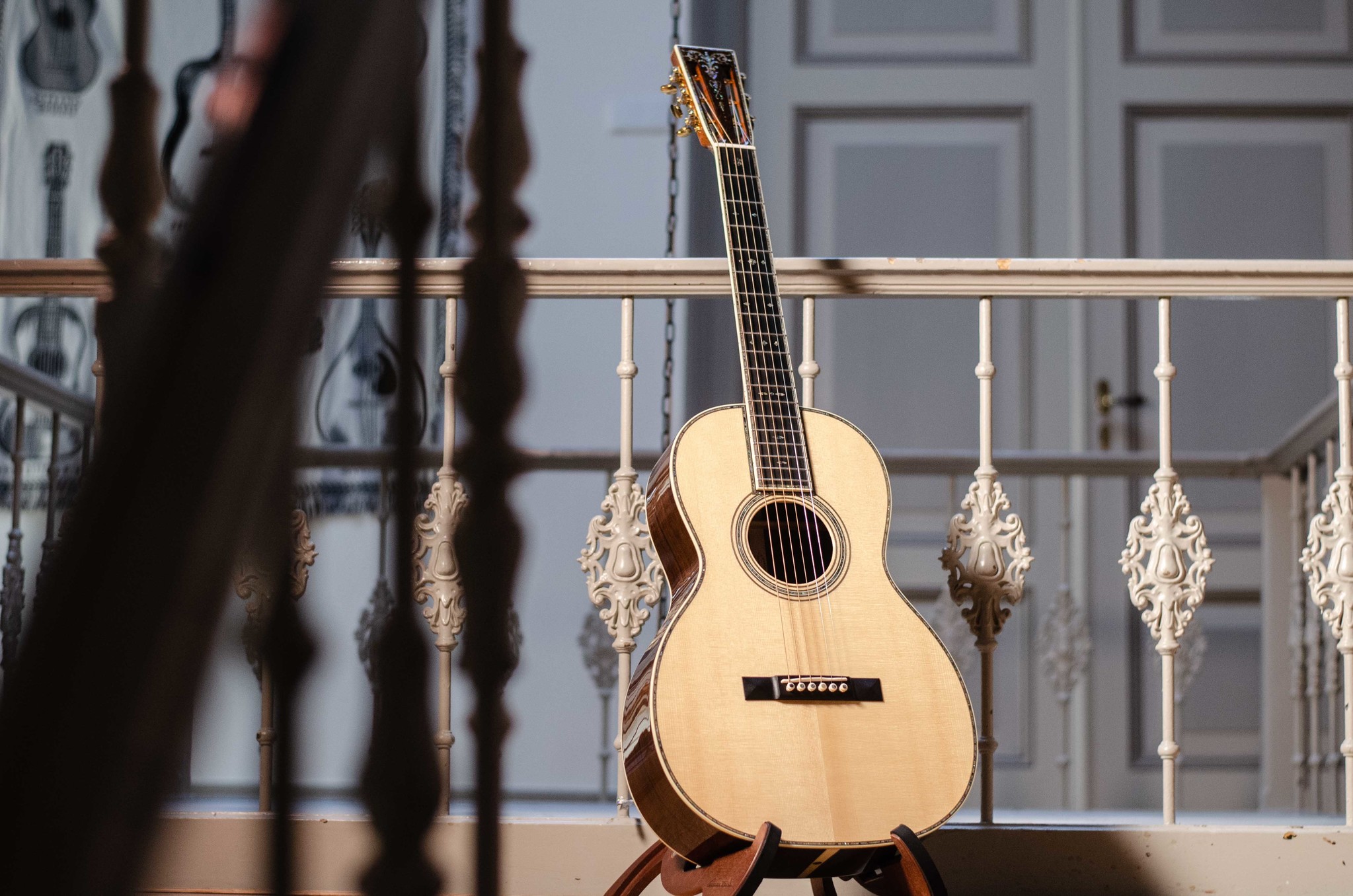 Also known as: O/OO and Parlour (United Kingdom)
If you compare guitars to dogs parlor-guitars are just like Jack Russell's: small, fierce, cheeky bastards with a lot of character and tons of fun are guaranteed! Because of its smaller a parlor-guitar size is your ideal playmate at home on the couch. Is it just a practice guitar? Definitely not! In the studio and on stage, the smaller body and mostly shorter neck deliver a very distinct sound. Loud, a lot of projection, with more emphasis on the mid-range than the low end. Grab a  parlor like this one from Eastman and '30s,  blues,  folk  and  traditionals come to mind immediately.
OM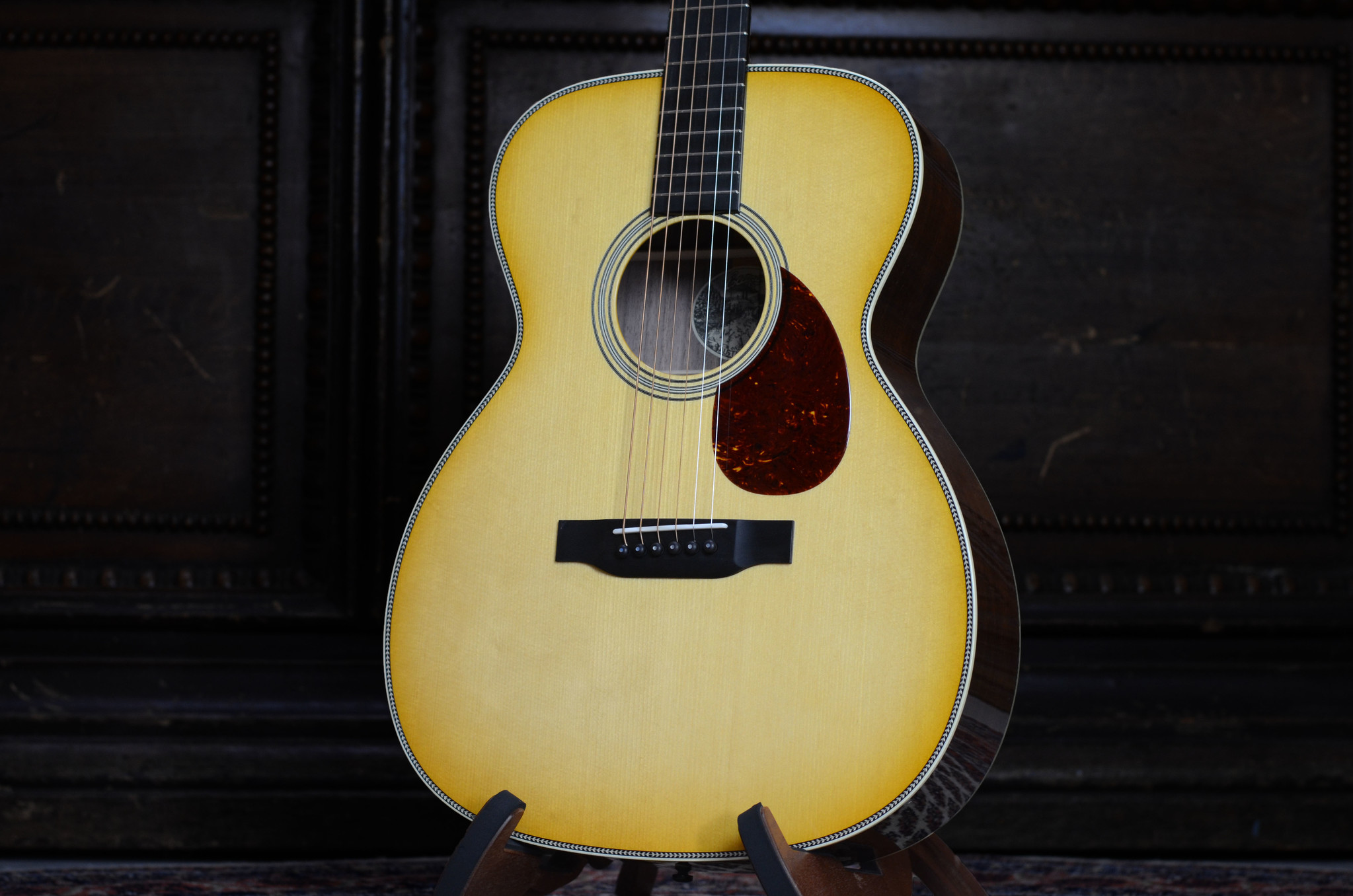 Also known as: OOO,  (Grand)Concert
Due to the enormous success of the dreadnought, the  Orchestra  Model (OM) disappeared into the background for some decades. But thanks to the likes of Eric Clapton and  John Mayer, the model now has had a glorious comeback. And we get it! Because an OM offers the perfect middle ground between a dreadnought and a parlor. Great to play some chords, fantastic for  fingerpicking and dream for blues.  With an OM you get all of that  wrapped in a very comfortable size. Compared to a dreadnought an OM  offers just a bit more finesse, so it should be no surprise we see a lot of female guitar players opting for an OM. If you are looking for an OM there is plenty to choose from, such as a slightly longer or shorter neck, more  or less string spacing an a sheer endless variety of tonewoods. In short: there is an OM out there that will suit everyones needs.
Want to know more about the difference between an OM and anOOO? Watch this video from Martin  Guitars:
Jumbo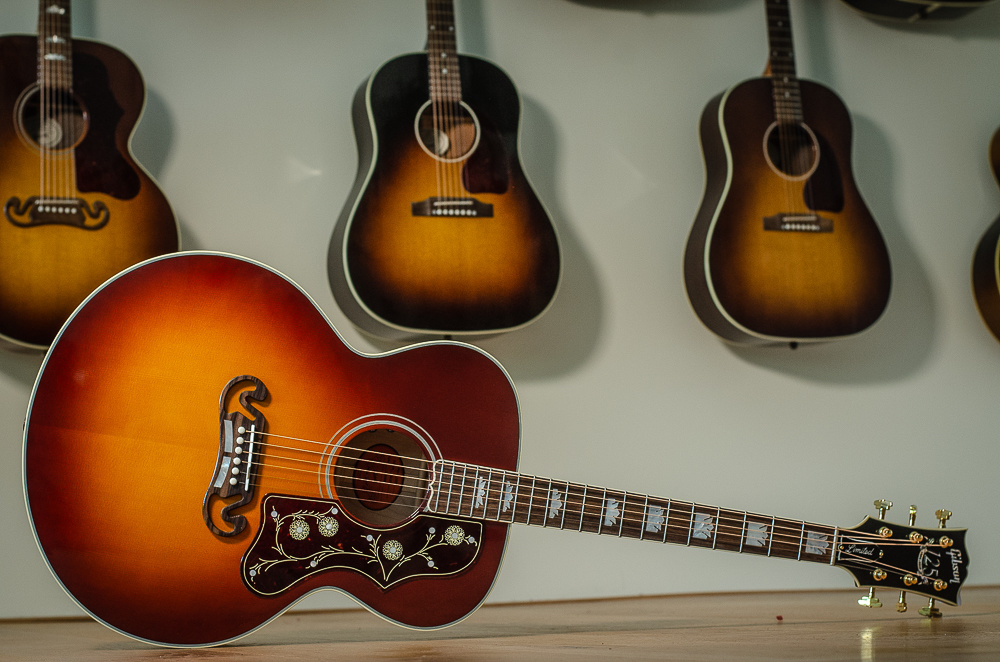 After the dreadnought was invented, the search for more volume from a guitar continued. With no amplifiers available, the makers at Gibson opted for an even bigger body. Low and behold in the year 1946: the Jumbo! Soon followed by the SUPER Jumbo.
Jumbos are real showstoppers: if you see one, you have to look at it. And then look some more. As far as sound is concerned, the Jumbo  offers something unique. Due to its enormous body and the sheer amount of wood that goes with it, the guitar sound is not just loud, but nicely wide instead. As a result, the sound of a Jumbo often fits wonderfully in the mix. So even though the size and looks of a Jumbo naturally take up center stage, in a modest role as an accompanying instrument the Jumbo really shines.
Grand auditorium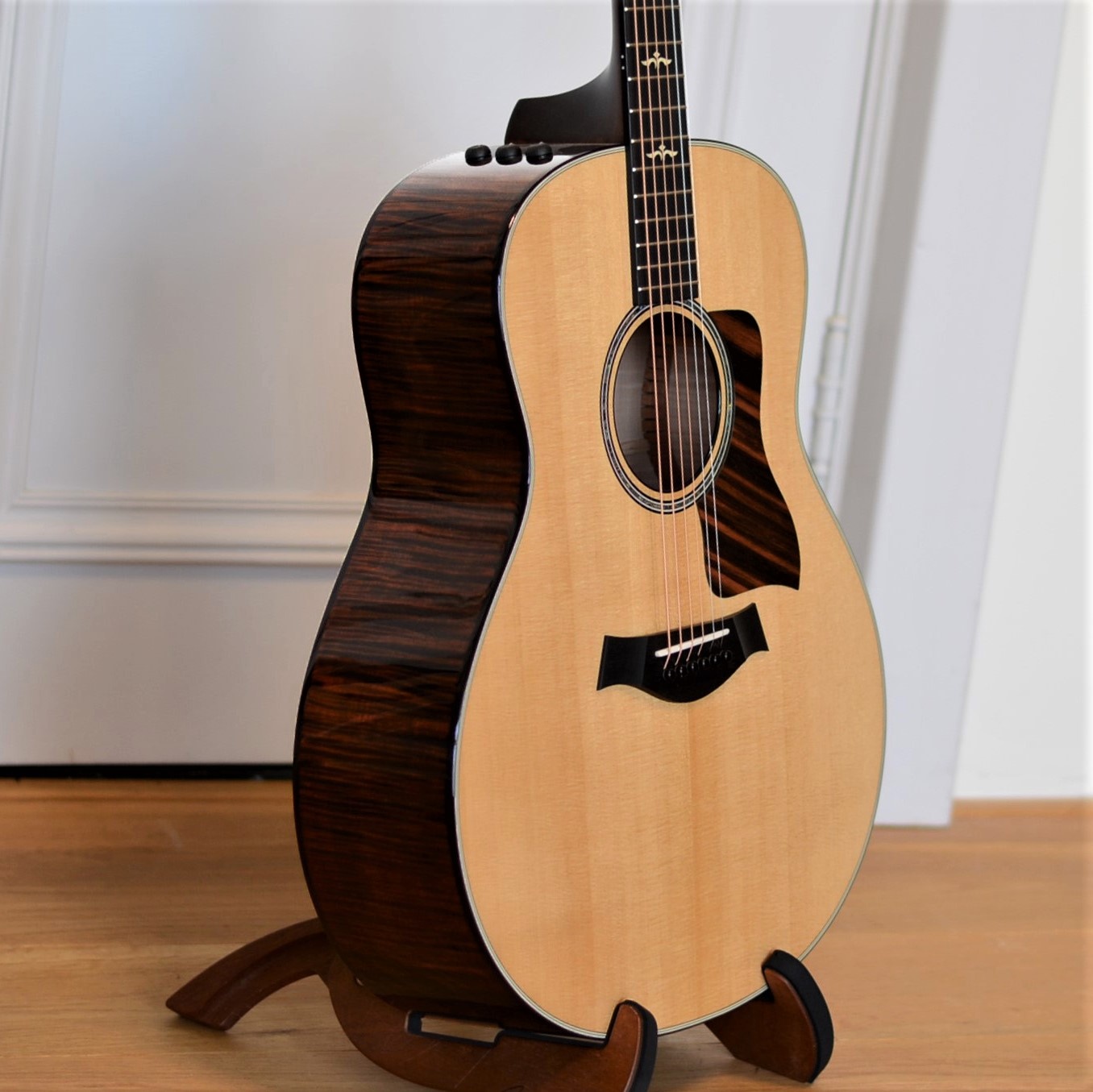 Also known as: Fmodel,  A-model
Claimed to be developed by Taylor as the ultimate all-rounder,  because  a Grand Auditorium is slightly smaller than a dreadnought, but just a touch bigger than an OM. And that's how they sound: like the best of both worlds. The model has now been adopted and  developed by  numerous other builders. Like the  Australian  Maton and Czech Furch.
We are very taken by the spin the luthiers at Lowden have given this model.
Many people describe the sound as 'modern'. So great for pop songs, jazz, fingerstyle  instrumentalists and singer-songwriters. Slightly less suitable for and blues. In addition to a parlor or an OM, you could also look at a slope shoulder for something more traditional.
Slope shoulder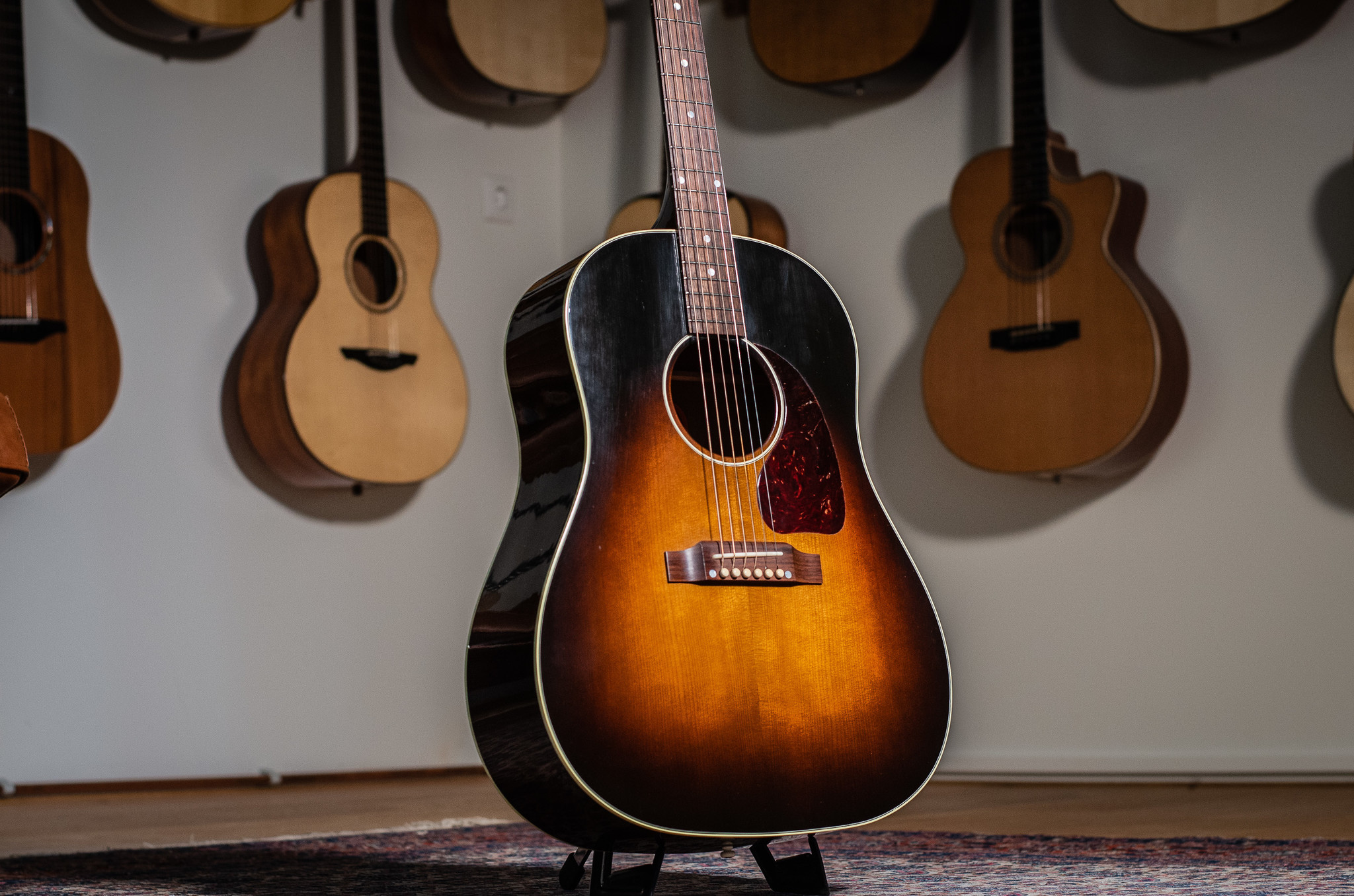 Which guitar suits me best? Maybe the answer is 'blowin' in the wind'. Bob Dylan played that  song  on a slope shoulder guitar. The model was conceived in 1942 and created by Gibson with the J45 as the standard model. The number refers to the price at the time: $45.
The model has stood the test of time very well and is gaining popularity among singer songwriters. Probably thanks to those gorgeous round shoulders and often stunning  sunburst. Together they make a slope shoulder stand apart from a 'regular' dreadnought. Worth pointing out that Gibson  also  makes  12-fret  slope  shoulders to add a touch of extra playability.
Have you been looking for a dreadnought and still haven't found what you are looking for? Try a slope shoulder. It might just be the one for you.
Looking further?
In the left column of our website you can search through hunderds of guitars not only by brand, but also by model.
We hope this information will help you on your way to your  guitar. Do you want to know how a model sounds and plays? Feel free to visit The Fellowship of  Acoustics.
Coffee and over 800 guitars are sitting here ready for you!