Maarten Dispa - 02 / Sep / 2022
Boutique Guitar Showcase | The Netherlands
The traveling collection of unique, world-class instruments made by the best luthiers around is back on tour. We're proud to announce our fourth consecutive year of hosting their show in The Netherlands, don't miss out!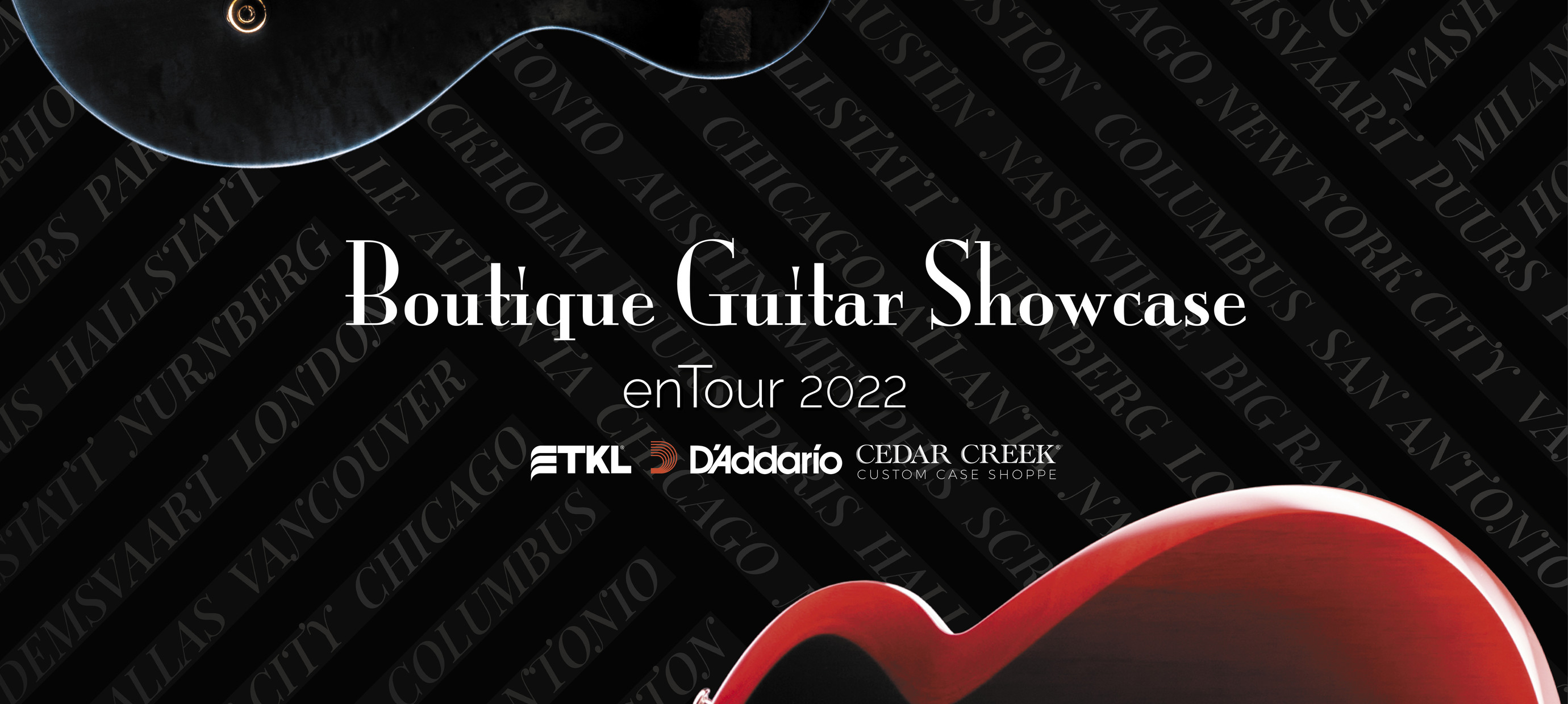 The NAMM Show
Jamie Gale, lover of all things good and guitar-nerd deluxe, has a knack for finding luthiers making extraordinary instruments. Instruments we'd now deem as 'boutique'.
At the world-famous NAMM show in Anaheim, these builders were trying to get the recognition they deserve only to be snowed under by big brands with flashy stalls. Usually they ended up tucked away in a corner. Jamie was one of the few (and the one crazy enough) to make the effort of visiting every square inch of the show in search of these boutique builders. Eventually, NAMM realised they needed a place where these instruments could be put in a spotlight. They reached out to Jamie and voilà, the Boutique Guitar Showcase was born. 
ENTOUR 2022
To fulfil the demand of store-owners wanting such an experience for their own customers, Jamie and his family travel the world every year with an RV filled with guitar-cases and local cuisine picked up along the way. This years tour spans over 25 cities and 10 countries and we're proud to be one of them. For just one day, the 22nd of October, these guitars will be stalled out through our store like a temporary exhibition in a museum. Jamie, as well as our sales-team, will be ready to answer all the questions you have about these beauties and nerd out! 
To give you an impression of the show, Rhett Shull made this great video at Righteous Guitars of the BGS there in 2018.
Try before you buy
The instruments on show aren't just to please the eye, they're meant to be played, felt and smelt! Most of these luthiers have long waiting-lists and rarely have stock in shops due to a high demand and a meticulous building process. The Boutique Guitar Showcase offers a rare opportunity to play these instruments you've seen online and even purchase one. If a few specs aren't to your liking, we can even reach out to the builders to get a custom-order in the works. 
To give you a small impression of what's to come without spoiling the fun, here are some shots from the guitars that are currently on show on the American leg of their tour.