Erik Bogaards - 08 / Sep / 2022
Captivating Koa!
Super sustainable, dazzling looks, carrying a crystal clear and warm sound with a promise to open up over time: that's koa.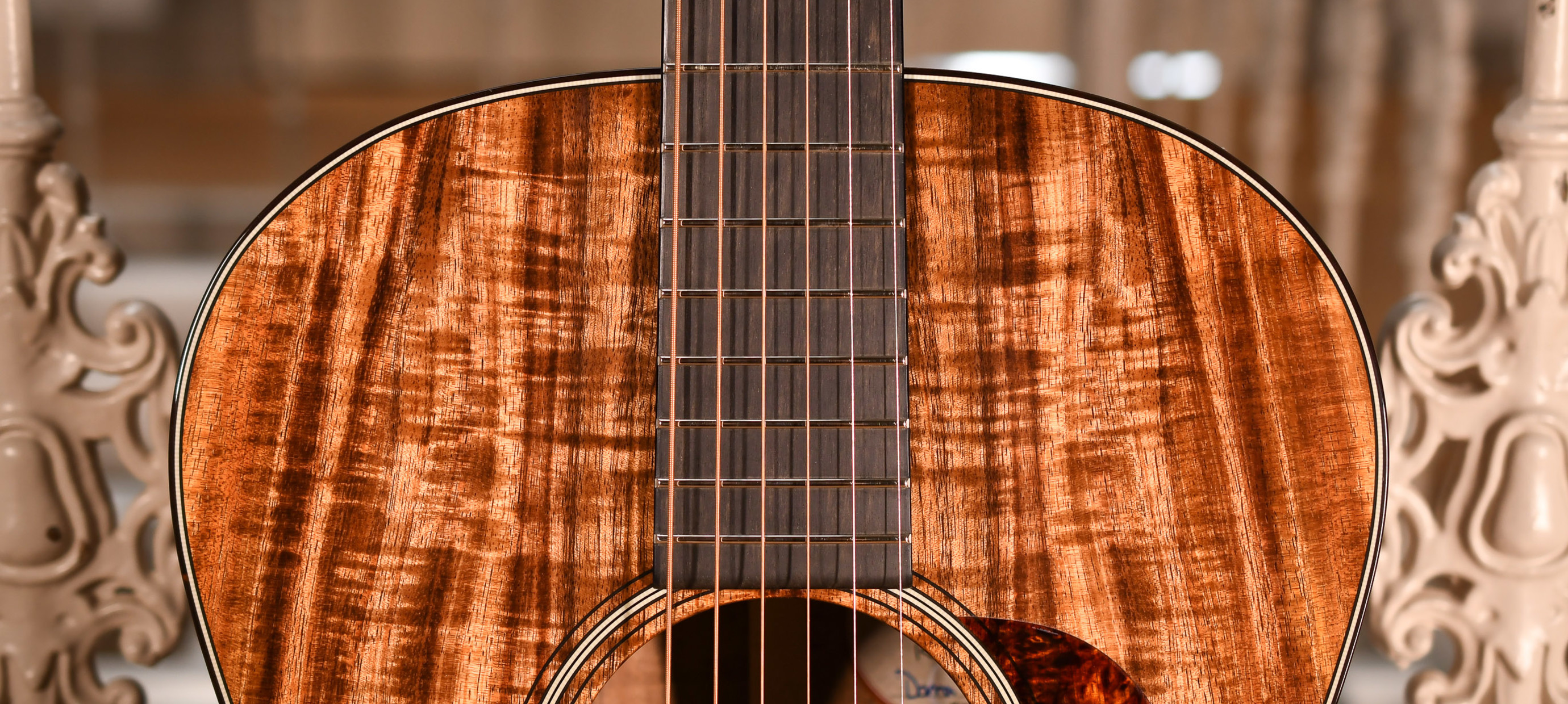 Thanks to Taylor and some other luthiers, a beautiful tonewood is back in the spotlight: koa. This species only grows in Hawaii and when Hawaiian music was popular in the 20's of the previous century, some well known luthiers cleverly responded. So Martin made an all koa series 018 models. And yes: we got one!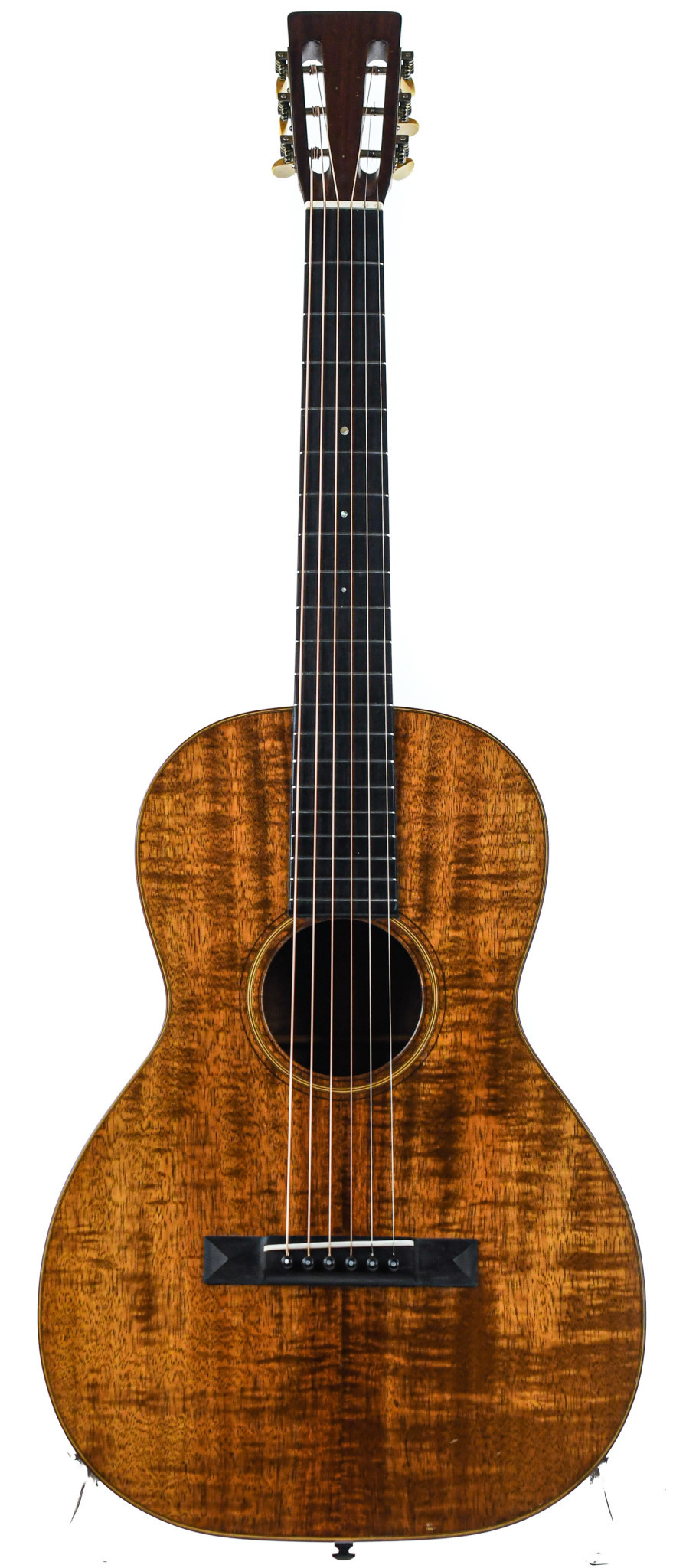 Hawaiian music lost some of its momentum, pushing koa more to the background as a tonewood. Fortunately, it did not disappear completely because, typical Hawaiian instruments like the ukulele have been made from koa for decades. 
Beautiful tonewood
Koa is a very interesting wood for instrument builders who love the wild and unique grain paterns which sometimes remind us of a fine surf spot somewhere near Honolulu. These paterns give every koa guitar a completely unique and distinct look. In addition, koa offers  a rich, warm sound with a crystal clear, sparkling high. The low end is there from the beginning, but the beauty of koa is that that part of the sound develops further over the years.  Koa can still surprise you after playing it for years with an ever deeper sound.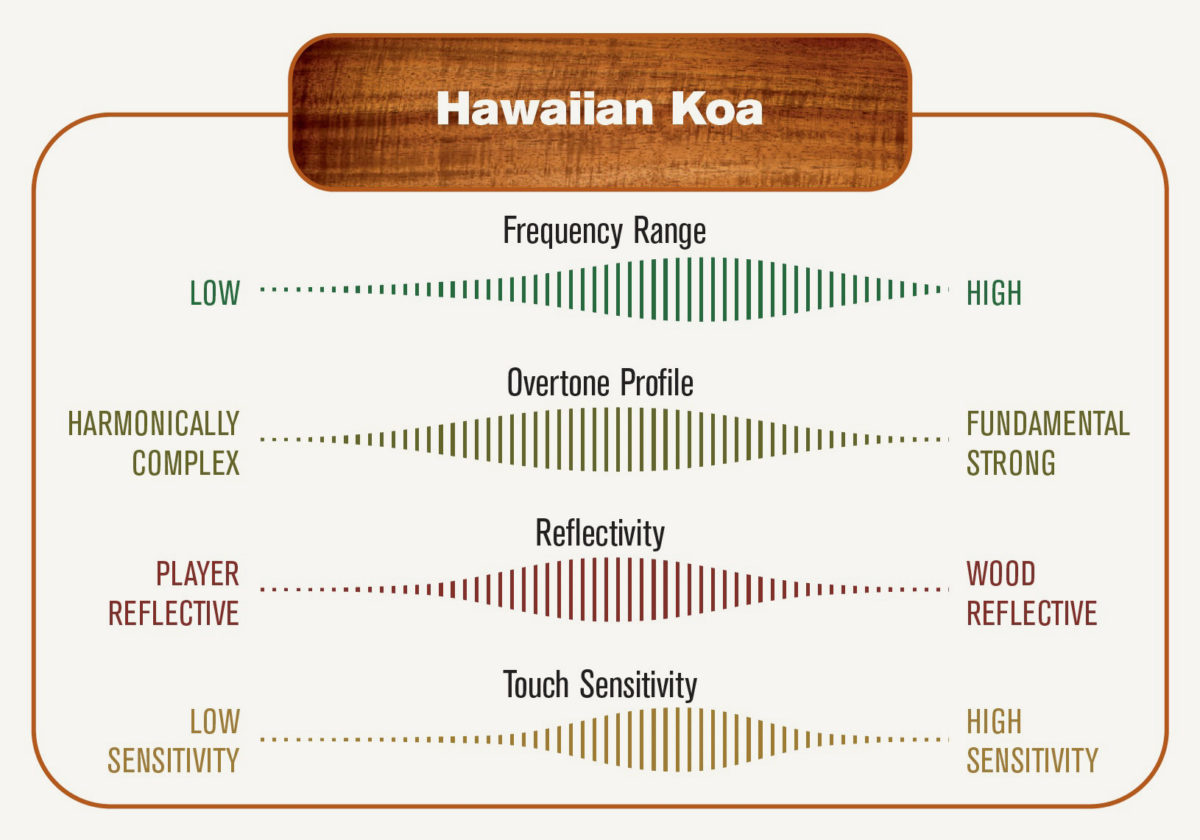 Source: Taylor
In addition, koa has properties which you may not hear immediately, but you will surely feel. Where some tonewoods respond very directly to how you play (such as maple), other tonewoods (such as rosewood) can dampen that effect a bit more, giving you the feeling that the wood is  more in control.  One is not better than the other, it is very much a preference and well worth a try if you have the opportunity. Koa sits wonderfully in the middle: if you play hard, koa will move with you due to the high touch sensitivity, but it gives you plenty of headrood, so if you dig in you will also hear the wood.
No wonder boutique builders have never completely forgotten koa, just listen to this Thompson 12-fretter in the hands of Leif de Leeuw.
For years, luthier Santa Cruz has been collecting the most exclusive tonewoods from all over the world, including centuries-old wood from Alaska and New Zealand. In that list of sublime tonewoods there is also 'fresh' koa.
Taylor and koa
Bob Taylor discovered the unique qualities of koa years ago, but due to limited availability he was somewhat reluctant about its use on a larger scale. Instead he chose to first invest heavily in the planting and development of koa. That decision is now bearing fruit, because we see more and more fantastic Taylors with koa: from the absolute top builders editions, to those great mini Taylors
And recently, two models in the 7 Series have also been added with a wafer-thin matte finish that ensures that you can really hear and feel the wood. That direct, warm, contact with the wood creates a unique playing experience.
Super sustainable!
Because Koa only grows in Hawaii, it is a relatively rare tonewood. Years ago it was widely available, but that was mainly because large areas of forest were cut down for agriculture. When that came to an end, koa became increasingly difficult to  get hold of. Thanks to smart cooperation between local landowners, timber traders and investments in new- and re-planting, koa is  now one of the most sustainable tonewoods out there. Experts say koa will be widely available in a sustainable, responsible way for the next 25 years.
Do you also want to  see, feel and hear koa? We have more than 1000 guitars in stock, so the coffee and the koa is ready for you in Dedemsvaart!
Want to know more about other tonewoods?  We have written an overview.