Maarten Dispa - 16 / Sep / 2021
Free Exclusive Goodie Bag! | TFOA's 20th Anniversary
Celebrating 20 years of friends, memories & guitars.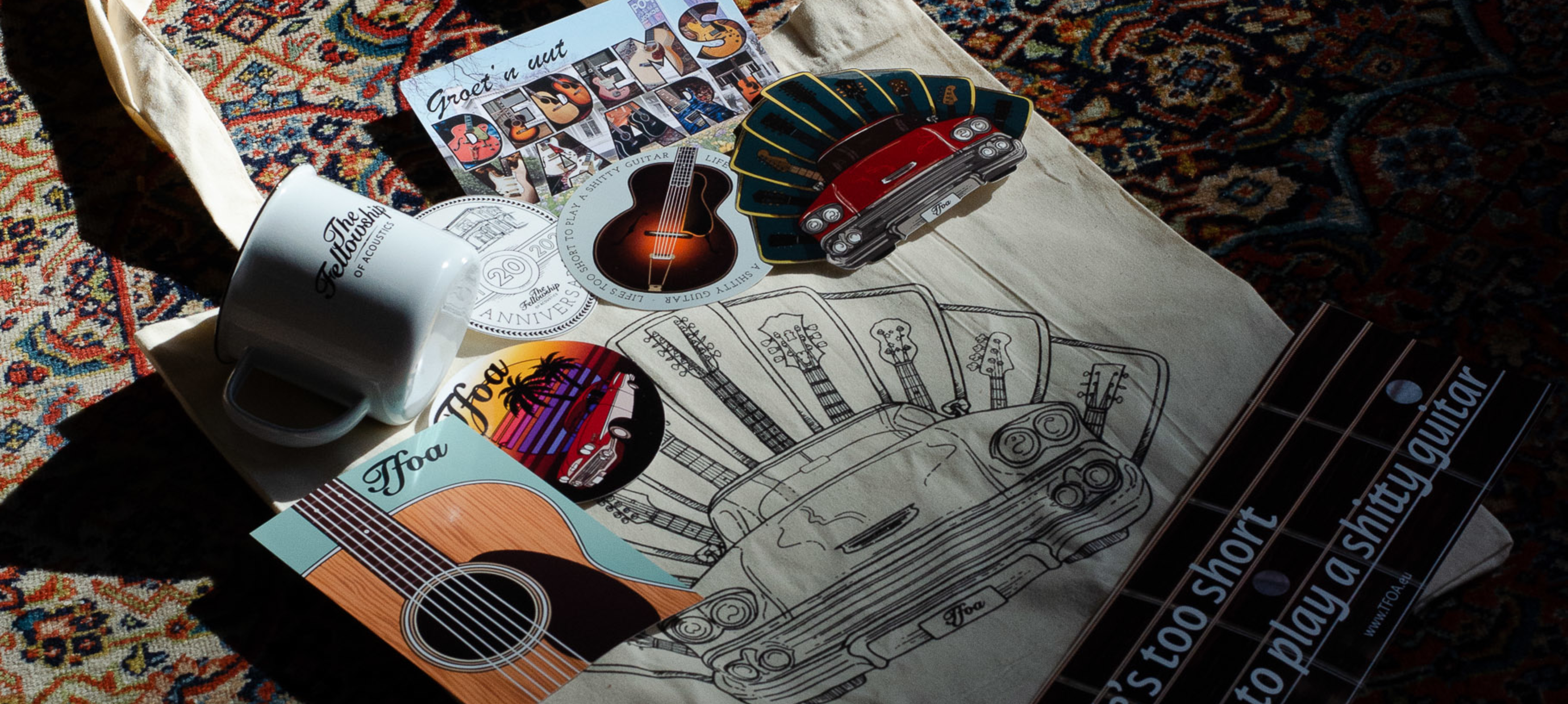 After selling his landscaping company in 2001, guitarist Rudi Bults decided to buy a couple of vintage Martins from America. After selling these quickly, he realised there was a great demand for fine, vintage instruments in Europe. From this point on, The Fellowship of Acoustics was born.
Being the professional that he is, he approached this new venture focussing on quality whilst deepening his knowledge in all things guitar related. It turned out to be the right approach, over the years TFOA has grown into the company that it is today. Daughter Laura and son Coen joined their dad in this family business, now employing over thirty people.
After moving to the monumental villa in Dedemsvaart in 2015, our location expanded from a shop to a full-on experience. Not only has it become one of the world's largest music stores in terms of floor space, we also house close to one thousand instruments. Within our shop there's a music school, a small theatre, a café / diner and our backyard is a gorgeous municipal park.
Now, 20 years later, it's time to celebrate all the memories, friends and guitars we've met and made along the way!
It's time to give something back!

In the fashion of a true birthday party, we're thanking all of you by giving something back. With every purchase over €350,-, you'll be receiving a free limited edition goodie bag filled with exclusive TFOA merchandise, including:
Limited Edition 20th Anniversary Metal Pins
Limited Edition 20th Anniversary Stickers
Limited Edition 20th Anniversary Mug
Limited Edition 20th Anniversary Tote Bag
Limited Edition 20th Anniversary Bumper Sticker
Limited Edition 20th Anniversary Postcard
Besides, we'll be dropping some great content in honour of our 20th birthday. Video's about the history of our company, special stories and unique testimonials.
We've also asked a handful of our favourite luthiers (it's hard to choose) to build us special 20th Anniversary guitars, some of which you might have already seen pass through our store and website. In total there will be around 100 of them coming, all unique designs, unique tonewood combinations and one-offs.
We're incredibly thankful to have such a supportive and kind family of guitarists, enthusiasts and friends around us. We wouldn't have gotten where we are today without all of you, we promise to keep on providing our services for you at the highest level we can achieve!
Thank you,
Rudi, Laura, Coen & The TFOA Team.