A guitar made of plum, cherry or oak? Lakewood makes any tonewood sound great!
The brand name automatically steers you to the United States,  but Lakewood is less than a five-hour drive away from our home address here in the Netherlands. Lakewood guitars are made in Giessen near Frankfurt, Germany. Many artists have discovered this fantastic brand, like Sungha Jung, the YouTube Fingerstyle virtuoso  who even has a  signature dodel. So does Ulli Bögershausen.  Both of them are guitarists with exceptional talent who find what they are looking for in a Lakewood Guitar.  
And they're not the only ones: Thom York (Radiohead),  Ritchie Blackmore (Deep Purple), Dave Matthews and many, many other artists from all over the world, play on Lakewood guitars. Nevertheless, Lakewood remains  somewhat of well-preserved Guitar Secret from the East.
We have been trying to divulge that secret for years and by now we have sold dozens of Lakewood guitars to very happy customers. For over 30 years, founder Martin Seeliger has been able to give great and exclusive tonewoods a soul using his expertise and German precision.  Fun fact: he came up with the name Lakewood by looking at a map and saw the name Lakewood at Lake Erie (USA) and he knew immediately: that's it! Over the years, Lakewood may not have gathered fame among the masses, like Taylor or Lowden. But what Lakewood may lack in fame, they amply make up for with quality.
What always strikes us about these guitars is the excellent wood selection. Lakewood always chooses absolute top quality such as this AAAA Spruce: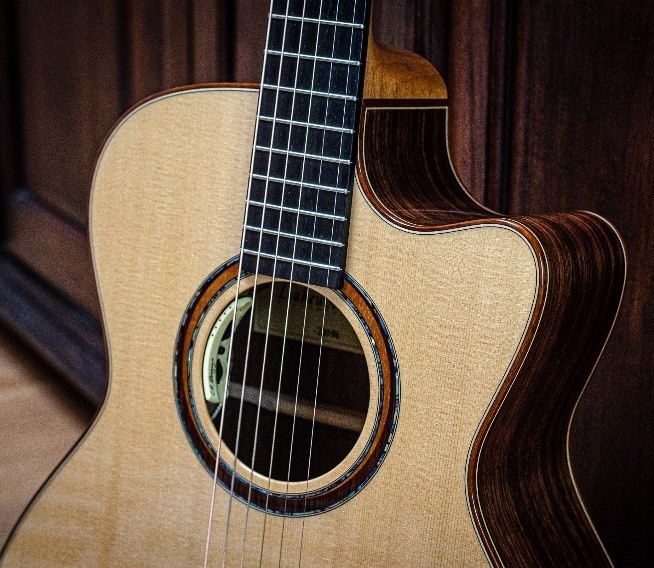 Or take a look at this soundbox of maple: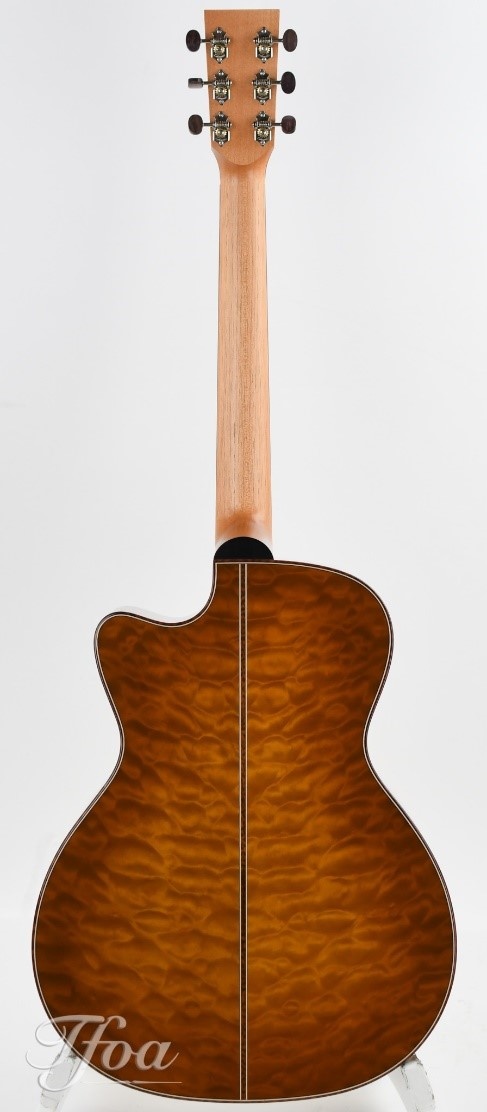 They know how to select much used soundwood at Lakewood, but the German guitar maker does not stop there. Lakewood pioneers a lot with special, European, woods such as oak, cypress, cherry and even plum as a substitute for ebony. With truly amazing results.
Betaalbaar vakwerk
Lakewood therefore offers exclusive top guitars at a very competitive price. With a wide  choice from their natural, deluxe and premium series as well as annual limited editions.
With all Lakewood guitars you can count on finishing of the highest level and on top of that they offer just that little bit more than standard. Haven't you found your ultimate guitar yet? Then you should really try this brand, because the subtle differences really give these instruments a unique sound and feel. For example, some models have a 1 millimeter wider neck (46mm) than usual, a slightly different sized body or a great natural or high gloss finish. All of these details combined might just be the sum of all parts needed to your perfect guitar.
Do you have any additional wishes? The Lakewood Custom shop can make almost anything you think of. Their Custom Shop Designer is a great tool that instantly shows what a self-composed guitar can look like. The choice is huge and may even be somewhat overwhelming. That's why we've already assisted many customers with this 'once in a lifetime experience' of custom-making a guitar.
Would you like to know more about this western guitar secret from the East? Then stop by Dedemsvaart, we have several models in stock and Yes! We are open.