Erik Bogaards - 15 / Sep / 2022
New: Lowry Guitars custom orders!
Through our 'Dream Guitar Program' we can link you to your favorite luthier to build a custom guitar according to your wishes and we are proud to add the incredible Andrew Lowry to our Dream Team!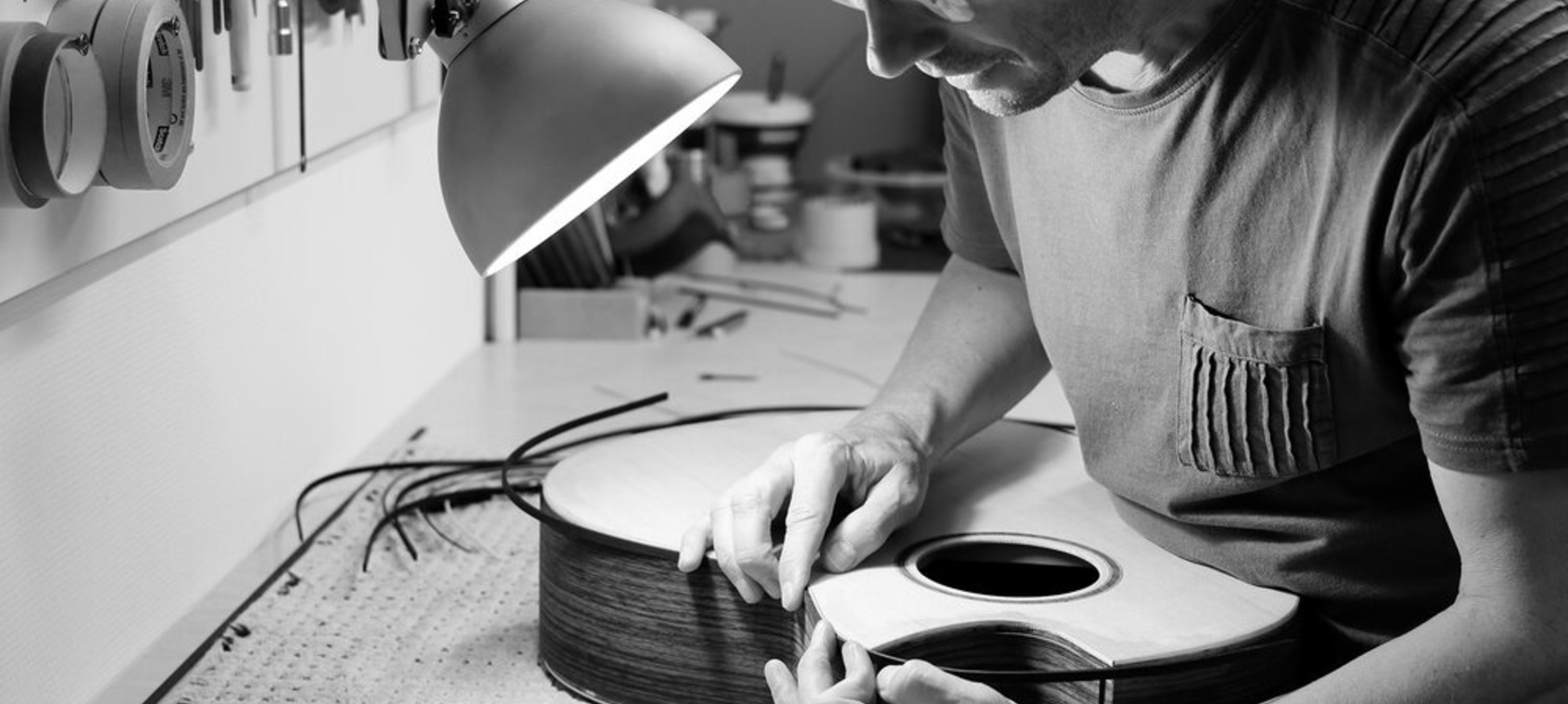 Andrew Lowry is the man behind Lowry guitars and he moved from Northern Ireland to France at the beginning of this century. If you look and listen carefully, you can see that background in his guitars, because in terms of appearance they have something French: subdued and yet 'tres élégant'. When you play a Lowry, we hear those rich, dreamy and mystical tones that we know and love from other Northern Irish luthiers. This combination makes Andrew Lowry's guitars unique.
From start to finish
A stone's throw from Lille, Andrew Lowry does everything himself: from the rough woodwork to the last coat of finish. As he says himself: "A flawless finish is essential for a high-end custom-built guitar, and I take great pride in doing such an important part of the process".
In the meantime, he has built up an impressive tonewood collection which he stores in ideal conditions. This tonewood is 'maturing' for years until the perfect time arrives to create some magic with it. Just look at a small selection from his stock: Macassar ebony, via quilted maple and quilted sapele and finally beautiful Bastogne walnut.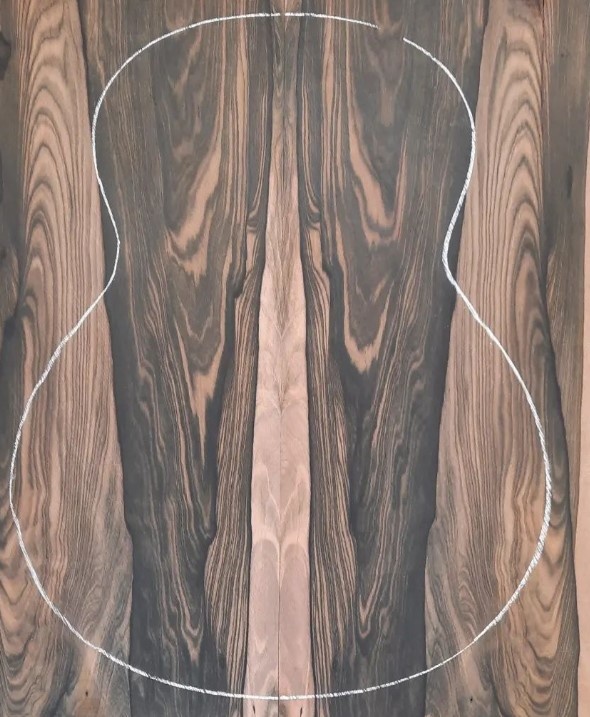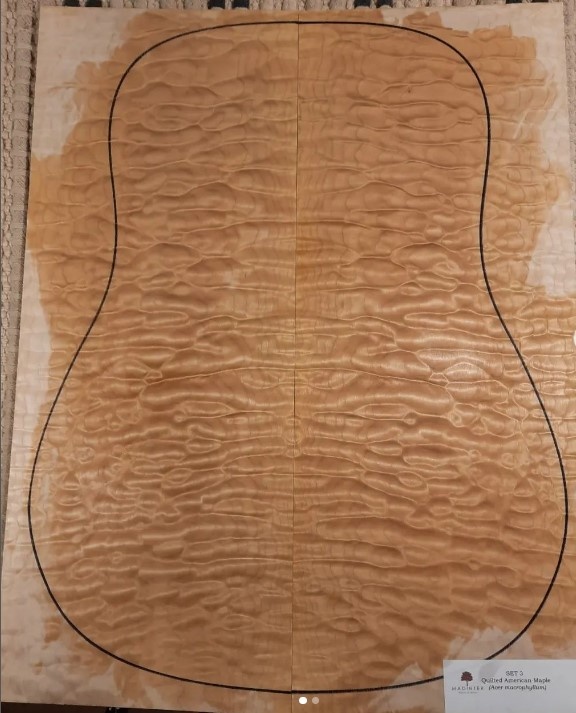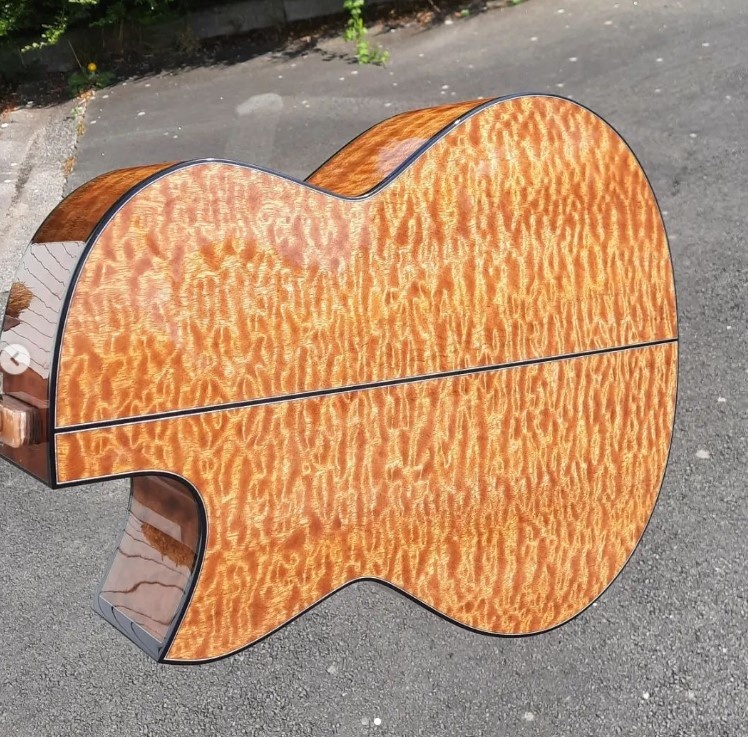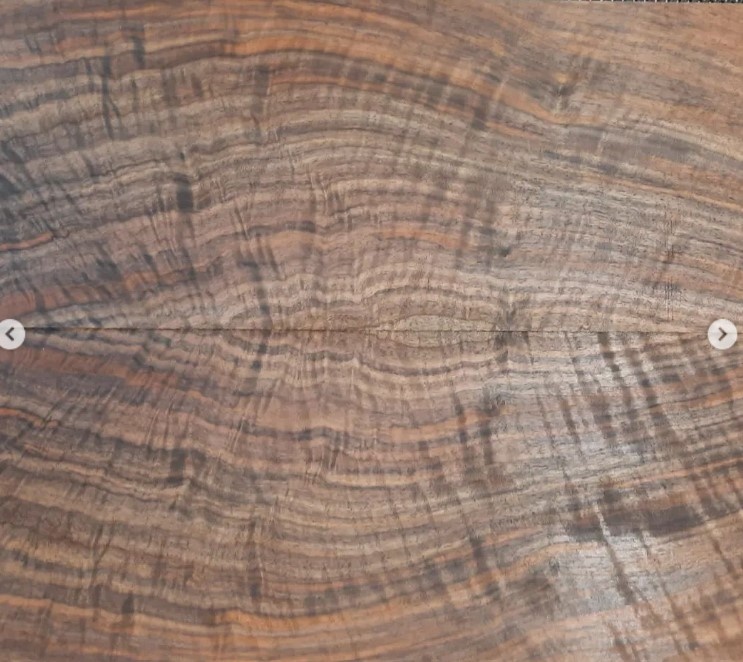 Lowry Braid and Carrick
Lowry limits himself to two models: Braid and Carrick. The Braid is the smaller model and this is Andrew's unique interpretation of 00 with a somewhat unusual 13 frets to the body for the perfect bass notes. Small, great sounding and very comfortable to play for hours.
The Carrick model is slightly larger, more or less comparable to an OM and thanks to the rich overtones a fingerpickers dream. By limiting himself in the number of models, Andrew Lowry can deliver nearly endless customisation within these models: choice of tonewood, shape of the neck, the width of the neck, finish, all that and much more is decided after careful consultation about your personal wishes.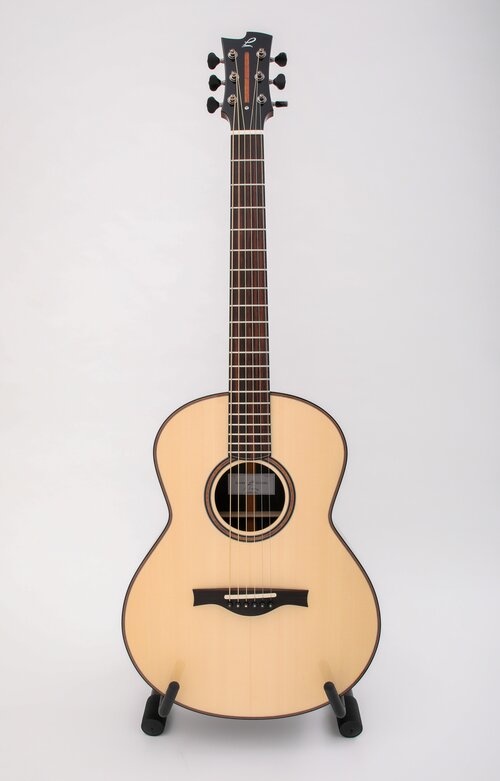 Ordering a Lowry guitar

We know that having a Custom guitar built  is a once-ina-lifetime experience and at The Fellowship we have been allowed the privilege  to help many customers realize this very dream. From the first consultation in our store in the Netherlands, through e-mail or by telephone with one of our renowned experts, to the set-up and delivery of the finished instrument, we are here to advise and guide you in this insightful process from start to finish and beyond.
Over the years we have gathered a lot of expertise about various brands and we can tell you everything about tonality, playability and much more. We are happy to share this wealth of knowledge to help you with your search for the ultimate custom guitar that suits your style.
Time
Andrew Lowry works alone and that makes his guitars very exclusive and they are sought after all over the world. The built time of a custom guitar can quickly increase to four to eight months. Depending on personal wishes, this can be a little shorter, but sometimes also a bit longer. For more specific information about the built time, you can always contact us without any obligation.
Once you do decide to take the next step to your Dream Guitar, you will become part of a special guitar family with an elegant instrument that will last for many generations.
If you want to find out more, you can:
call 0031 (0) 523-232205,
mail to [email protected]
Or come and visit our GuitarVilla in Dedemsvaart. There we always have well over 800 guitars in stock, so that we can not only explain all the possibilities, but you can also feel and hear them yourself. The coffee is ready!