Posted on
By Erik Bogaards
Fellowship co-owner Coen Bults gets very, very lucky as boutique luthier Bourgeois turns all of his personal wishes into a custom made guitar. The first pictures look very promising!
Dana Bourgeois' guitars have been the cream of the crop for years, because Dana is an absolute authority when it comes to tonewood. For all the guitar-geeks out there, here is a  video of Dana talking for more than an hour about the differences between Brazilian rosewood, mahogany, walnut, spruce and lots of other forest treasures. There is no guitar in the video, but nonetheless the man continues to fascinate us with just a few pieces of extra-ordinary wood.
It only shows that Dana has been one of the most enthusiastic luthiers for years, who is very successful in combining smart innovation with a rich tradition. Too bad the guitars are somewhat hard to get outside of the US. Production in Maine is limited, demand is very high, so very few of them make it across the Atlantic.
Thanks to the new collaboration between Eastman and Bourgeois, the worldwide distribution is now getting a serious boost, which allowed us at the Fellowship to get our hands on some of these guitars, which we are expecting very soon. And as a bonus during the previous NAMM Show, Coen Bults had an opportunity to compose his own Custom guitar with Bourgeois.  
Coen: "Bourgeois has been making a Jumbo-OM model for years, which is their Grand Auditorium and it sits perfectly between a dreadnought  and a regular OM. In the conversations we had, you immediately notice the enormous expertise of the Bourgeois staff and together with them we have chosen a European Spruce top with Aged Toner and a very nice back of  highly figured Aged Tone maple. Aged Tone stands for torrified at Bourgeois, that looks really great. As far as the sound is concerned, you know that with Bourgeois you are going to get something very beautiful: lots of air, beautiful overtones and a nice deep low end. I can't wait for this guitar to get here!"
It's getting close but Coen has to be patient for a just a little while. We expect this unique instrument somewhere in February. Luckily Bourgeois has already sent us a picture: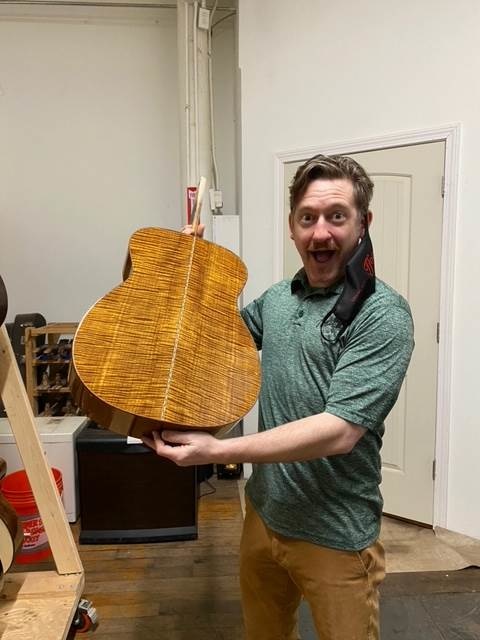 Price: 9,499 euros
Want to know more about this or other Bourgeois guitars? Feel free to contact us at [email protected]  or +31 (0) 523-232205