Erik Bogaards - 31 / Dec / 2021
The Top 21 of 2021
2021 was an unforgettable year with many, many highlights!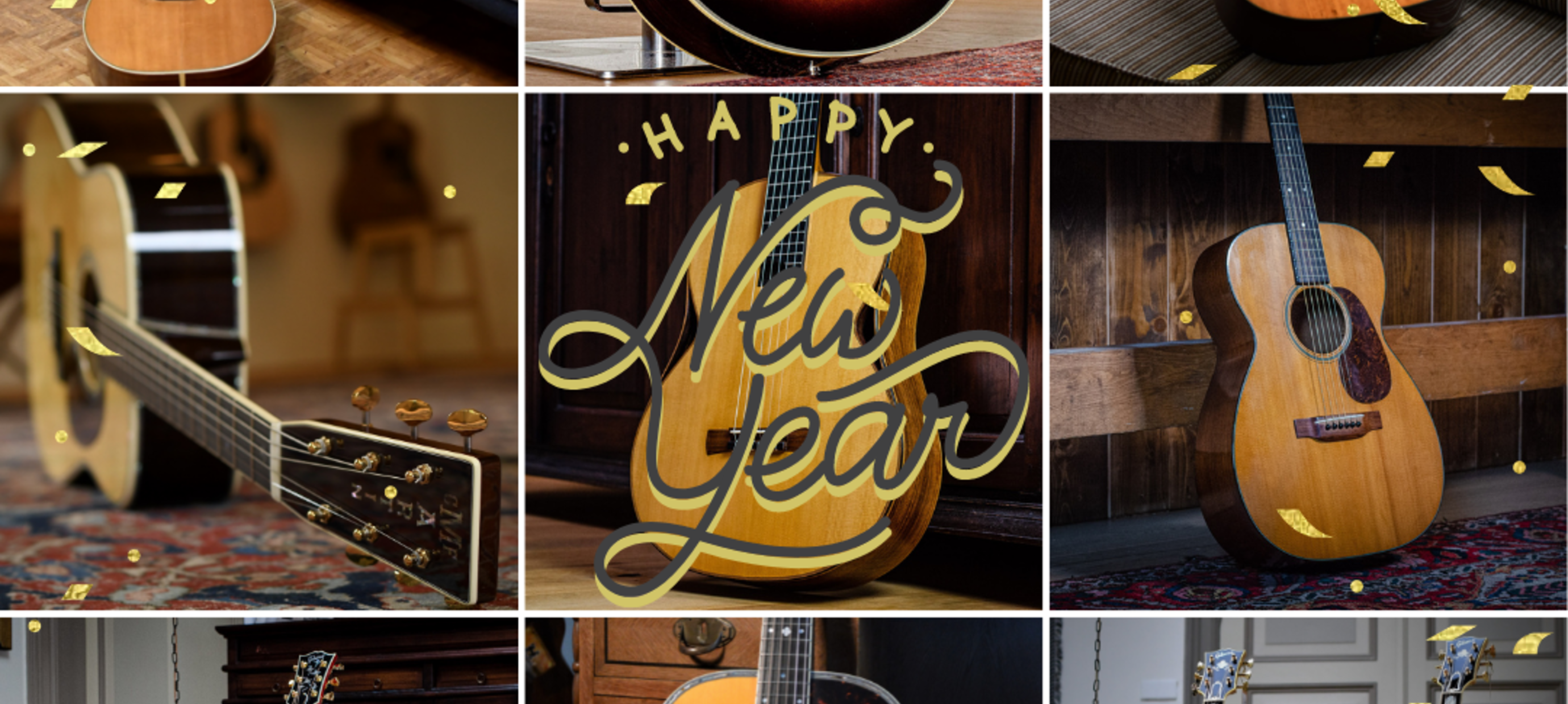 1 The Best Party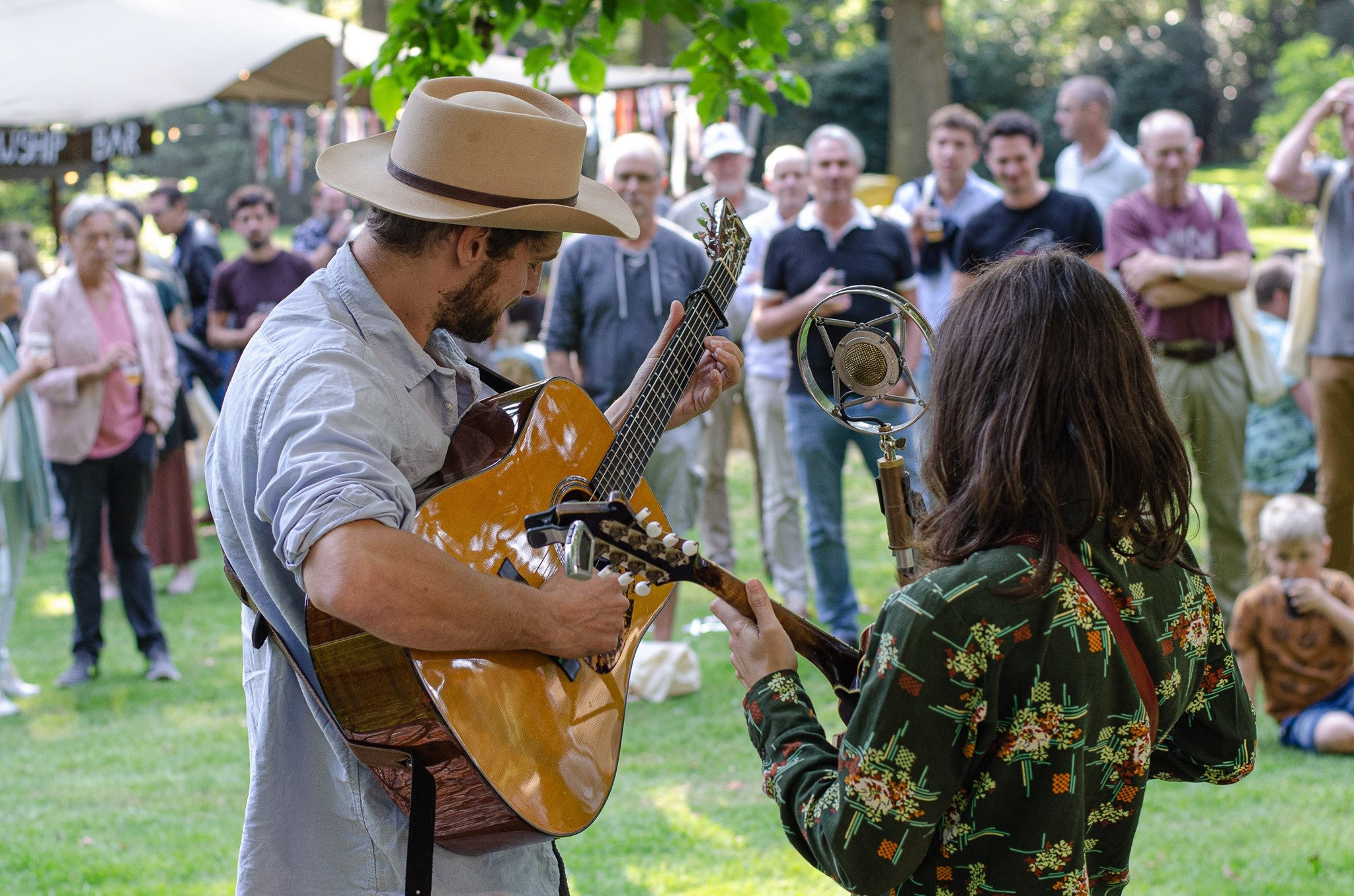 There was beer, there was a BBQ, there was some blues, some bluegrass and so much more. Looking back now it seems ages ago, but we are so happy and grateful that we were able to really celebrate our 20th anniversary this year!
Everyone who contributed in one way or another: thank you, thank you, thank you!
2 The Most Expensive Guitar
Our legal department has made us promise that we will never ever (!) disclose the buyer and the exact amount it was sold for, but we can reveal that this Martin D28 from 1943 was the most expensive guitar we sold in 2021. Luckily guitarfellow Paul Davids got to play on it for one of his great videos, so we can all enjoy it.
3 New Fellows!
We are hiring!  So this year some new Fellows joined our shop.
Eva Farmer, daughter of Fellow Adrian, photographer and graphic designer, lover of Disney movies and horses.
Jurgen Bakker, copywriter in our advertising department and recently a real 'Zwollenaar', lover of 70's and 80's music and as a Toto fan he already acquired the appropriate nickname George Peorgy.
Tom Punt, the new silent force of our Sales team, fantasticly tasteful guitarist and connoisseur, also lover of vintage motorcycles.
Berend Rombouts, our generous Frisian filantropist. Also a masterful guitarist and great company.
Rowdy Prins, our own cowboy, and whatever he plays: from Jerry Reed to Tony Rice to good ol' 'piratenmuziek', it all sounds great.
Daniël Hamberg, is an intern at the marketing department, has been working in the sales team for a while now and will strengthen our marketing team.
Bennie Wiegman, the newest luthier in the workshop, down-to-earth guy with a strong sense of humor, a craftsman if we've ever seen one.
Lars den Ouden, despite his last name, our youngest employee! Lars who will soon pass us all with his great guitar playing, in addition, he has already sold his first Private Stock PRS this year despite the fact that he does not run Sales as a shop-assistant,
Robin Baard, this great 'Rotterdammert' has helped us tremendously in the workshop during the summer, given his successful own Baard Guitars and as tech of Waylon he has returned to the west but sometimes helps us out remotely.
4 The Most Beautiful Guitar
The Most Beautiful Guitar of the past year is of course very subjective and a matter of taste, but according to Fellow and connoisseur Maarten that was clearly this ES335 from 1959. 'Incredibly clean and one of the few guitars that really moved me. I've been playing on it for way too long.'
5 Accessory of the Year
Under the couch, in the the washing machine, between the sheets: they are everywhere! Except where you want them. That is why, just like last year and next year, this years ultimate Accessory is… the pick. Our tip for 2022 is to try a thicker pick. Yes, that takes some getting used to, but also gives more grip, volume and tone. We of the Fellowship recommend this one, made especially for the Fellowship.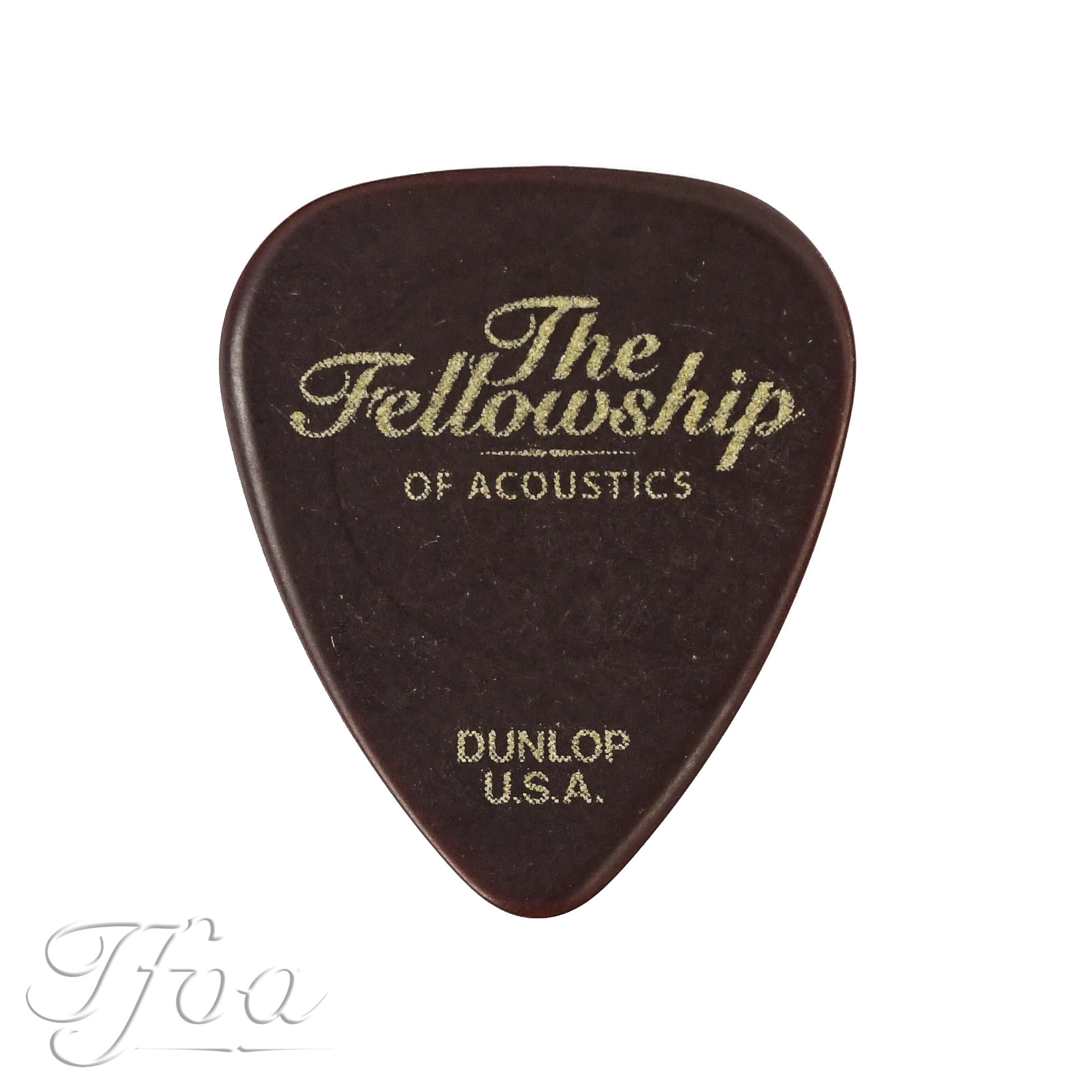 6 Most love
On our Instagram account we often post tasty previews of all kinds of beautiful things that have already arrived in our store, such as this almost one-century-old Martin who could count on a lot of hearts.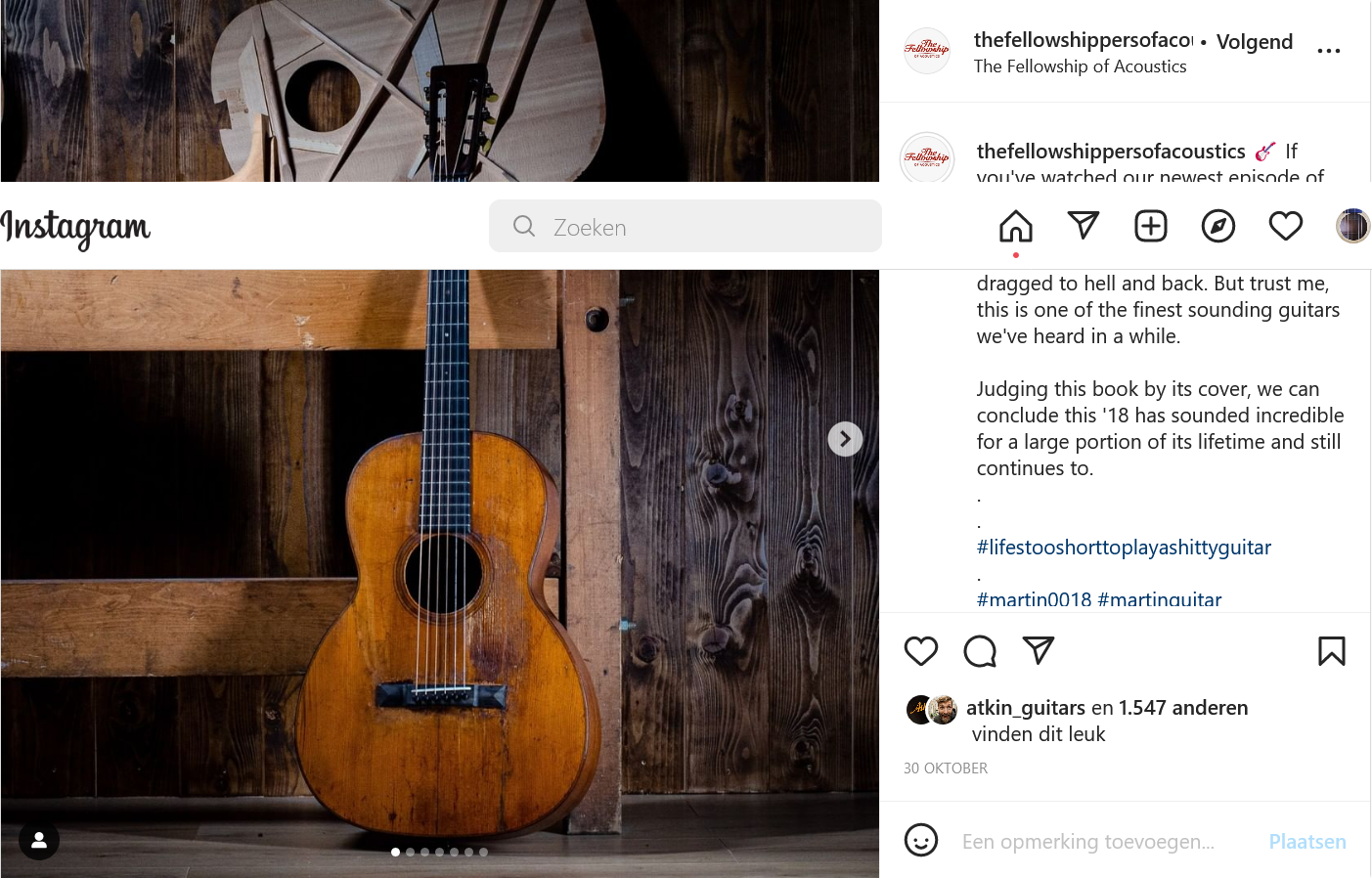 post shared by Fine, Vintage & Rare Guitars! (@thefellowshipofacoustics)
7 Best viewed demo on YouTube
Fellow Milo picked up this Gibson J150 Noel Gallagher Signature and managed to win thousands of views with his delicious strumming skills.
8 Visitors!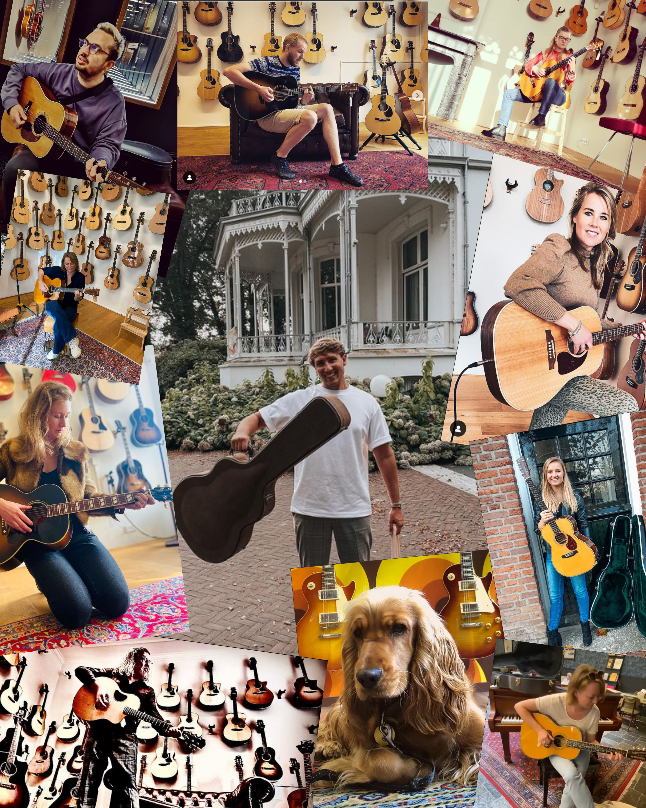 Thank you Shadylaneband, Monique Jansen, Rene Karst, Stephanie Struijk, Joel Vooijs, Ildiko Snijders, Ireneka, Lung Guitars, Le Poersch, Laura van Kaam, Pleun de Cockerspaniel and all others who have visited and #tagged us in the past year.
9 The Non-Guitar of the Year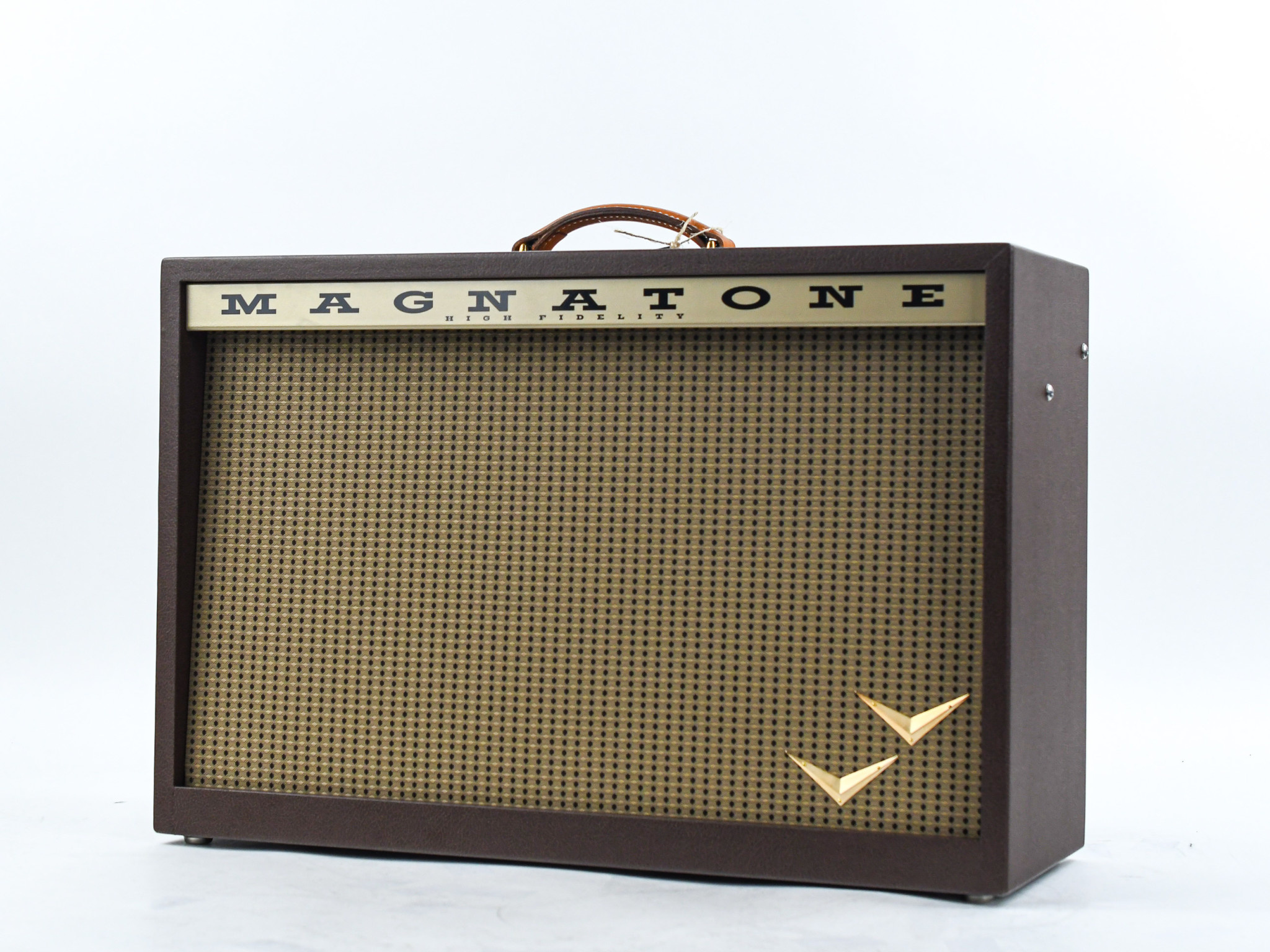 This year, The-Best-Name-For-A-Guitar-Amp-Award goes to... Magnatone!
Who wouldn't want that? MAGNA TONE. Wow! It is a thoroughly American amplifier brand that has been around for decades and just about all the greats of the world played on it, gratefully using the beautiful wide and spacious sound Magnatone is famous for.
Magnatone has never been completely gone, but thanks to many Americana lovers worldwide is now somewhat rediscovered. Are these amplifiers only suitable for clean and twang with a slight edge? No! Fiery rockers like ZZ Top also play on a Magnatone. So from clean, to very, very dirty, Magnatone can do it all.
10 The new brands of 2021
In addition to Magnatone, we welcomed many beautiful brands to Dedemsvaart this year, such as Sterling, Vigier, VHT Amps, Oopegg, Wout Bosma, AJ Lucas, Kramer and Taylor.
11 The best clothes!
If you say TFOA, you say Alohay!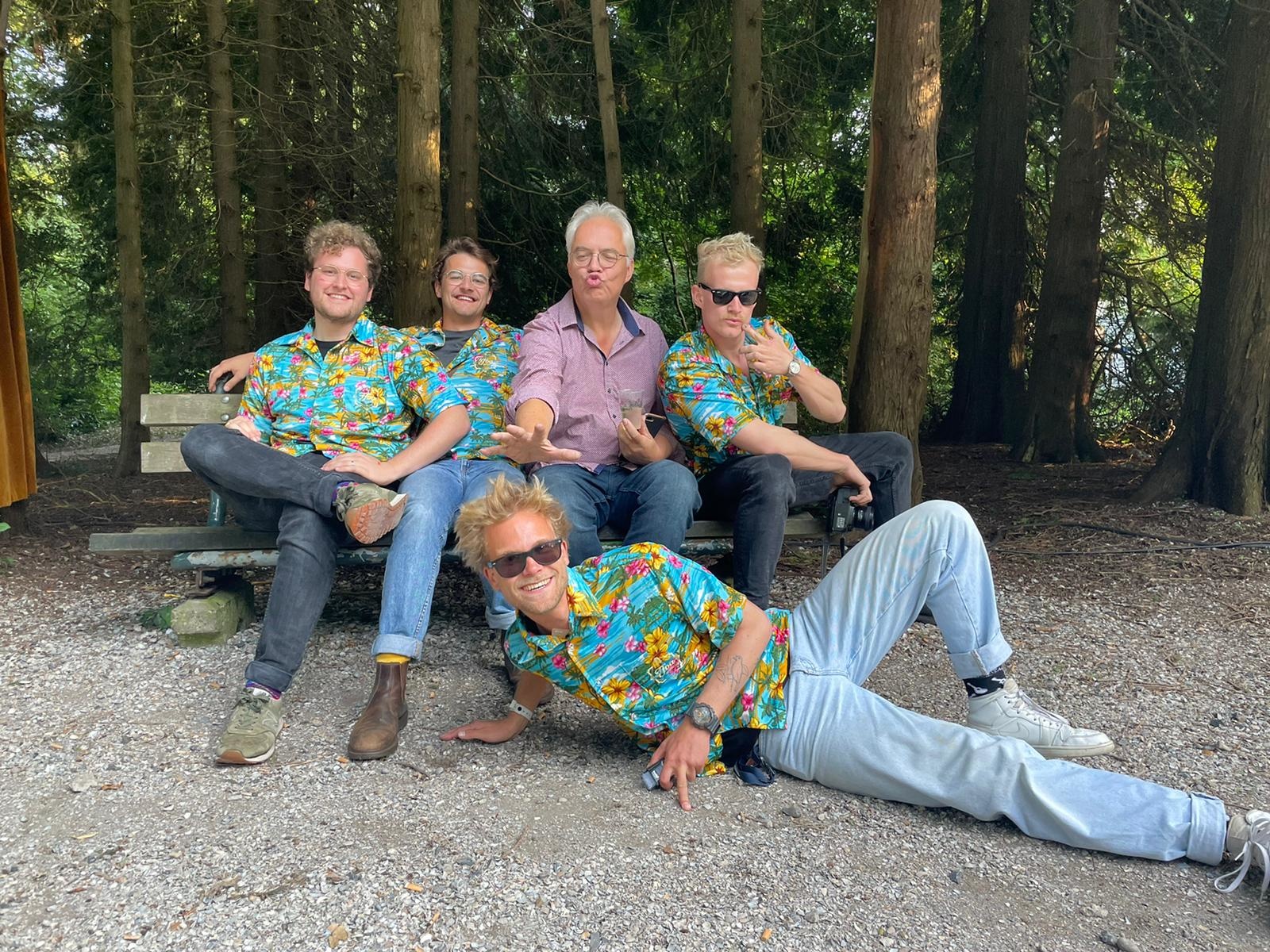 12 The most beautiful nylon guitar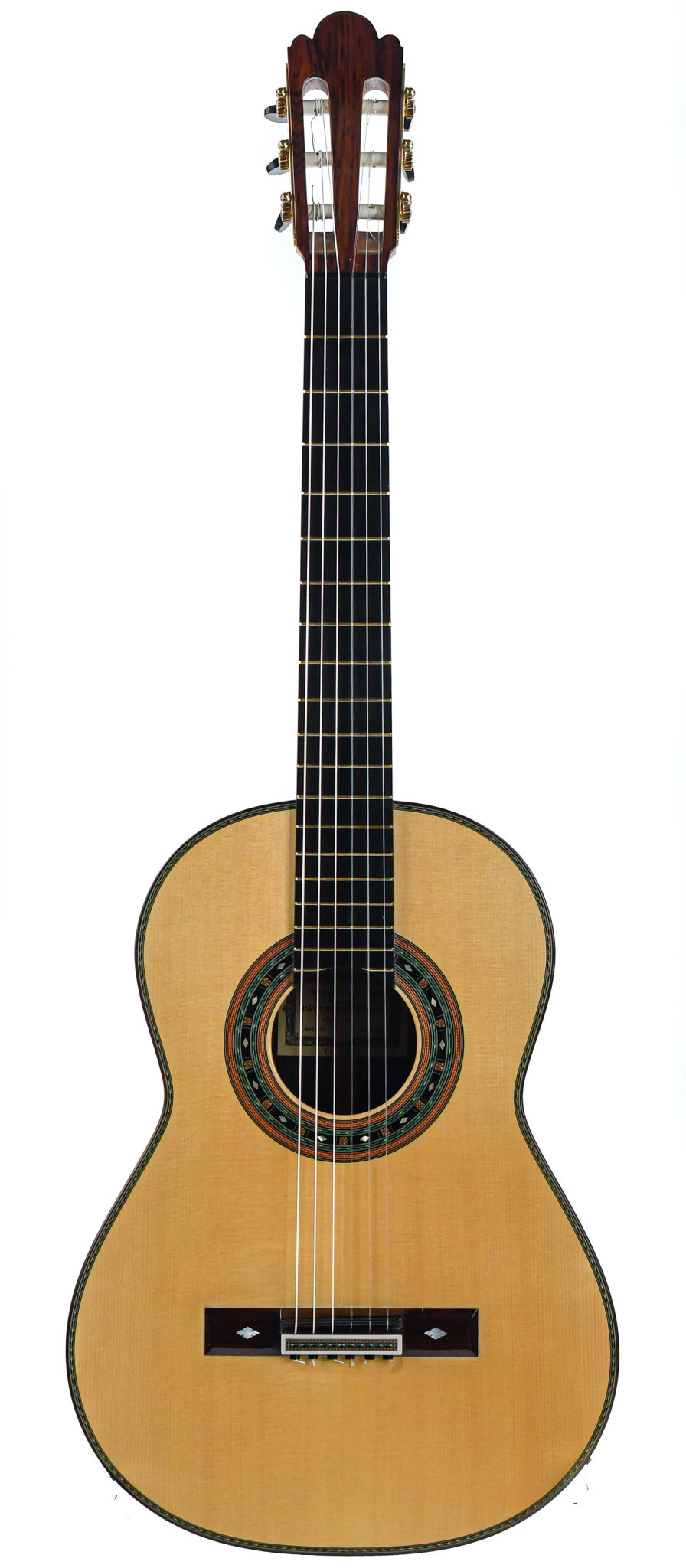 By far: this masterpiece of Bernabé de Torres Madagascar Rosewood German Spruce.
A Torres model on the label signed by Paulino Bernabé Jr. is a beautiful tribute to the father of classical guitar, Don Antonio de Torres. Very collectible!
13 The coolest renovation
De Kluis (The Vault)  is the place where we store the most expensive guitars behind a very thick door and last year we had the time to pimp this special room in our crib. We don't have a photo or video of the new Vault yet, so please contact us if you want to know more about it.
14 The Record
It was busier than ever last year and Fellow Joelle, overlooking Expedition set a new record: ,,This was a great year as far as online orders are concerned. Due to COVID, more and more people have started playing guitar. The record number of packages in one day was 67 packages of which almost 40 guitars!" To all packers, couriers and unpackers who have contributed to this: thank you!
15 The Stomp Box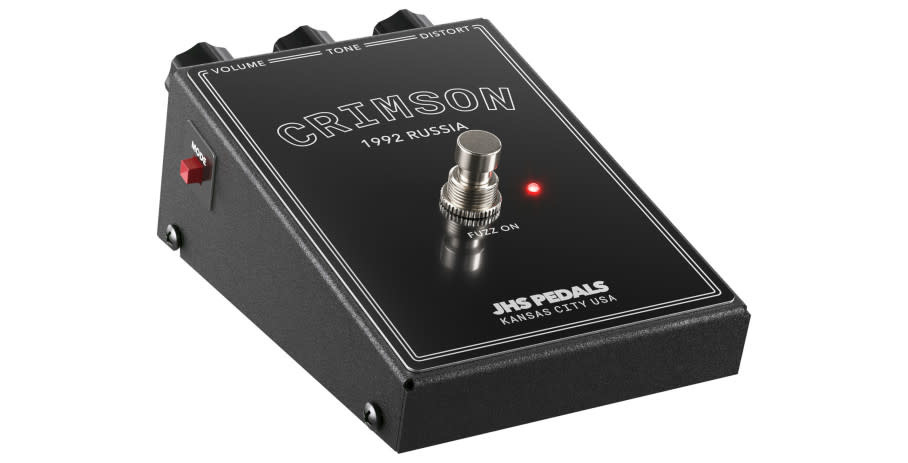 Back from never really gone: stomp boxes and pedals! Because with one kick you can give your guitar sound a slightly different color. Or turn it upside down completely. In the latter category fits this JHS Crimson Fuzz  that you can turn into a booby trap on your pedalboard and after some fiddling with the buttons you can instantly switch between 'guitar' and 'flamethrower'. Use it wisely!
16 The greatest collaboration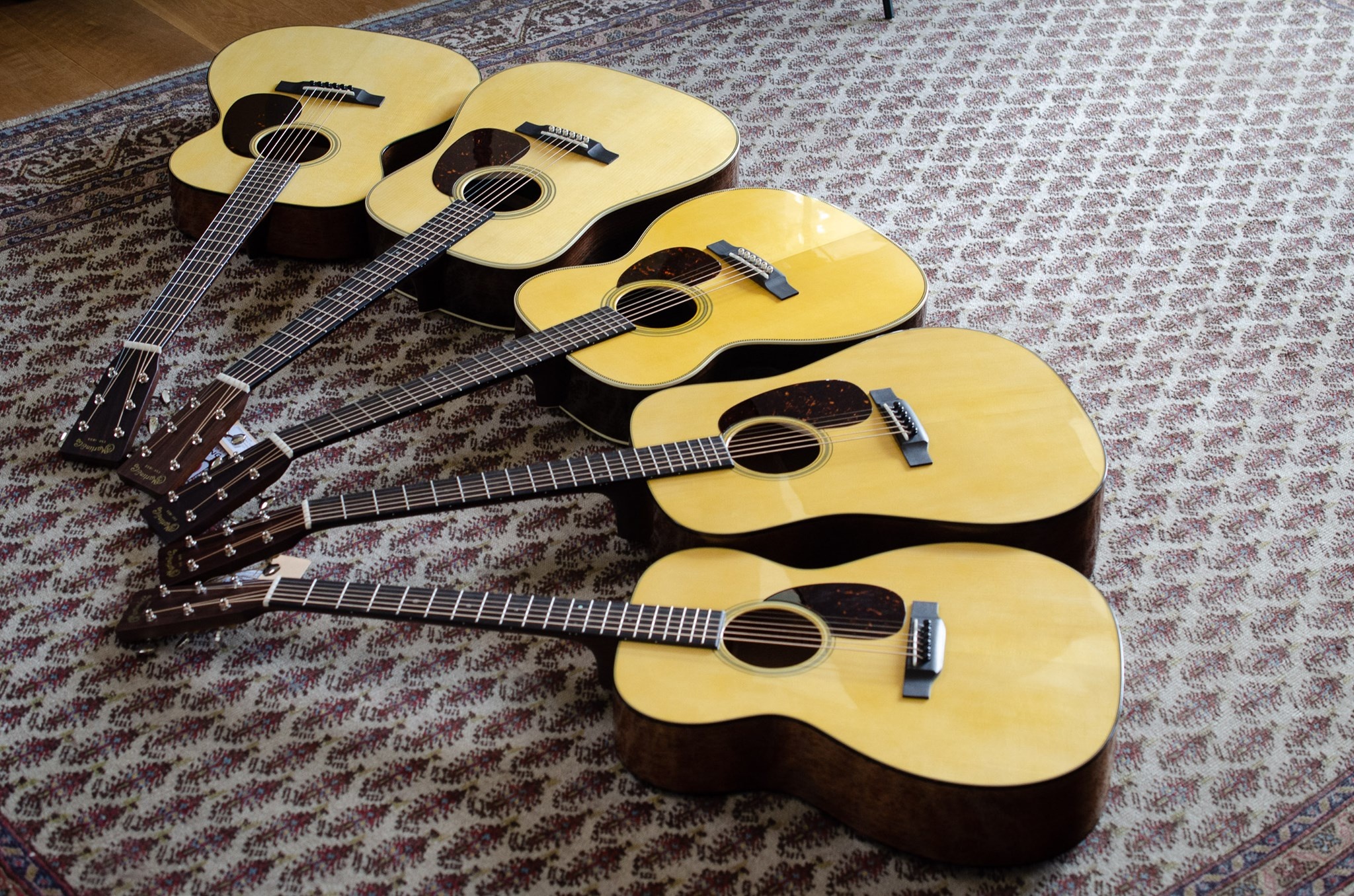 We wanted it for years: our own series of guitars from the Martin Custom Shop and in 2021 all the stars finally aligned. We received no less than five models from Nazareth from the 18 and 28 series, all with an Adirondack top as an upgrade. For many Fellows a unique opportunity to get acquainted with the sublime quality of the Martin Custom Shop for modest additional costs.
17 The most inspiring interview
Jamie Gale has been traveling the world for years in search of the most exclusive guitars and the special stories that go with them. Fortunately, he visits our shop every year and in a sun-drenched villa we had an inspiring conversation.
18 Most read blog
If you come to our store and you have a question, Fellows will always help you with good and free advice. On our website we also do give you information through our blogs and articles about everything that has to do with guitars and guitar playing. Many readers clicked on this article about different types of tonewood and the effect that wood can have on the sound of a guitar.
19 The most beautiful picture by Wessel Bults
A Sunburst Jazzmaster, thick light, the sharp eye of Wessel Bults and... CLICK!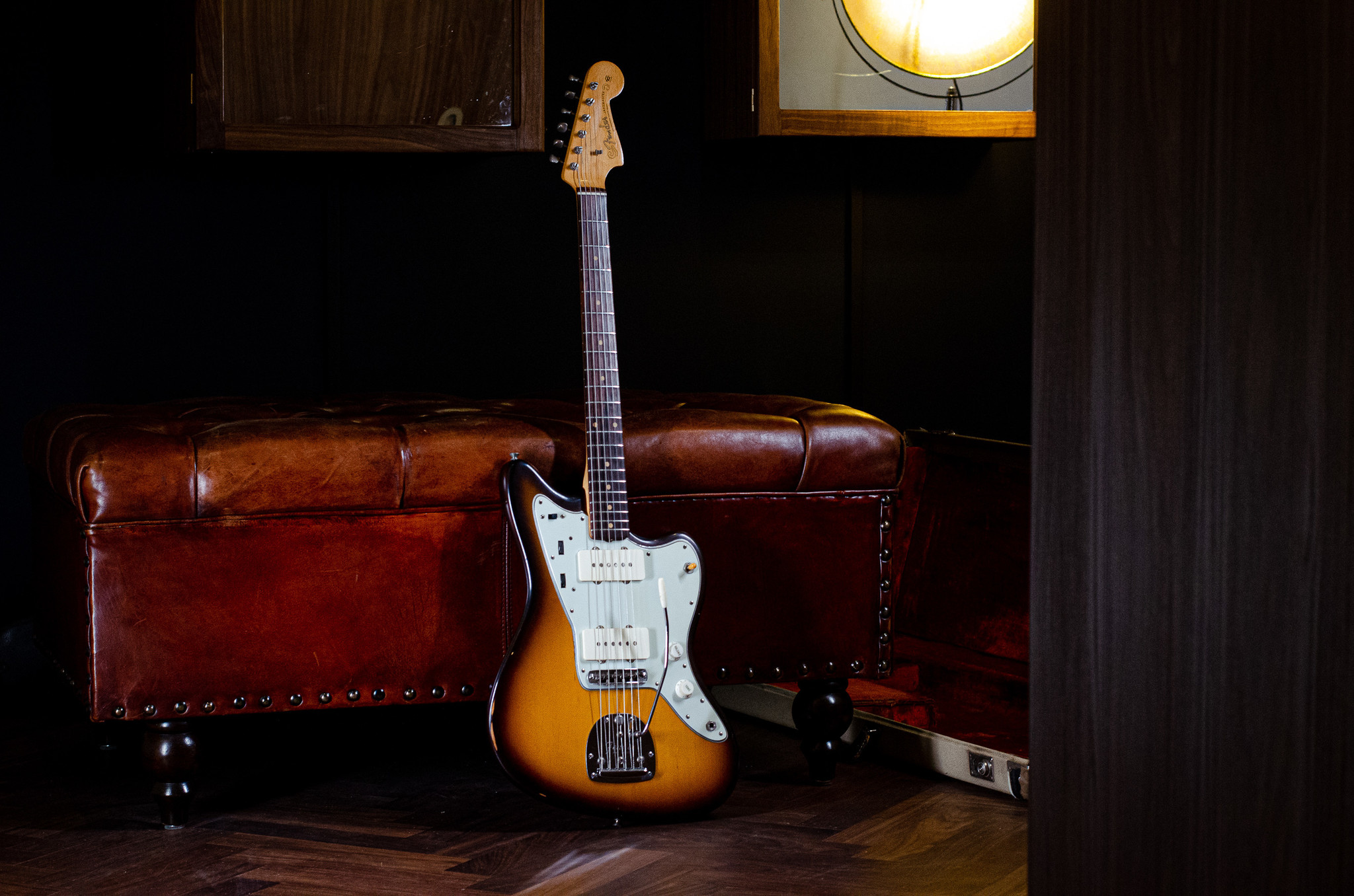 20 The most eagerly anticipated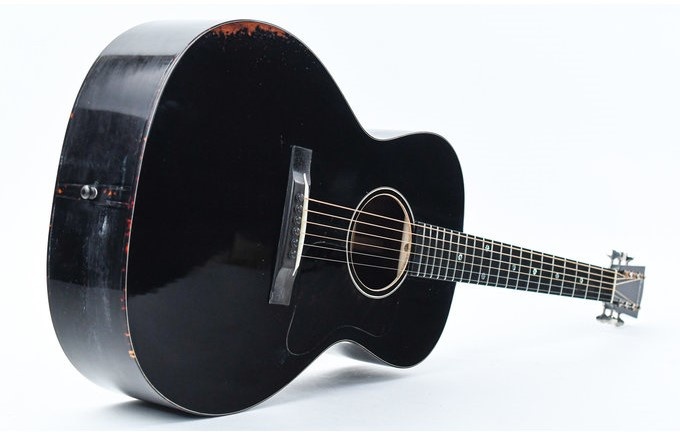 We already knew that they can make great guitars at Eastman. That is why we ordered several limited edition models for our 20th anniversary. But due to container shortages and other calamities, it took a long time for these Black Beauties  to find their way to our magical shop in Dedemsvaart. It was worth the wait! Because the rock & roll oozes out off these guitars thanks to the black antique varnish. The Balcony Snowflake inlay in the neck is a subtle nod to the design of the balustrade of our guitar villa. A wonderful result of a unique collaboration and one of the many highlights in an unforgettable year.
21 The Biggest Bang of 2021
Louder, louder, loudest! Every year a guitar comes along that blows you away. This year it came in like a wrecking ball: a Selmer from 1947  and to top it all off it was once played by Stochelo Rosenberg. What. A. Guitar!