Whether you're just starting out with guitar lessons or you have been strumming for years, there's an acoustic guitar out there for everyone. But how do you make sure you buy an acoustic guitar that suits you? Read our guide to buying your next acoustic guitar!
According to many fathers, mothers and partners and some other unfortunate soles who do not play guitar, you should now be reading a very responsible paragraph about 'budget'. Because how much can you spend on your acoustic guitar? The price obviously plays a role, but here at the Fellowship we are a more guitar lovers than accountants. Because ever so often we see someone who knows exactly which guitar he or she would like to have, but then chooses another one because it is slightly cheaper. Often such customers come back within a year.
Does this mean you have to put down thousands of euros for a crushingly beautiful guitar? No! The guitars of Eastman  and  Blueridge  have always been good and they only get better without getting more expensive. Everything BSG makes is a kind of miracle at that price point.
We encourage you to pick a guitar that suits you at this moment in time. Ed Sheeran, for example, grew up with a budget guitar by Martin. They are beautiful, affordable, can withstand a bump, travel in a good gigbag, you can immediately amplify them thanks to a built-in pick up and they are a little smaller, improving their playability. Perfect for many beginners and advanced players looking for a nice travel or back up guitar.
Now that Sheeran's sound is leaning more towards his Irish folk roots, he is working with Lowden  on his own guitar line. Dazzlingly beautiful, practical guitars at a competitive price.
YouTube star Sungha Jung  started out on a toy guitar and after an affordable Cort  he now plays his own signature model by Lakewood.
We see a guitar as an extension of yourself. Something you're going to enjoy playing for hours. As superficial as it sounds, that is not going to happen if a guitar doesn't appeal to you. Just let your eyes guide you and always pick a guitar that's good lookin'!
Classical or western guitar?
It is a persistent misunderstanding that beginners HAVE to start on a classical guitar with nylon strings if you want to learn to play guitar. A western guitar with steel strings is also suitable for beginners. But there are differences between classical and western guitars. We list the most important ones:
nylon strings steel strings
Anyone who starts playing guitar will suffer some pain at the fingertips, because you just have to grow some calluses there. You do that by playing, regularly, but not for too long. Play for 15 to 30 minutes every day for a month and you will notice improvement. With steel strings this  process is sometimes a bit more uncomfortable, especially if you play too long.
Nylon is softer and less painful. However, there are ways to ease the discomfort with steel strings a bit: thinner strings can help or coated strings with a thin layer of plastic on it so that they last longer, sound less squeaky and feel softer.
A classical guitar sounds different: warm and less sparkling. Of course they are suitable for Spanish and classical music, but also for pop. Listen, for example, to Tears in Heaven by Eric Clapton: unmistakably a guitar with nylon strings.  Western guitars are much more common in pop music. We already mentioned Ed Sheeran, but also Taylor Swift, Harry Styles and lots of others owe their sound to steel strings.
The softer strings of classical guitars come with a disadvantage: they usually have a wider neck. That requires a little more acrobatics of your fingers. Western guitars have a narrower neck. There are also crossover guitars, they combine the best of both worlds and have the narrow neck of a western guitar with nylon strings.
You can play guitar with your fingertips (fingerpicking) or with a pick (rhythm, flatpicking or strumming). On a guitar with steel strings most of it sounds good. Strumming chords with a pick on a classical guitar usually does not sound good.
A western guitar is not better than a classical guitar of vice versa. They each have their own character so it comes down to what you like best. Are you in guitar lessons? Surely your guitar teacher has some good tips. But whatever guitar you choose, always choose one that sounds good to YOU!
What's what on a guitar?
If you're going to buy an acoustic guitar, you're going to get a lot of words thrown at you, most of them in a sort of Dutch/English mix up. To make sure you know where the pick  guard, toets and  headstock  are on a guitar,  we've pasted the most important words you need to know into this photo.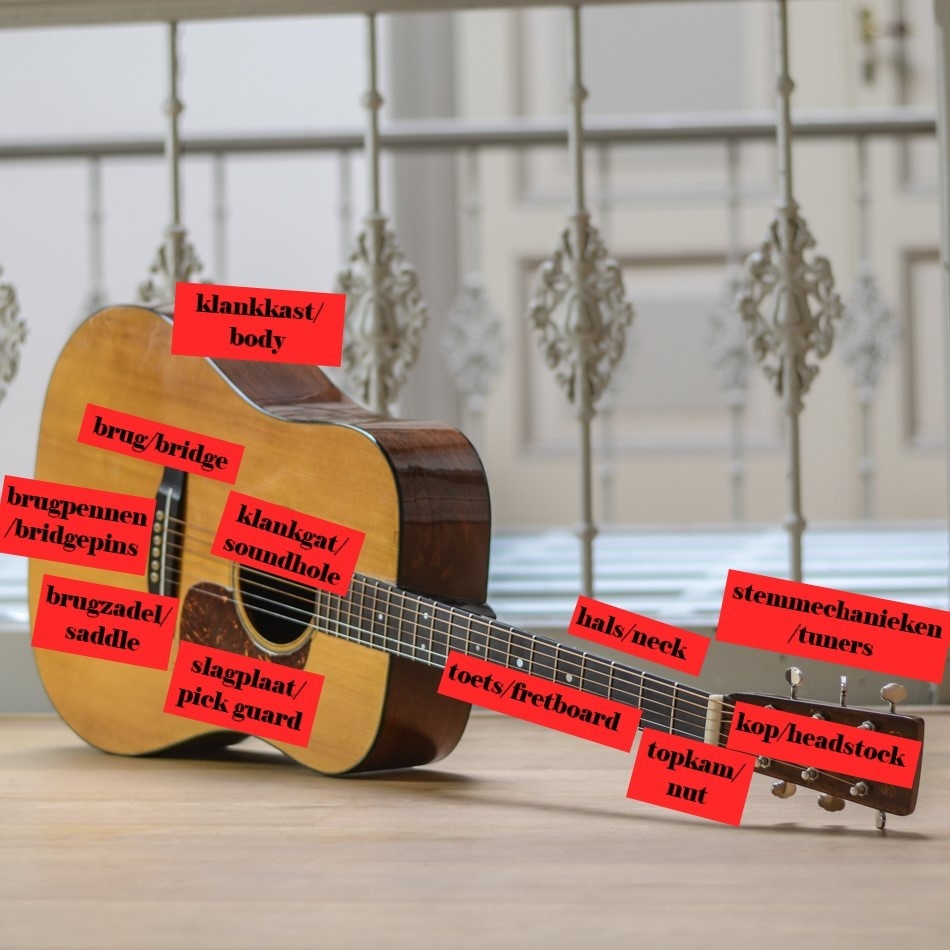 Which guitar model suits me?
If you play a lot of guitar, it is important that the dimensions of a guitar also fit your stature. That makes for more fun and less discomfort. The best way to find out what you like is to just try it, but there are a few general guidelines to give.
Do you want to play guitar with small hands or short fingers? Then a guitar with a narrower nut usually fits best. That size is 1 11/16 in inches or 43 millimeters. Do you have some bigger hands with longer fingers? Then a wider neck can fit well: 45 millimeters or 1 3/4 inches. The difference may seem small on paper, but in your hands it feels big. Do you have a smaller stature?  Then a model with a smaller body, such as an OM, often fits bit better.  Do you want to sound big, strum hard or play bluegrass?  Check out a dreadnought.
Want to know more about different models, how they play and sound? We wrote an extensive article about it earlier to help you with your choice.
Rosewood or mahogany
This question is about which type of tonewood to choose for your acoustic guitar and rosewood and mahogany are the two most popular. We cannot give one conclusive answer to this question, because there are many other good possibilities. First,  laminated wood, because in the more affordable models,  the body is often not made of solid wood, but from multiple thin layers of wood that are glued together. That's budget- and ecofriendly and by no means bad! Of course, the sound of such guitars is not as deep and complex as a solid wood guitar and the sound hardly develops over the years. Solid wood guitars tend to keep 'growing'. But guitars with a laminated body are rock solid, stay in tune very well and they can be built a bit lighter. Especially for a first guitar, laminate is a good option. Eastman's PCH series, for example, is very impressive.
When choosing a guitar made of solid wood, it is good to know that mahogany sounds a bit drier and more woody and often fits nicely in the mix. Rosewood can give a more 'piano' like sound.
In this video you can hear the difference: Martin D18 is mahogany, the D28 is rosewood
In addition, there are many more types of tonewoods for both the body and the top, each with its own characteristics. You can read more  in this article.
After having seen, played and sold hundreds of guitars, we know that there is no standard recipe for the ultimate acoustic guitar. Every guitar is different, which is why we never get bored with them. A lot of it, simply comes down to taste.
Buy a second-hand or new acoustic guitar?
We always have a combination of new and second-hand guitars in stock in our shop. Why? Because we think it's a great way to offer unique guitars. Many guitarists make some progress with their instrument and after a while, there is room for or simply a desire for something else. A guitar that has served its purpose for one player, can make another very, very happy. Luckily most guitars are built to last, but if you do buy a second-hand guitar,  there are a few extra points to look at.
1 Check that the neck is straight
That's the first thing you do by just playing the guitar. Do you hear string buzz? Or does a guitar play very heavily due to a lot of distance between the strings and the fretboard? Then the neck probably does not have the right relief. Usually you can see that by just looking over and along the neck. Don't have much experience with that? Then it is always a good idea to bring someone who knows a bit more about guitars when buying a second-hand guitar.
Is the neck relief of? Then you can often do something about it with the truss rod.  You can read more about this here.
2 Check the tuning mechanisms
Do they run smoothly and do what they have to do. A tuning device is always handy when buying a guitar.
3 Check the soundbox
A dent or a scratch  isn't a big deal. But cracks can cause problems and also pay extra attention to transitions: so from body to neck for example. If there are cracks or large spaces, that can indicate serious problems.
If you buy a second-hand guitar in our shop, it has already been checked in our workshop, we will set it up perfectly and we will be happy to see you back within a year for an extra set up. We offer this as a service because guitars, also new ones, continue to develop  and that occasionally require a little extra attention to ensure they stay in shape.
Guitar buying questions
Because we are the specialist in the Netherlands and maybe even Europe for acoustic guitars, we get a lot of questions in our shop and through email. We list the three most frequently asked questions about buying an acoustic guitar.
I have been playing acoustic guitar for a long time and want to amplify my sound. Which acoustic guitar should I buy?
Do you already have an acoustic guitar? Then you may not need to buy a new one, because to amplify your guitar sound, there are many smart solutions. First, you can quite easily place a pick up in the sound hole yourself. Want something less noticeable? We are very pleased with the after market built in solutions of LR Baggs  and K&K  pure mini.  Which one fits best also depends a bit on the model. We have a lot of experience with the installation, so feel free to contact our workshop.
Want to take the stage with a new acoustic guitar? Most brands offer great solutions for this, which is why we are usually a bit reluctant to recommend one brand, but Maton offers something very special in that respect. Thanks to their AP5 pro, that's the choice of many professionals for a great and natural amplified stagesound and definitely a brand to take a look at.
I've been playing electric for years and I want to play acoustic.  What brand should I buy?
Every guitar is different, so don't go for just one brand. If you switch from an electric guitar to an acoustic, that's often a bit of a bummer, because you often have to work a little harder on acoustic guitar. This is due to the often wider neck, the strings are thicker and there is often a bit more distance between the strings and the fretboard. A lot of  guitarists are kind of put off by that and that is real shame! Because with a good set up, some thinner strings and a slim, narrow neck, the playability of an acoustic guitar can get very close to an electric guitar. Fender has even made a kind of hybrid lovechild from an acoustic and electric guitar: the acoustasonic. If playability is an issue for you on an acoustic guitar, you just have not found the right one.
Do people buy acoustic guitars online?
Yes they do! Quite often. Of course, we wrap them up safely before we ship them. All guitars get a set up, we partner with good couriers and your guitar is always well insured during the trip. Do you want to know more about a guitar before ordering? Please contact us, because we can also record an (additional) video.
Are you looking for your first or your next guitar and do you want to play it yourself first? Then feel free to visit our shop in Dedemsvaart. We're open! We have plenty of space so you can try out your new guitar at your own pace and our Fellows are always on call for any questions or free advice.