Erik Bogaards - 15 / Nov / 2022
What makes an acoustic guitar so expensive?
Some acoustic guitars come with a very serious price tag. But what makes some acoustic guitars so expensive? And are there more budget friendly alternatives?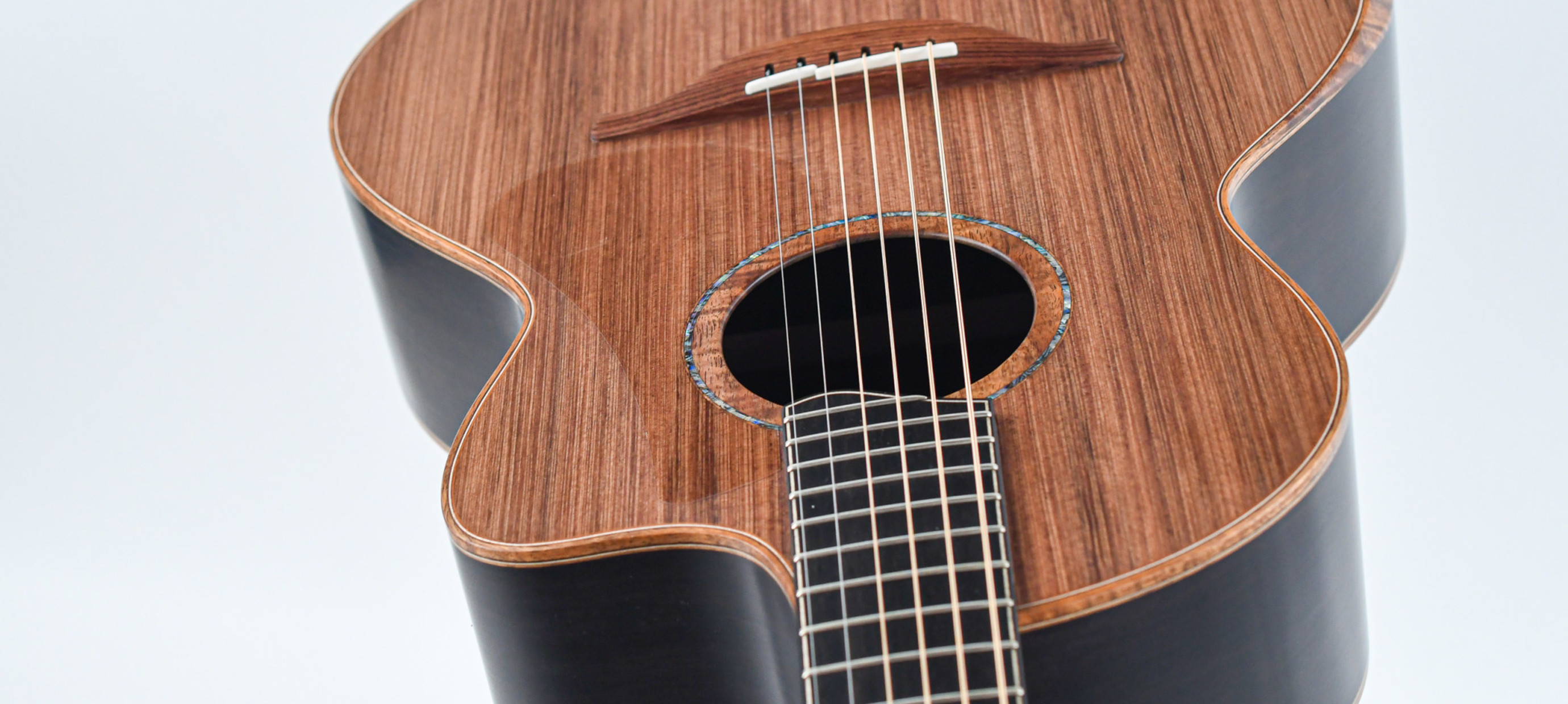 We are very happy to have an open door policy at the Fellowship of Acoustics and this means you can pick up almost all of the guitars we have in our store. As you wander through our Acoustic Villa we are certain there is more than one guitar that will catch your eye. You take one from the wall, you play that Mighty G chord and a little later, you will probably look at that pricetag. We know this can be a bit of a shock sometimes, because the guitars we offer start at a few hundred euros and go on to the thousands of euros. That's why we sometimes get the question: why is an acoustic guitar so expensive?
Material
The first thing that really adds to the price is tonewood. The commonly used Sitka spruce for the top is considered affordable, but the higher the quality of the wood, the more you pay for it. The quality is determined by the location where the the tree grew, the species, the grain and the aging, because all of these factors will ultimately affect the tone.
If there is a beautiful, unique, 'bearclaw' figuring in a set of sitka, that will make it even more expensive, pushing the price well over 100 euros. For the back and sides of a guitar, luthiers often pick exclusive, more exotic woods, such as rosewood, walnut, mahogany and maple which often exceeds hundreds of euros per set. The neck is often made from mahogany, and on the fretboard and the bridge you will usualy see the black ebony. And then there are the tuners, some decorating materials, a set of strings and it is easy to find hundreds of euros worth of material in a guitar.  
Craftsmanship
Besides materials, the amount of labor that goes into guitar is by far the most important factor that determines the price. We are happy to sell boutique guitars that are handmade from start to finish: the tonewood is carefully selected and sometimes even sawn the luthier, How much time goes into such a guitar, depends a bit on how you look at it. Some luthiers buy 'coarse' wood, saw it themselves, let it dry (sometimes for years) and continue from there. This can sometimes be a bit disappointing, because a lot of the wood can get lost in the process. Just look at this luthier, who starts out with a huge piece of Ziricote, but ends up with...
Other luthiers buy more or less ready-made tonewood, which they use in the workshop after a few weeks of acclimatization. And there is a lot more to making guitar, because wood must be molded and 'sit' for a long time to stay in the same shape, glued pieces must dry, the bracing is precisely placed and scalloped, the guitar is perfectly finished and so on.
Martin, one of the largest luthiers in the world, was the first to translate the construction of high quality guitars into a production line, where every builder specializes in his or her part. According to Martin, building a guitar consists of more than 300 parts and as a result making one of their popular D28 models takes half a year from start to finish and a large part of that is drying and waiting.
This way of building a guitar still is the basis for Martin and that means that you can buy a guitar today that was built in almost the same way as  it was well over 50 or 60 years ago. So you are not just buying a piece of guitarhistory, you are actually getting a piece of their legacy in your hands, to have and to hold.
Even though the number of working hours that go into a guitar differs greatly, somewhere between 150 and 200 hours for one acoustic guitar is considered normal for small luthiers, but it can be a lot more. Add all that together and you understand why small luthiers do not build more than 10 or 20 guitars a year and to be able make a living, such a guitar quickly costs more than 5,000 euros.
The Brand
In addition to the hours and materials, you also pay for The Name that is on the headstock of a guitar: the brand. The big luthiers put more money into the marketing of their product and that is reflected in the price. Is the name, the only thing you pay for? Not quite. First of all, we see that most brands have built that name for a very good reason: making high quality guitars for decades. Large guitar companies also invest in research&development and ensure innovation. And last but not least: a brand name gives you a guitar that will keep its value, so a more expensive guitar can be a better investment in the long run if you want to trade it in for something else later.
Are there more affordable acoustic guitars?
We are crazy about guitars, so as far as we are concerned, guitars are not necessarily 'expensive', but some guitars do cost a lot more than others. We also understand very well why they are priced as they are and we strongly believe that a unique instrument can live up to that price tag. Because the closer a guitar gets to perfection, the more expensive they are, simply because 'The devil is in the details'. Getting those finesses just right, requires a lot of extra attention. Lowden is just one good example, because these are unique guitars that excel in sound, playability and finishing, and the inevitable pricetag that goes with it.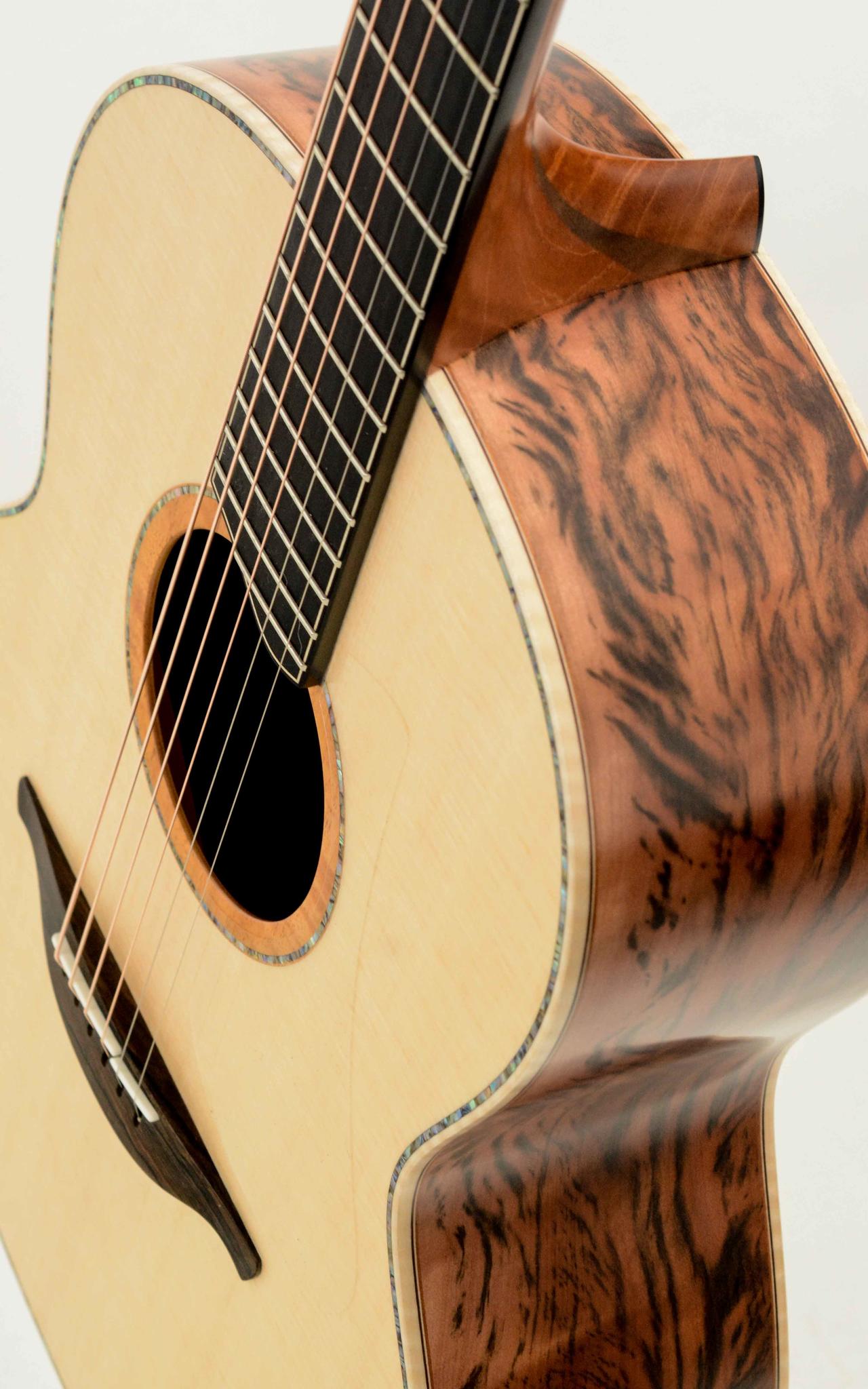 We want every guitarist to try and experience such a guitar just once, even if it does not fit your budget.
And, please do not worry if your budget is limited, because today's guitarists live in a Golden Era! Where 20 years ago you really had to look for a somewhat decent acoustic guitar  for less than 1000 euros, nowadays there are a lot of beautiful guitars available for almost every budget.  How is that possible? It all comes down to the materials, the hours and the brand.  
If you are willing to make some compromises on any of these parts, we are certain there is an acoustic guitar out there for you. Let's take Martin as an example. Their all solid wood ReImagined Series quickly costs more than 3,000 euros and for that serious amount you get a dream guitar, an instrument for life and a 'future vintage'.
Does that not fit your budget? Then Martin also offers guitars that are made in Mexico (lower wages) and partly made with computer-controlled CNC Machines for consistent quality at lower costs. You also get a fretboard from a sustainable alternative to ebony: richlite. The guitar is a bit smaller, made with different tonewoods, comes with a bag instead of a suitcase, and thanks to  all that clever innovation you buy a real Martin 000-10JR!  Taylor does something similar with the Academy Series, opting for laminate as an alternative to solid wood.
Maybe you prefer an all solid wood guitar? The lesser known brands such as Eastman and Blueridge have been making great guitars for years and deliver so much quality that they are now becoming more and more brand names themselves. But with a completely different price tag due to smart production in China.
BSG from the Czech Republic, may not have the name, but it does have The Quality, which is why we have been selling these guitars to very satisfied customers for years. Furch, also from the Czech Republic, is on its way to become world famous, thanks to top notch guitars that are made closer to the Netherlands and are very affordable.
For less than 2,000 euros there is a lot to choose from.
And don't forget to look at secondhand guitars! At The Fellowship of Acoustics we offer the possibility to trade in and that means that we often have beautiful secondhand guitars in stock.
At The Fellowship of Acoustics we just want to help all guitarists find That One Guitar. So feel free to visit and see, feel and hear if we have The One you have been dreaming about for years in our shop. Even if that guitar seems out of reach for now, while you are wondering through our Acoustic Villa, please try the guitar that hangs in the next room, because there might just be a guitar that blows you away and that price tag might just be a very pleasant surprise. We are happy to help you and the coffee is ready!