Geplaatst op
Door Maarten Dispa
Just in time for the new year, Gibson has announced their 2018 line-up! Of course we will be dealing in these models and we would gladly show you what Gibson, therefor we, have to offer!
The Gibson 2018 lineup is improved, refined and more cohesive than ever before, providing musicians with clear choices to ideally suit their playing needs. The simplified and harmonized lineup is highlighted with the most desirable attributes of Gibson's celebrated tone, playability and design in an array of new feature combinations and colors. The result is an exciting family of instruments that represent better quality, value and choice to discerning traditional and modern players worldwide. Let us show you why "Only a Gibson is good enough"! 
Through this blog we will be showing you what's new, odd and cool in the 2018 line-up, focusing on the Montana / Acoustic side of things. Starting with the cryogenic frets. 
Now this might not be a new feature at Gibson (They've been doing it since 2014), but it's certainly a cool one to mention! It involves the freezing of the frets to temperatures not even reachable on Saturn, a technique developed by NASA to make metals even harder. These cryogenic frets will last you about four times as long as regular frets!
The famous Hummingbird and Doves in Flight are now both getting custom 12-string models! For the Hummingbird; Custom appointments include abalone rosette and binding, hand-engraved iconic birds and butterflies and beautiful AAA koa adorn this brand new addition. Featuring hand inlaid and hand engraved hummingbirds on the headstock, fingerboard, pickguard, and bridge. Finished with an LR Baggs VTC. The regular Hummingbird will be available in Regal finish, Vintage finish and a couple of cool new ones! Like Big Sky Blue and Techno Pink! 
The Hummingbird is also getting an upgraded model, the Hummingbird AG. A thinner, square shouldered body with a cutaway design. Hand built using all solid tonewoods. In this range you have the choice out of Supreme, Rosewood and Walnut; The Hummingbird Supreme AG is the ultimate instrument for the player wanting to step up to a professional-level acoustic guitar that is recording ready straight out of the box. This high-end, high performance model boast a whole host of custom features, we left no detail untouched combining it all together for a look and sound that's second to none.
The Hummingbird Rosewood AG is the powerhouse square shoulder, slim body depth, rosewood cutaway guitar. Handcrafted with the same time-tested build techniques as our most iconic models. Each Gibson Acoustic is full of expression, character, and exquisite beauty and this new modern styled instrument is no different.
The Hummingbird Walnut AG continues Gibson's long history of producing world famous Square Shoulder body designs, such as the Hummingbird, Dove, and Songwriter models. We proudly introduce a new thinner, Square Shoulder cutaway body design, hand built using all solid tonewoods. Finished with an LR Baggs pickup system.
For the Doves in Flight; Incorporating the features of the legendary Dove with some of the finest decorative work in the industry. The Doves in Flight displays 28 individually engraved dove inlays—seven on the headstock, 16 on the fingerboard, three on the pick guard, and two on the bridge—each with its own original design. Finished with an LR Baggs VTC.
The Dove is also available in a normal 6-string model. This famous flame maple-backed dreadnought introduced in the early '60's is intertwined with one of the most revolutionary decades in popular music history. It's maple back and sides and long scale produce the crisp, clear tone and projection while the square shoulder body adds balance and warmth. The hand-crafted pick guard, with a single mother-of-pearl dove among painted flowers, make this guitar instantly recognizable.
Also a really cool new one, on the acoustics department, is the 75th anniversary model of the famous J-45! She set a high standard that guitar players around the world have come to trust for performance. This Limited Edition J-45 is a celebration of the time-honored Workhorse. Built with a Thermally Aged Adirondack red spruce and beautiful Figured Mahogany back and sides. The bound headstock is highlighted by mother-of-pearl banner and 75тн logo. One-of-a-kind detailing make these coveted guitars highly desirable to players and collectors alike.
Next to this J-45 model there will be a few other variations available. The Standard J-45 will be available in some new finishes! Including; Regal, Denim Blue, Olive Green and Neon Green!
There will also be a vintage J-45 available; This model stays true to the original in every way, including the same round-shoulder dreadnought body design, an enhanced top built from Thermally Aged Adirondack red spruce, custom vintage hide glue top bracing, and back and sides constructed from genuine mahogany. Finished with Gibson's new Thin Finish plus a hand rubbed VOS process, for a truly vintage-inspired look and feel.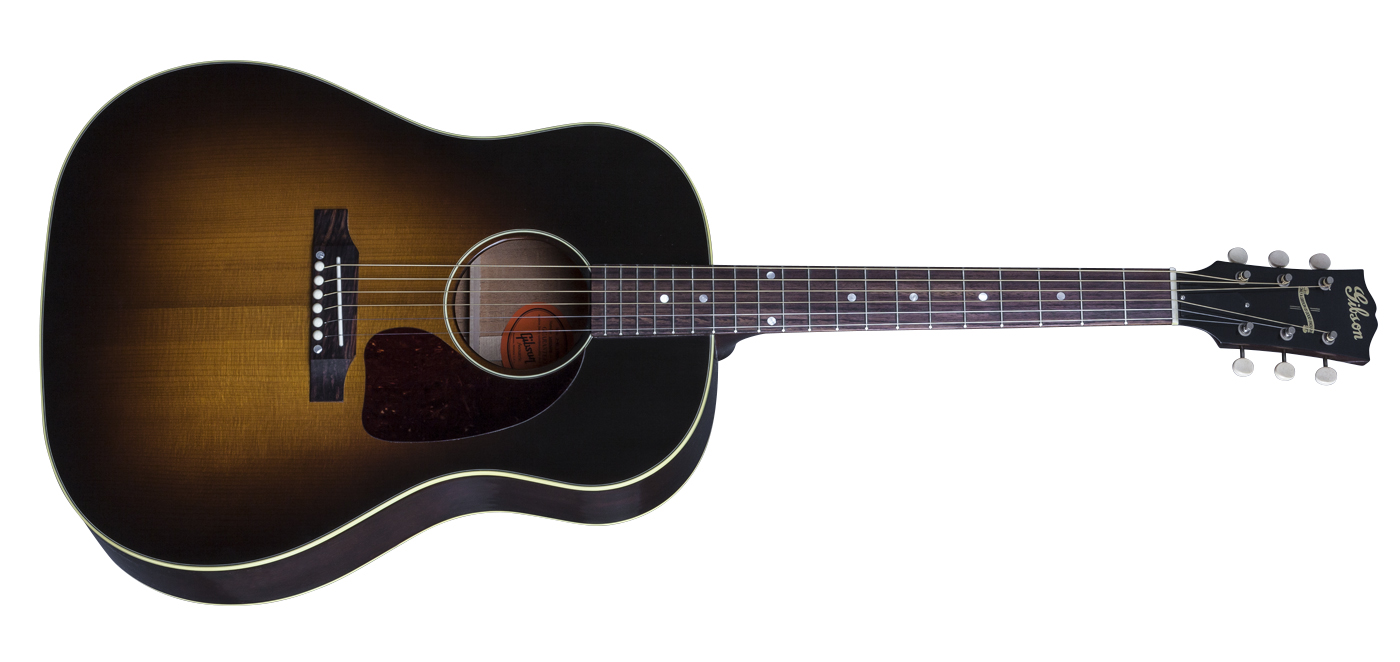 Finally, the SJ-200 will also be available again in various models and finishes; Regal, Snakebite (bottom), Iguana Burst, Wildfire Burst, Trans Orange and Antique Natural. 
The SJ-200 also comes in a studio model, Bob Dylan model and a vintage model! The vintage is hand built from time-honored construction methods and classic Gibson style. Finished with Gibson's new Thin Finish plus a hand rubbed VOS process, for a truly vintage-inspired look and feel.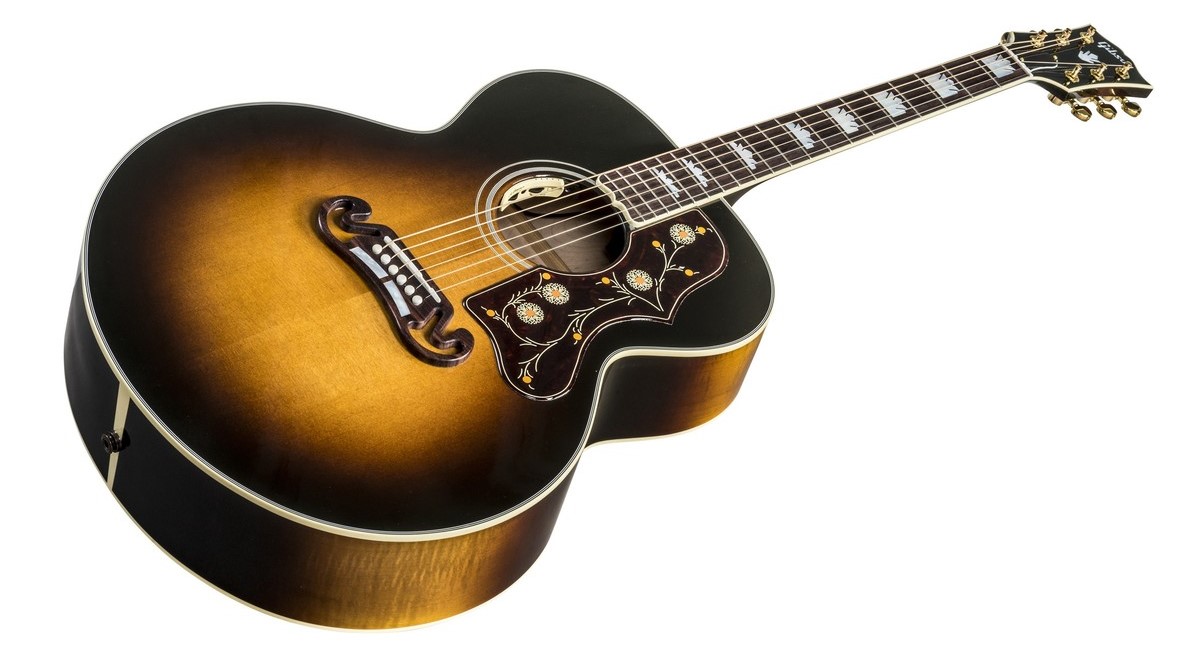 Check out Gibson's website to check what they have in store for you. There are loads more cool new models, though smaller than the 2017 line-up, there is definitely something in there for you! It's about quality, not quantity, after all.