The guitar philosopher who believes that the only thing that makes you really happy is making other people happy.
Ilse de Lange, Milow, Paskal Jakobsen, Tony Rice and many, many others are overjoyed with their guitar from the Santa Cruz  Guitar Company (SCGC). Santa Cruz? Chances are that you've never heard of it and, frankly, that's a missed opportunity for every guitarist.
The man behind this brand is Richard Hoover and he can proudly tell you that Santa Cruz makes fewer guitars in a year than other brands do in one day. Not that he would ever say anything bad about other guitars, because Richard Hoover is way too nice a person to ever do so.  He just prefers to do things differently for Santa Cruz. "I revere wood," is what Hoover says about this, in this amazing video.
So Santa Cruz takes into account that every piece of wood sounds different. That's why they don't put that wood in a standard mold, but they 'massage' it for every guitar to the customer's wishes.  This takes time, requires a lot of experience and offers the opportunity to create an instrument in which you see and hear the hand of the master. That is where Santa Cruz excels, because even though they call half the guitars they make 'standard', it never really is. As a customer you are therefore given space to determine a lot: different tonewoods, left- or right-handed, the thickness of the neck and much more, often at no extra cost.
If you really want to make your own mark on a guitar and have very specific wishes, then the Santa Cruz Custom Shop can do almost anything, such as:
3.000 year old Sitka top: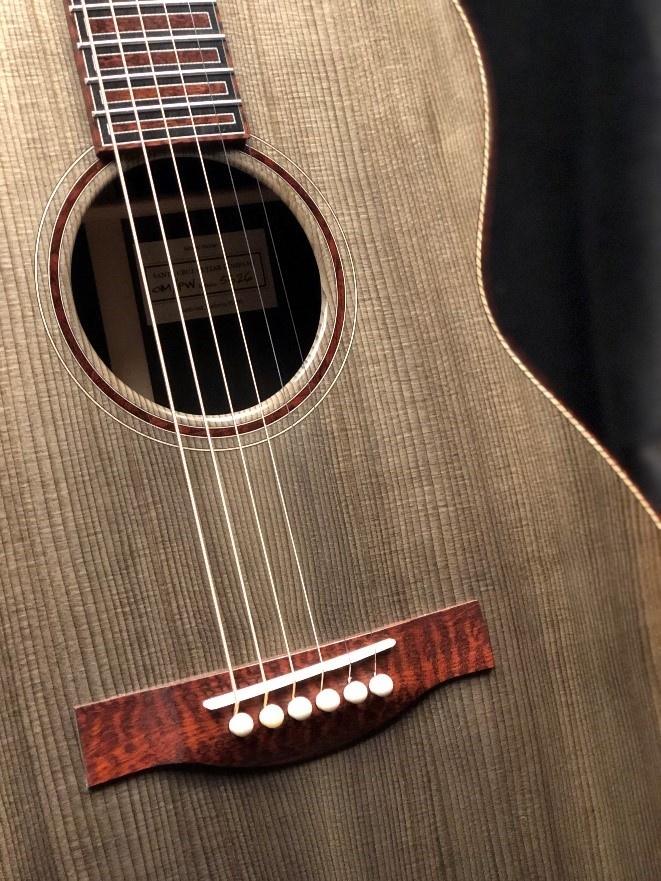 Beautiful inlay: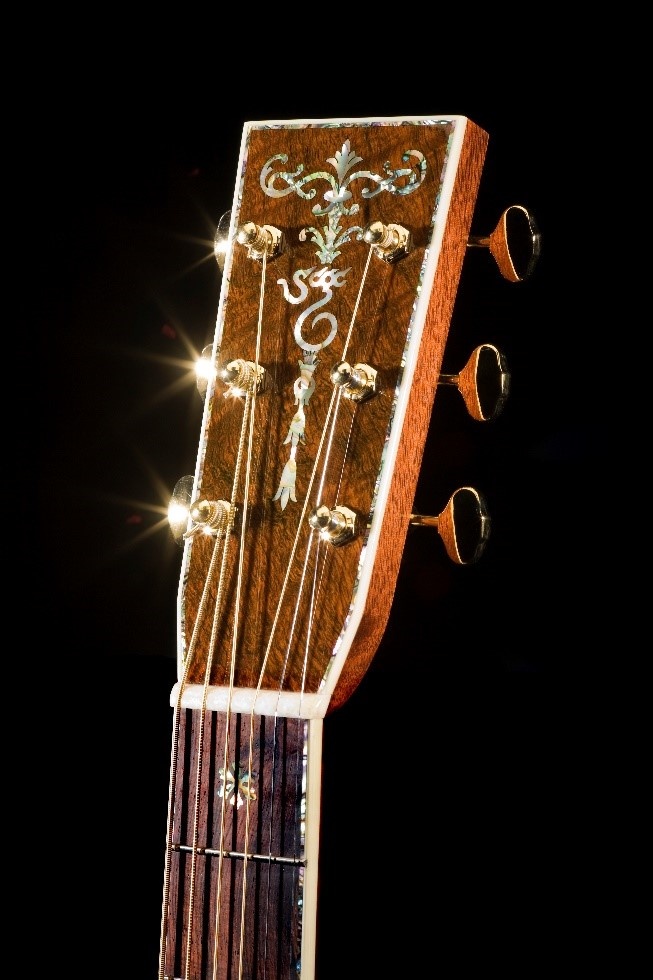 Mahogany from 'The Tree':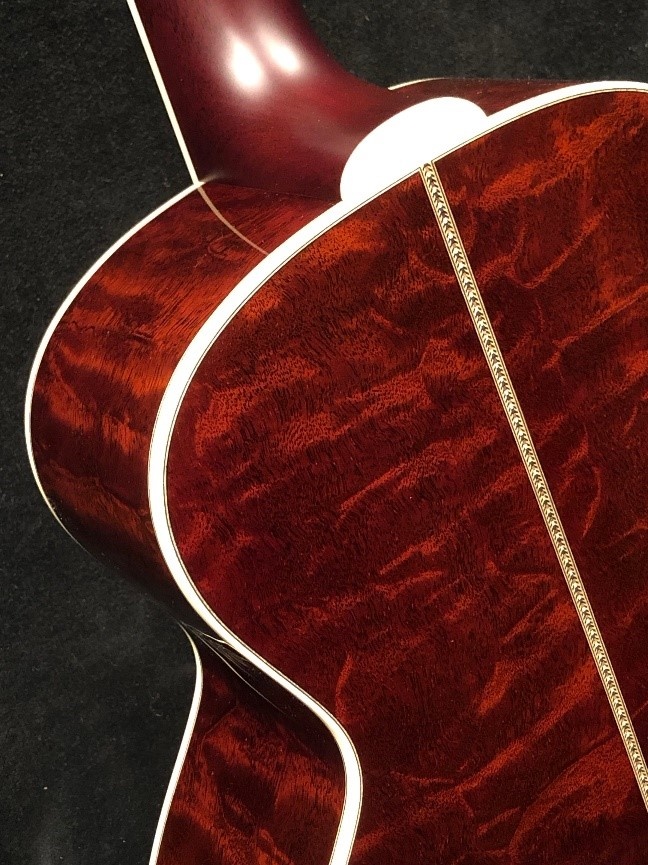 Wood from 'The Tree' is known among enthusiasts as the very best tonewood there is, even better than Brazilian rosewood. Slash has a guitar made of it and calls it 'Just perfect'. The story behind this Tree is very much like an adventure, because the behemoth stood deep in the rainforest of Honduras. In 1965, a group of loggers went into the wilderness to cut down the Tree by hand. It worked, but at the last minute The Tree just fell the wrong way, straight into a ravine, making it impossible to retrieve the wood. Years later a wood merchant heard story, found 'The Tree' in what is now Belize and had it sawn into pieces and dragged to the inhabited world.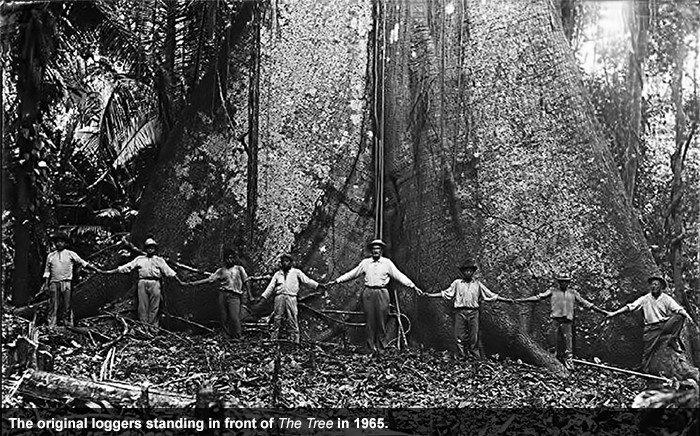 Photo: via StewMac
A lot of wood from The Tree has ended up in furniture, but a small part has been discovered by guitar builders. The wood looks fantastic because of the curls and because of its unique density, it sounds even better. Wood worshipper Richard Hoover has managed to get a share and you can order a guitar from the legendary 'The Tree' at Santa Cruz.
It just indicates that at Santa Cruz they really do anything to make a guitar that makes you happy as a guitarist.
We have already been able to help many customers put together their Santa Cruz Custom Shop guitar and thanks to its excellent service that is a unique experience. Everything shows that they just want to make the best possible guitar that suits you perfectly. Up to and including  the strings. 
Just listen to singer/guitarist Bert van de Bergh and the insanely balanced sound of his little Santa Cruz, playing Leonard Cohen's Avalanche: 
Bert van den Bergh himself says about this guitar:
"Let me start by saying that the guitar and its sound is a very personal thing and that what I think certainly does not have to apply to everyone.
On my 14th birthday I received guitar lessons as a gift and the music school advised all students to purchase a Yamaha (not too expensive-reasonable quality) classical guitar, so that became my first guitar.  
We only had a small guitar shop in our city with a limited offer, but at some point you want more. My quest ended up in a guitar farm in Bergentheim: The Fellowship of Acoustics. A (guitar) sky opened for me, I was allowed to try, buy, return and buy some new, the most beautiful guitars and always a little bit better.
As befits a true guitarist, many guitars and brands came and went over the years. Until Rudi  (the owner of TFOA) asked me if I'd ever tried a Santa Cruz guitar. I had not and once I did it was love at first hearing. This guitar had everything I'd been looking for all these years, it sang, sounded tightly balanced and I heard tones I'd never heard coming out of a guitar before. The guitars also look beautiful, sober and beautifully finished so they are also a feast for the eyes. After having some Santa Cruz guitars in my possession, I found out that I like to play on a smaller Body, an O model or an OO, that's my thing.
Now I'm in possession of a Mahogany O 1929 Custom 12 fret with a slotted headstock, a (dreadnought) deep body and a nice Sunburst finish. Despite the small but deep body, this guitar sounds nicely balanced, with a nice warm bass and a sparkling high. This Vintage looking guitar is a pleasure to play.

Meanwhile, The Fellowship of Acoustics is no longer a guitar farm and they are now located in a huge old bank building (with safe) in Dedemsvaart and of course I have been there to have a cup of coffee several times. When I was allowed to perform at their DINA Theater, I walked to the room where the Santa Cruz guitars hang and that's how I ran into a lot of beautiful things.. . That's why I now have the pleasure of owning an OO Don Edwards Cowboy Singer. I bought this guitar by trading a SC OOO 1929 (standard) guitar.
Where I thought I'd buy this guitar as an add on, I have to admit that it is now the guitar I usually use.
They both play in a more than excellent way but the timbre of the SC OO Don Edwards fits my voice a little better. This guitar sings with a delicious, honest sustain and lays a foundation under my voice that I was not previously allowed to experience.
Where my first guitars without exception all had a Rosewood body I did discover that a Mahogany body colors more beautifully, warmer and rounder with my voice.
Ever so often I grab the guitar, stick the nose in the sound hole to sniff out the delicious smell of the wood and play. Never say never but I can't imagine ever wanting anything other than a Santa Cruz."
Are you playing guitar? Then, like Bert van den Bergh, you must have played on a Santa Cruz once in your life. You can do this in Dedemsvaart, because we make sure that we always have Santa Cruz's not-so-standard-standard models in stock. 
So don't hesitate to stop by, we're open!