Erik Bogaards - 03 / Jan / 2023
Baum Guitars: Honest and Inspiring!
New at the Fellowship of Acoustics: Baum Guitars offering you Danish minimalism to the max! We had a unique opportunity to talk to Jeppe Garfunkel, partner and Chief Commercial Officer at Baum Guitars and he explains what these awesome guitars are all about.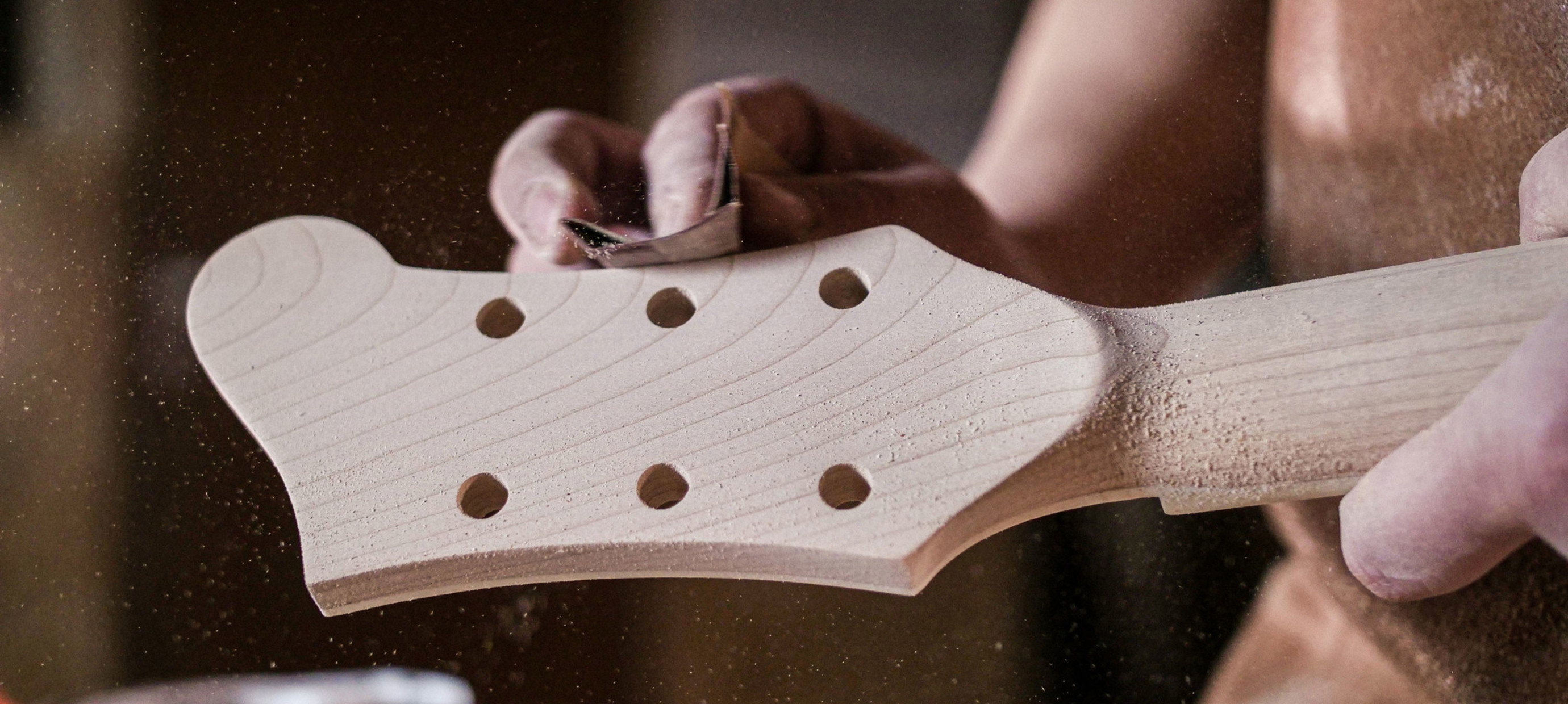 Could you tell us more about the history of Baum Guitars?

"In 2015 Morten Bau, our founder, started Baum to combine his passions for woodwork, electric guitars, and great design. He's an educated art director and has worked with design as a language to express character his whole life - through corporate visual identities or his personal art and guitar projects. Morten has built guitars for almost 30 years, mostly in his private workshop,  but in 2015 he designed the first Baum models, which would quickly evolve into our very own and identifiable design universe. He started with the The Conquer 59™ and Leaper Tone™ and in 2016, the Wingman™, our flagship model, Backwing™ followed."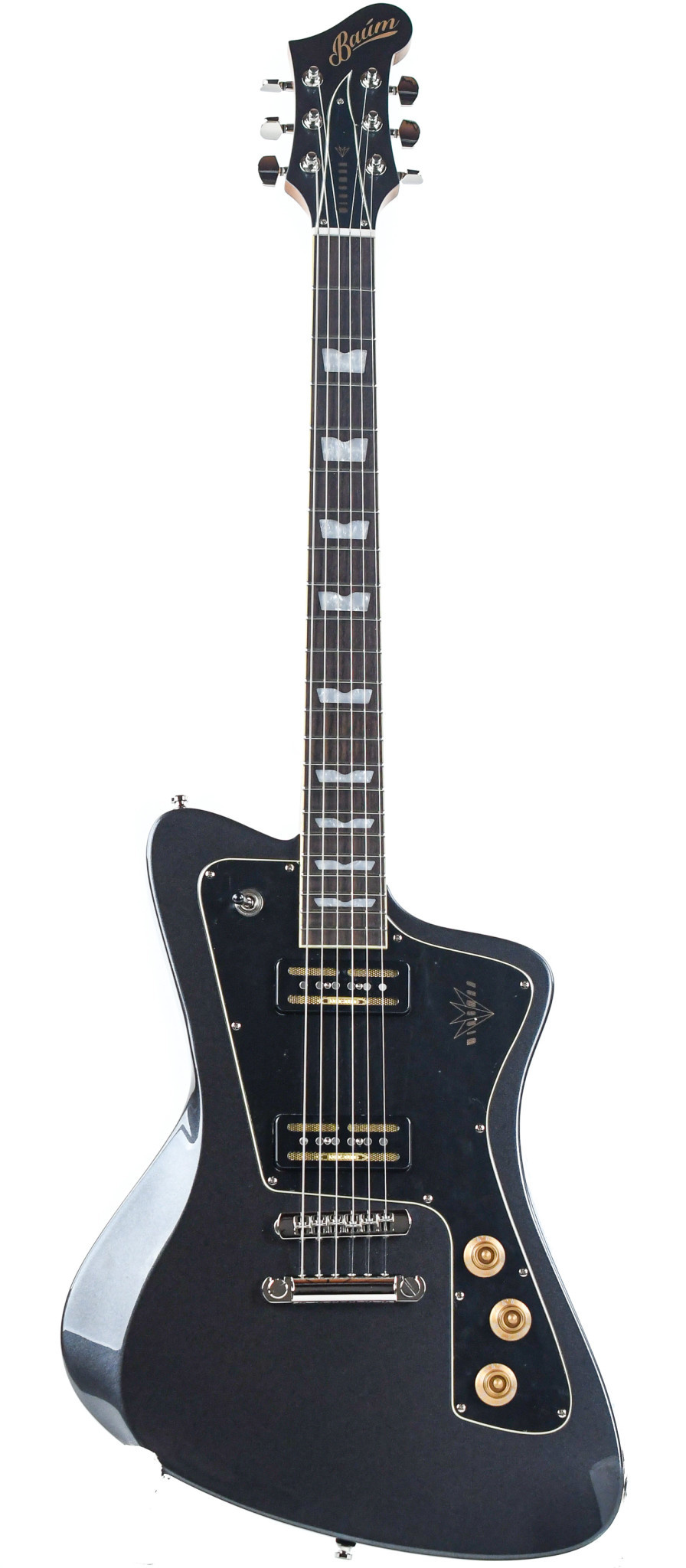 "We also got the Verge™, and Carve™. Once the Baum character was established, the line-up grew quite fast throughout the years. And so did our Instagram account, where we got so much feedback from our online Baum family. We honestly wouldn't be here today without the online Baum family, because they, first and foremost, were our biggest fans and toughest critics. They have given and are still giving us some great ideas!"
Baum is made in Denmark, which is famous for classic designs like LEGO, how does the Danish design legacy impact Baum guitars?

"I guess there's something in the water here, because it is not just LEGO, there is also Bang & Olufsen, TC Electronic, Carl Martin, T-Rex effects, Dynaudio and Soundbox.  And there are architects like Jorn Utzon who is known for the Sydney Opera House, there is furniture by Panton, Stelton and Royal Copenhagen and so much more. I just guess that Danes are raised with intentional design. Being based in Aarhus, we're right in the middle of this creative pool.
As design and guitar connoisseurs, we just want to make sure that every single element on our instruments is somehow connected - both visually and sonically. So I guess, music and design are alike, because to resonate with people, they both have to be honest, understandable, and inspiring."
So what does Danish design look like on a guitar? And how does it feel and sound?

 "Somewhere between brand new, and yet very familiar. Danish design is often referred to as minimalism, but sometimes this is mistaken with removing and compromising. That is not the point: it is all about intent. At Baum all our efforts are aimed at simplicity, functionality, and elegance. So every single line is simplistic and sophisticated at the same time. It's the same for our choices of colours. We always pick colours that complement or contrast each other in a way that gives a certain character to the instrument. Colours can be really difficult to get right because there are often very few nuances from awesome to uninspiring. Of course, we aim for awesome."
"The Danish design is also present also in the functionality of Baum Guitars. The weight is kept low and the balance right, the Levitator bridge is our own design that blends in with the looks and keeps your guitar in tune at the same time. The neck profiles are a comfortable shape that invites you to keep playing. 
And that's also why we started designing our own pickups, Goldsound, right from the beginning. If you're serious about how your instrument looks, then you should also design the sound."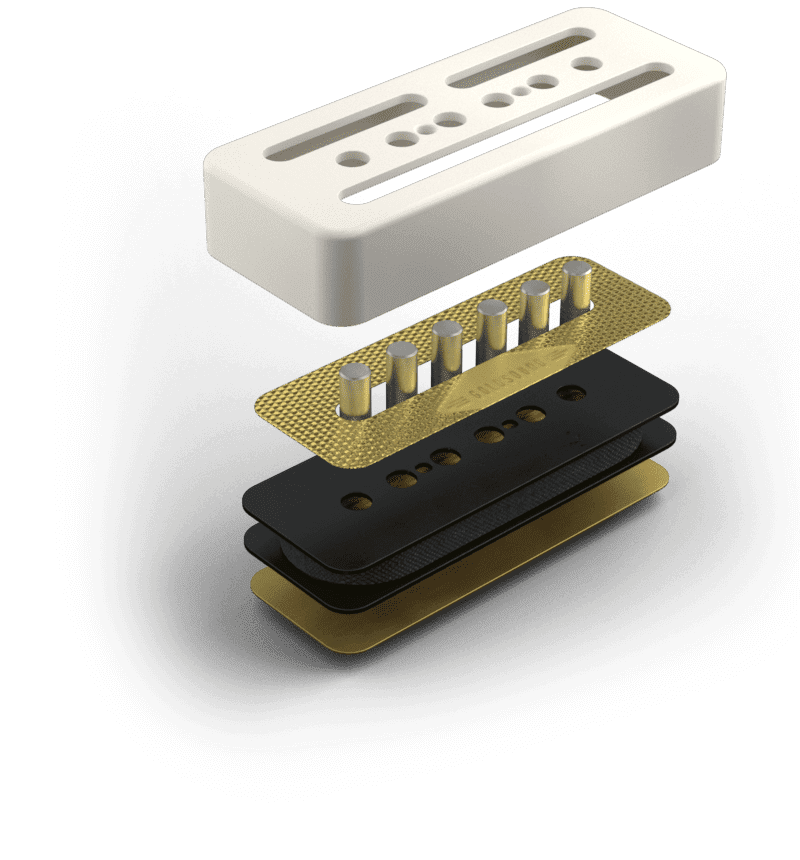 "The end result is a guitar that's inviting to play, a guitar that give you a comfortable feeling, and at the same time it puts your head in a different space, because we've removed all the gimmicks and kept the essentials. You just play differently when nothing holds you back."
You have recently released a signature bass for Seye Adelekan, the bass player in Gorillaz, and other famous players also play and love Baum guitar. How did you get in touch with them? Who's next?

 "Music is our passion. And we love working with artists and building instruments that inspire them to create and share their music. Our most recent collab is the Seye Adelekan Thunder Bass, and he took his pink Thunder Bass on tour and played it in front of well over a million people, which to us is just insane! We have always loved learning from the musicians who rock our instruments."
"Alex Vargas is our first artist collab – and he still plays the #001 Conquer 59 made by Morten. He got that guitar during the summer of 2017. And 2 weeks later and a few tweaks on the first pickups, what would evolve into our Jabmasters, he brought it with him onstage in front of 25.000 people on SmukFest. That was a special moment to us because it consolidated that we can be on those stages too. Next to all the big brands we know and love.
We have a strong connection to the Danish music scene, and some of the first folks to rock our guitars here were Kasper Falkenberg (Various artists and tons of TC demos), Anders Folke (The Minds of 99), Stefan Fast (The Pedal Zone), Cille Dyrberg (Burhan G) etc. Their feedback from studies and stages is invaluable.
And of course, Instagram has been such an important place for us since we started. It's where we connect with our Baum family and where we meet up with new artists, who we want to work with.
We still get the thrills every single time we see one of our instruments in the hands of an artist. That's because we don't push or pay anyone to play their Baum. We just expect that they use it whenever it's the right tool for the music. So every time we see them on stage or online, that's simply because they chose to use it."
Baum is famous for custom made guitars. Great guitars, but not for every budget. So how did Baum go from 'in-house custom' to affordable production models. What are the differences and similarities?

 "We love making custom guitars, but custom guitars are not the 'Why' of Baum. Baum is here to inspire musicians to play different. To create and share music and designing beautiful instruments is just how we do that. And what we do is first, our custom guitars, and then our Original and VEGA Series.
We all know custom guitars are expensive. That's simply because we make them one at a time, use the best materials, and spend the right amount of time on every single step before we continue to the next. It takes time and Denmark is not a cheap country to have a workshop in. It takes time to build character into an instrument, and we take all the time it takes.
In additions we have so many options in the custom shop. Woods, electronics, colours, finish level, pickups, and new combinations of almost everything, so we can tweak each guitar to fit the customer's needs the best. To give you an idea of how 'custom' we are: we still haven't made two identical guitars in the our custom shop."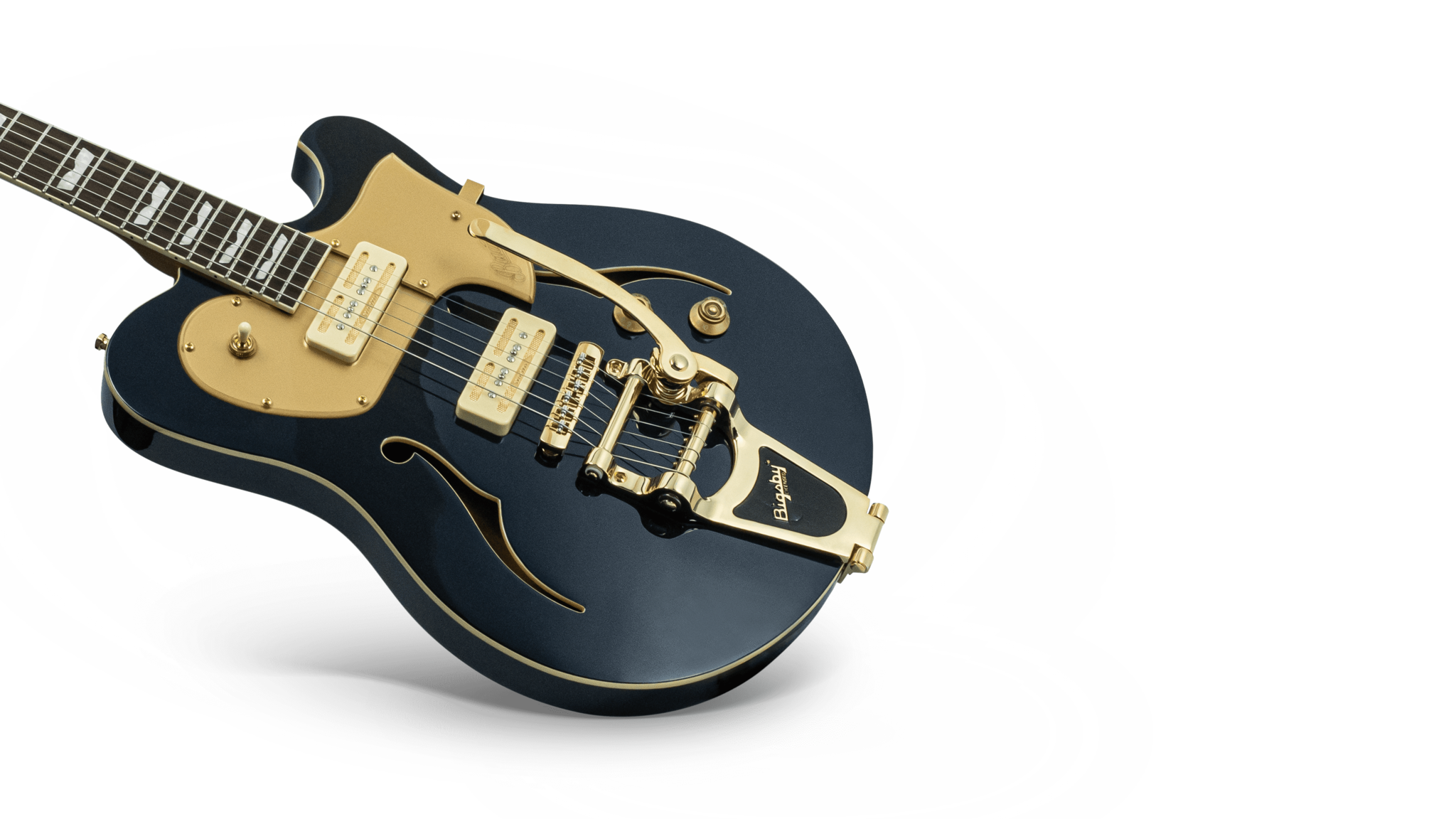 "The Original Series and VEGA Series are all about consistency, so the Danish essence - just made elsewhere. To be honest, there are so many good manufacturers out there that it's not important where in the world this process happens today. It's the design process and quality control of course that's important."
"Maybe it's another Danish thing, but I guess making quality and good design accessible to the people is the norm here. It's "Danish design for the people". And so are our guitars. So we spent a lot of time sourcing the right manufacturer for our The Original Series. This series is rooted in some of the best things we have made in the Custom Shop throughout the years, and the first models released were identical to special artist projects."
The similarities here are the specs. We have tried to match the Danish-made guitars, so in terms of wood we use the standard choices, but locally sourced or available. All our guitars from Custom to VEGA rock our own Goldsound pickups and Levitator roller bridge. The neck profiles are the same Baum profile to ensure that every Baum feels like home.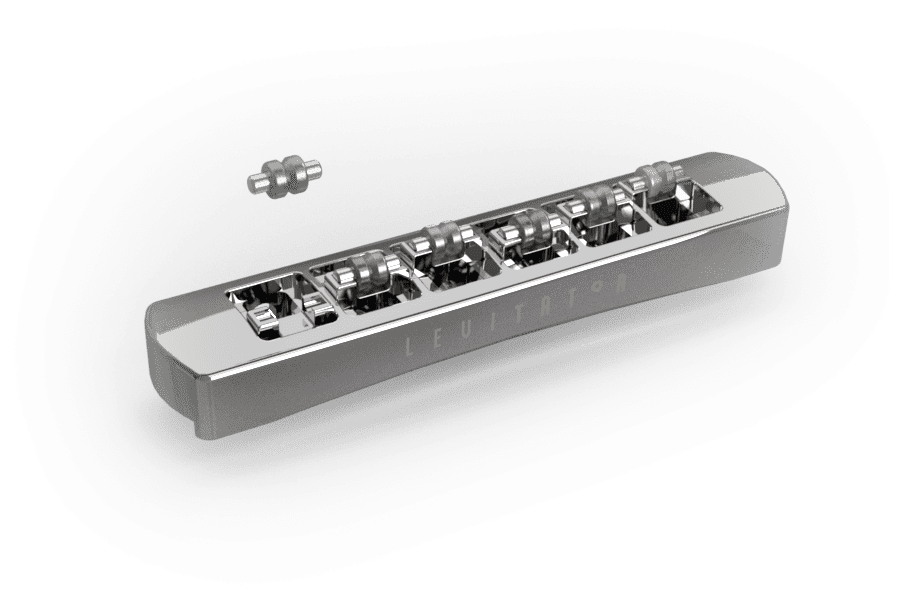 "We are constantly researching and designing to get better. And you'll often find that the custom shop models are the inspiration for new models in the other series. But we have also developed and introduced new things in either the Original Series or the VEGA series, which will be implemented in the Custom shop later."
Baum makes great guitars, for great players and now they are available at a great price point. What's next for Baum?

 "Oh, you know I can't reveal everything right here. I'm sorry, haha! But I can say, for now, that we'll try to settle in everything we have just released. First, we released our new VEGA series which includes a Wingman and our Carve designs. Then we released our two new bass models - Wingman bass and Nidhogg bass. We have new guitar designs coming to the Original Series – the Revolt and Carve, and… new things coming overall to The Original Series. And we are already thinking about celebrating our 10 year anniversary in 2025."
Danish design is also getting a little Dutch now that Baum guitars are available at The Fellowhip of Acoustics. Why is The Fellowship of Acoustics and Baum a good match?

 "Yes! It is great that de Fellowship is one of the first retailers of our standard Baum guitars and the very first Baum Custom retailer in Europe. It is amazing that an iconic store like The Fellowship is a Baum ambassador. Your beautiful GuitarVilla may be one of the most inspiring locations in Europe to pick up a guitar. Another cool thing is that you're a specialist in high-class instruments. You care about the instruments in the shop: their details, qualities, and specifications and are therefore the best ambassador for us to introduce new players to Baum. 
Just like seeing our guitars on stage next to all the well-known brands, it also means the world to us to share wall space with hundreds of other guitars made by iconic builders. We know every guitar brings something unique to the shop and we are honored to bring some Danish design that is new, yet very familiar to The Fellowship."
Please do not hesitate to call, chat or e-mail if you want to know more about Baum Guitars. Want to try a Baum Guitar? You are always welcome in our magical Guitarvilla. The coffee is ready and we try to keep them in stock, but they move fast!