Erik Bogaards - 27 / Dec / 2022
The Top 22 of 2022!
It was an another awesome year with many highlights.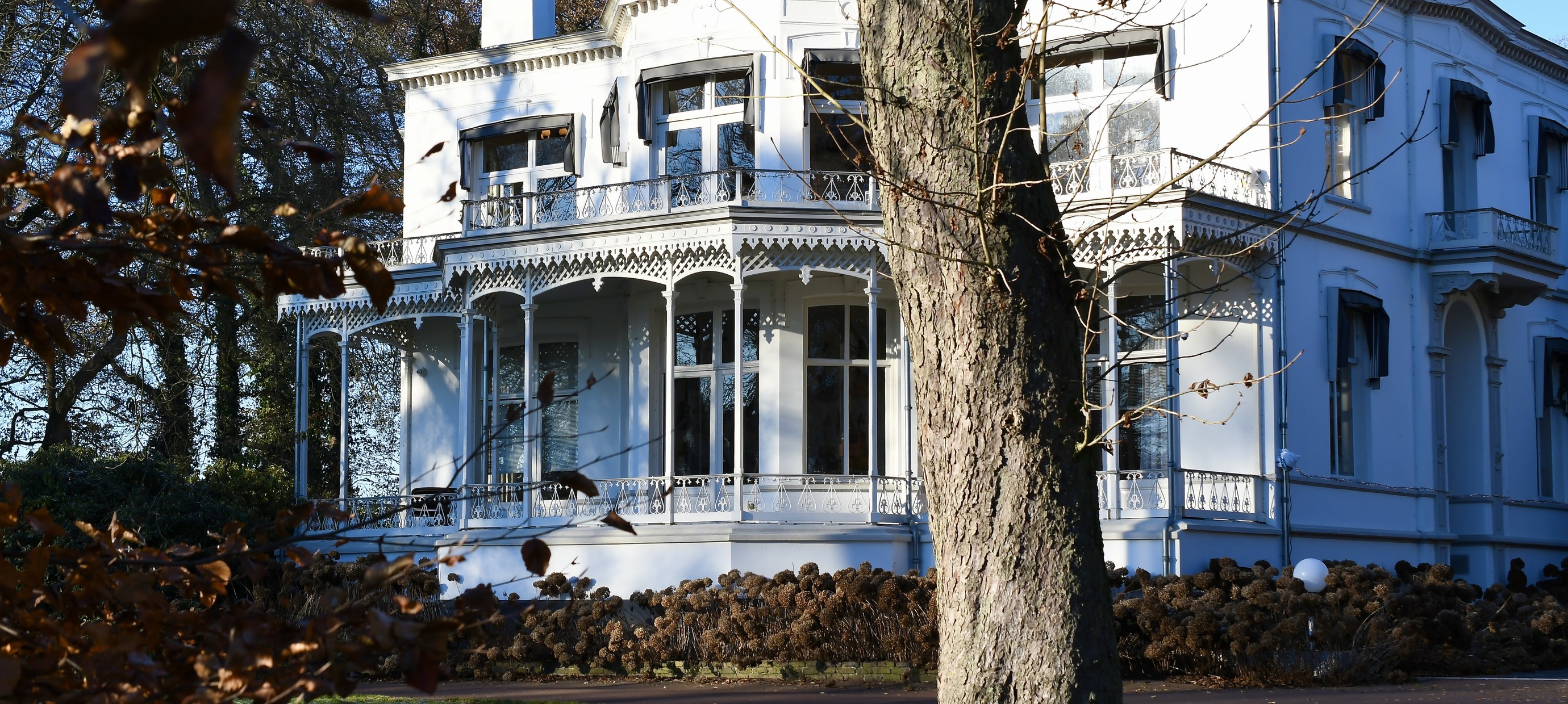 1 The new Fellows of 2022
Fellow Maico has joined our video team and Fellow Roman now shines in sales. On Saturdays it's often busy in our store, so we are very happy Fellow Isa is helping us out and Fellow Monique rocks the calculator in the finance department. And of course we give a warm welcome to our interns: Lora designs, Lars helps the administration, Davey creates content and Fellow Tom's son, Sem, helps out in the workshop and sales.
2 The String of the Year
If you say string, you say Slinky. How can the best-selling set of the year be anything but these: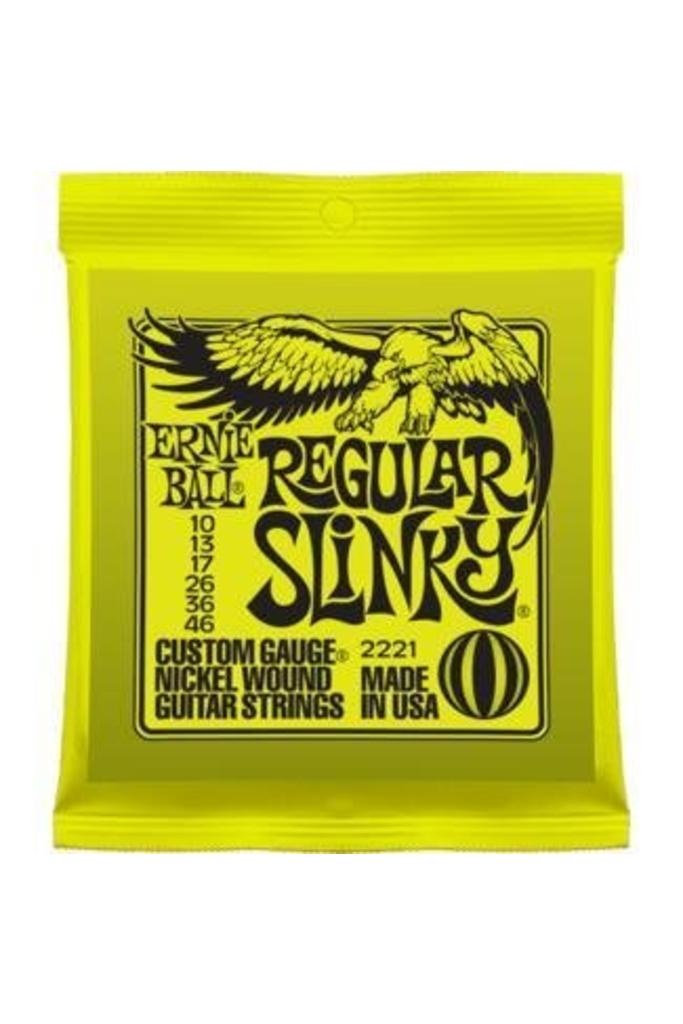 3 The most artistic guitar of 2022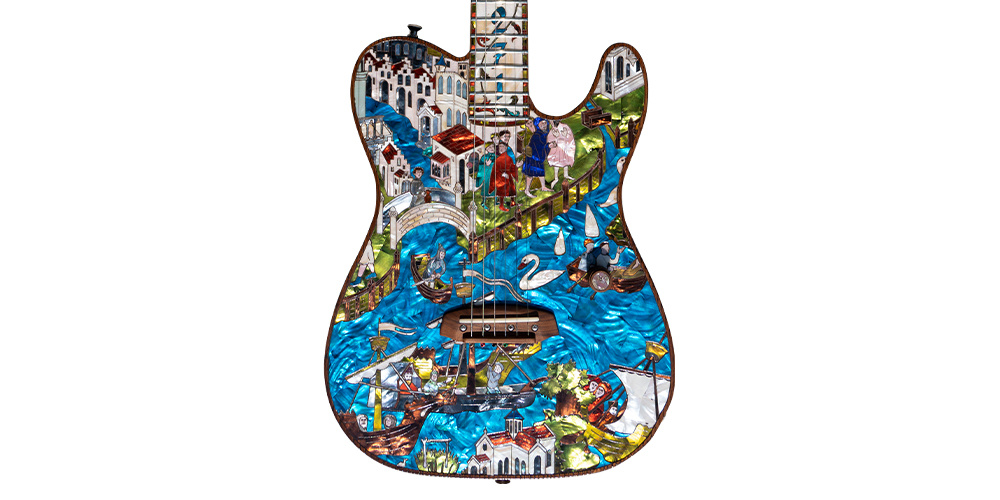 It's an insane project by a luthier who is in fact an artist. Thousands of inlays, a top based on a beautiful ancient design and all of this is combined with very, very old tonewoods. Leave it to Paoletti to come up with something so refined and have the patience and craftsmanship turn this into a guitar in a sublime way. Available from 2024, but you can sign up already.
4 The Non-Guitar of the Year
Are amps a thing of the past? No of course not, because tubes and a speaker in a box still makes the air flutter in a unique way. But the amplifier-in-a-box is simply unstoppable. First a niche, but now many big brands present their own interpretation of this super handy and great sounding concept. We already knew the one from Strymon, but the one from Universal Audio is new and very nice! 
5 The most frequently asked question of 2022
Universal Audio makes very nice stuff and unfortunately this drew some less likable lads to our store who forgot to pay and then you are suddenly in the papers. Many customers still ask: "How did the great Universal Audio Robbery end?" The investigation is still ongoing, so if the gentlemen are looking for some New Years resolutions, we do have a very strong suggestion.
6 Dealer Day of the Year
For years it wasn't possible due to corona, but now we can receive people again, so we are delighted we could organise a Taylor Dealer Day.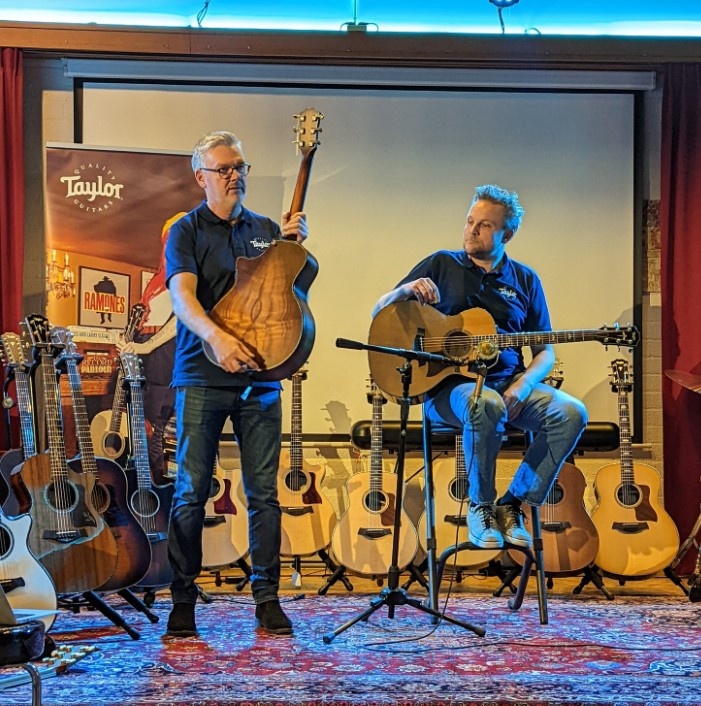 7 The builders who came to visit in 2022
We have missed them in recent years and now they are back in our store: luthiers! Like Baard, Mark Zandveld (the Bace), Jonas de Kesel (Uma Guitars) and Emilio from Cornerstone, but also a delegation from Martin from Nazareth and of course Paul Reed Smith!
8 The most beautiful guitar of the year according to Fellow Maarten
Fellow Maarten is the Man of Marketing and of course he has a big heart for guitars and that makes choosing one favorite at the end of the year a bit difficult. If it has to be one: the Gibson '35 Rio Grande Roy Smeck in Natural.
9 The Most Viewed Demo of 2022
OI!
10 The Farewell

Fellows come and unfortunately Fellows go. So: goodbye Wessel and Sara, hope to see you soon for a cup of coffee!
11 Most love on Insta in 2022
With over 2300 likes, that was the 1943 Banner J45!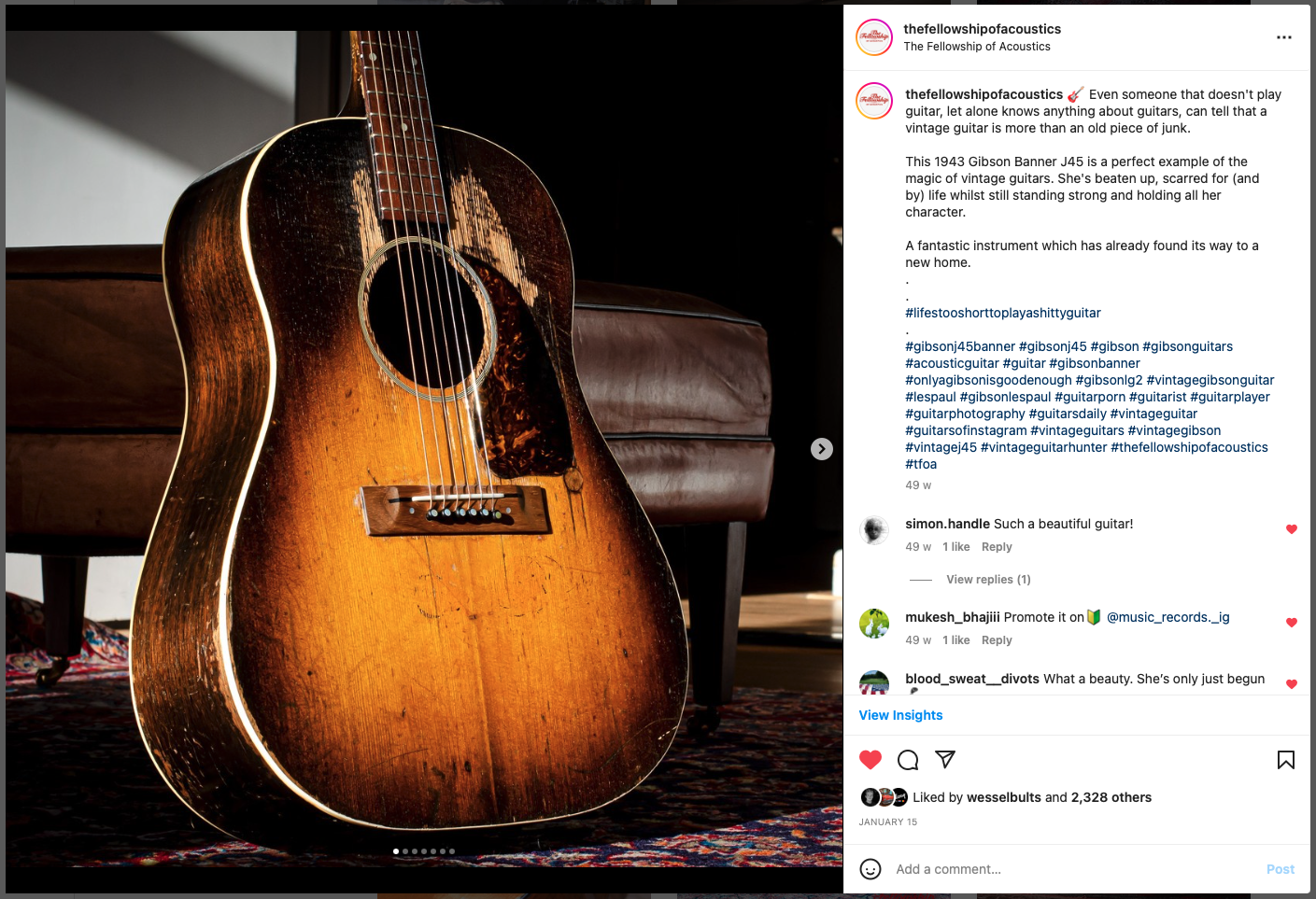 12 Pedal of the Year
A large delegation of Fellows traveled to Rotown and saw Madison Cunningham. In the Netherlands she is not huge yet, but in the US she plays Madison Square Garden and we simply love her, we kiss the ground she walks on and the JHS pedal that she occasionally steps on.
13 Most Read Blog of 2022
The Fellowship is happy to help you in your search for the one guitar that makes you happy. That's why we share everything we know about guitars. Of course in the store, on our YouTube channel and in our blogs, such as this one about the length of the neck.
14 The most expensive guitar of the year
Most of the guitars we sell can be seen in our shop and on the website. But some guitars get sold after just one post on Insta and some guitars very quietly enter and leave our store, thanks to the wish lists that some enthusiasts leave here. These are usually Holy Grail Guitars that they have been looking for for a long time. These sales require some discretion,  so we can only say the most expensive guitar was a Martin D18 from 1940 for the price of a very nice family-car. These types of guitars are very rare, but fortunately they do still become available every once in a while and thanks to our network we were able to mediate between a very satisfied seller and a super happy buyer.
15 The most popular coffee of 2022
We have been serving guitar-playing Netherlands free coffee for well over 20 years, which is why we can now finally give the scientifically proven answer to the question: How do guitarists drink their coffee? Zwart = black, Anders = something else.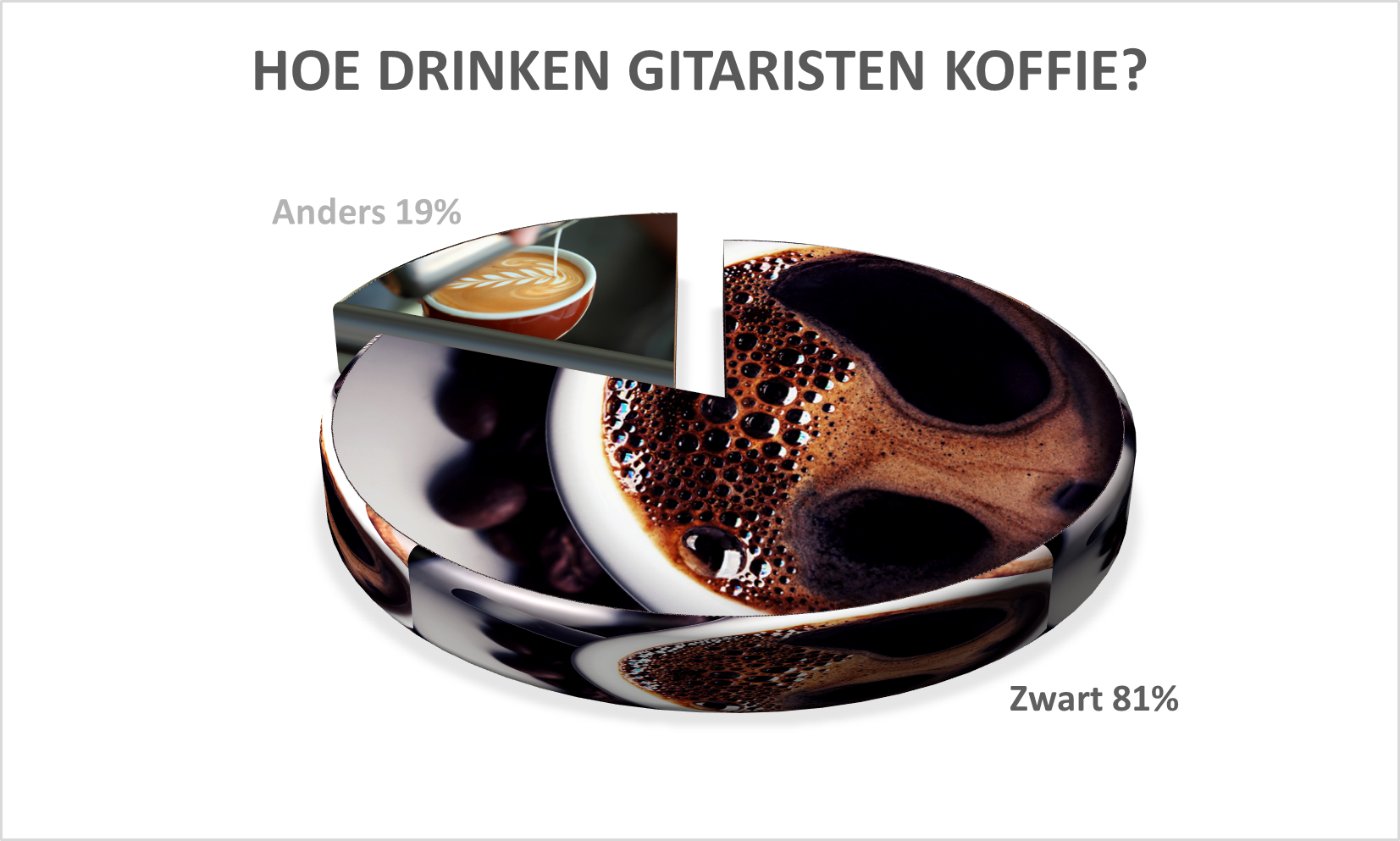 source: The Fellowship of Statistics
16 The most beautiful guitar of the year according to Copywriter Colin
A 90s R9 that was completely transformed into a '59 with original parts. There was a note on which over the years a sum was made of the various original parts and the costs thereof, up to the screws. Impressive and a bit strange at the same time!
17 The Summit of 2022
Of course we had our own Boutique Guitar Show on Tour here in Dedemsvaart, but something special also happened in Germany: there was another big, multi-day guitar Summit in Mannheim. SuperToll! Especially because our very own Kauffmann was attending with some very sexy limited editions.
18 The merch of the year
Life is too short to... be cold! So, like many other Fellows did before you, buy yourself a nice hoodie, turn that thermostat down, save some money and still be warm.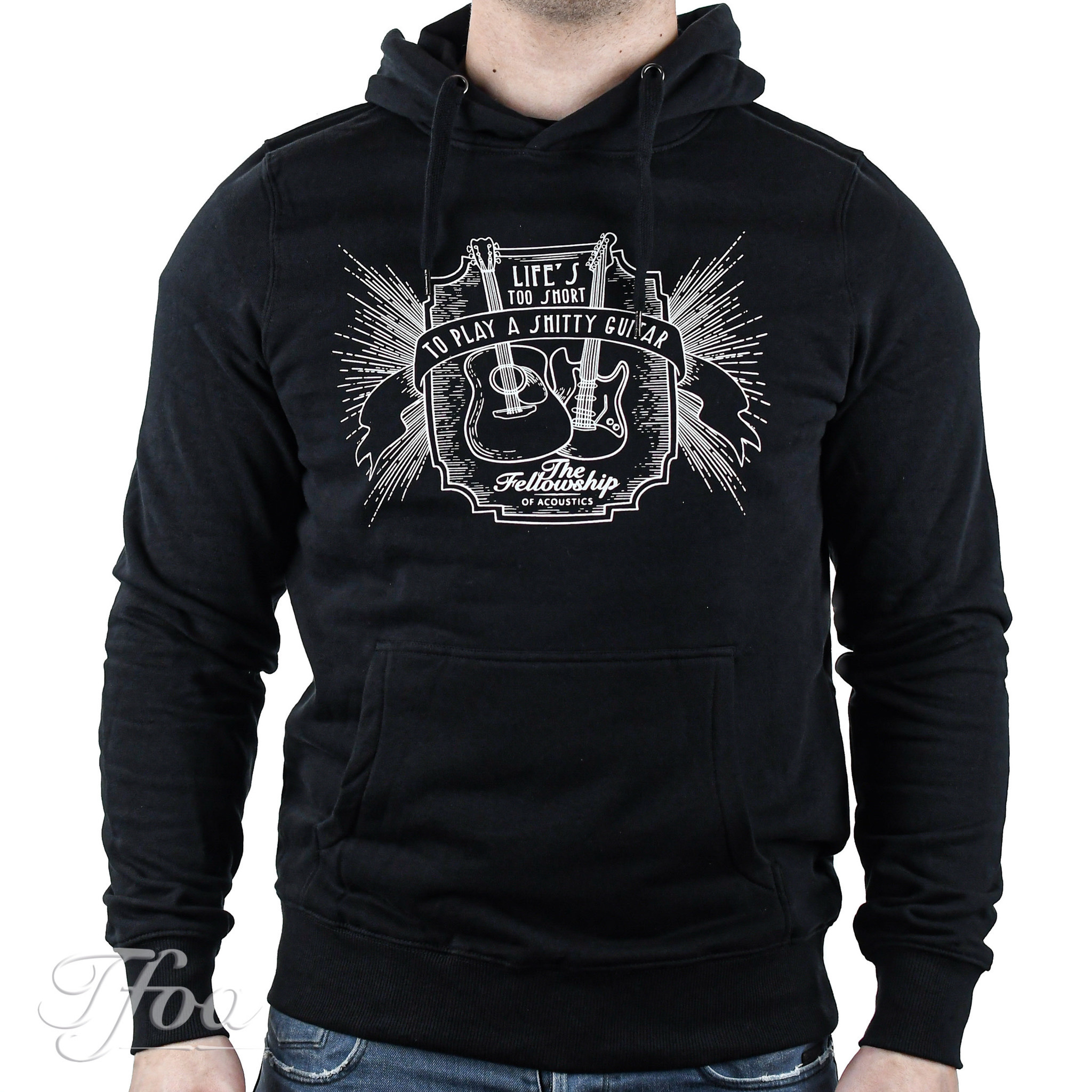 19 The interview of 2022
We are very happy with the great relationships we have with some of best luthiers in the world and it is always special to talk to Dana Bourgeouis about the most beautiful instrument there is. Dana is praised for his knowledge of tonewood and his hands that know how to turn tonewood into magical instruments every single time we see them. And with the new Touchstone series, Bourgeois hits it out of the park without breaking the bank!
20 Toy of the Year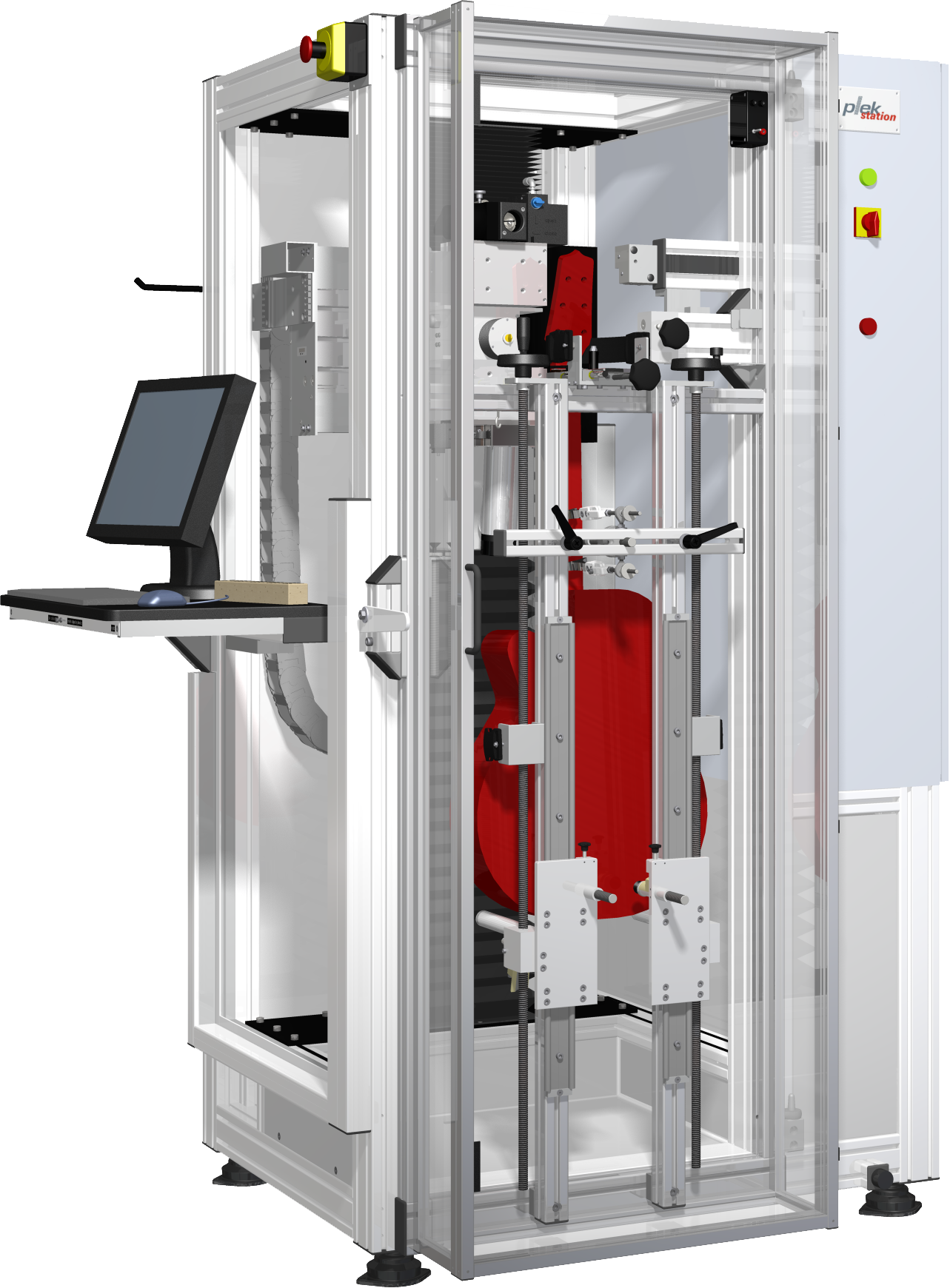 Ladies and Gentlemen: we got it! The PLEK Machine. This super smart device analyzes a guitar with German laser precision and adjusts a guitar where necessary for a perfect set up. Not like a soulless device, but more like an extra tool that helps luthiers and repairers all over the world. Think of it like a 3D printer that smart surgeons use in the operating room to create a piece of skull out of thin air. Science is just awesome! Our Fellows in the Workshop are still playing with it, but from 2023 the fiddling stops and the real work with the PLEK Machine starts.
21 The TFOA Session of 2022
Simply lost for words...
22 The Big Bang of 2022
The year is twenty twenty-two, but actually it should have been twenty-eight. Because the Martin D28 was the biggest bang of the year! In all its different itterations: new, trade in, b-stock, vintage, custom shop, authentic: these guitars know how to find their way to happy guitarists at lightning speed. We understand why so we always try to have them in stock in our Guitar Villa. Even in twenty twenty-three and we hope to see you soon!