Contact & Opening Hours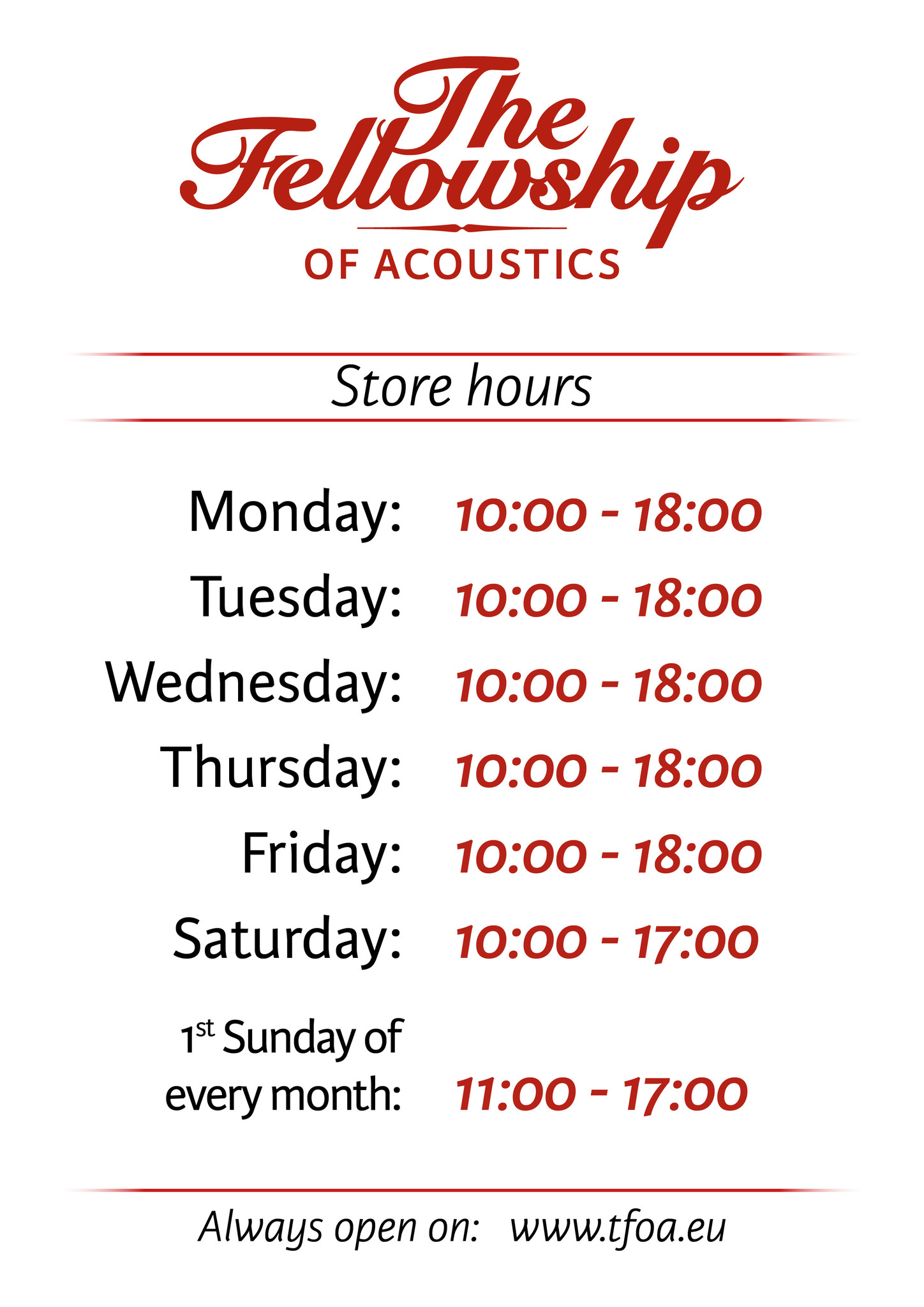 TFOA will remain open until further instructions. Making an appointment is no longer necessary except for Mondays and for a Repair shop visit. Given the more than 2400m2 of shop size the necessary social distance is warranted. To create even a safer welcome, we made several health measures.
We actively follow the hygiene and safety rules that now apply meaning, we ask you to do the same and follow the instructions provided by the health authorities.
We ask you to visit us with a maximum of 2 persons.
We also ask you to visit the store only for a specific reason.
Please actively follow the instructions on the pamphlets in the store.
Please do not visit us when you have a cold or other signs of illnesses.
Please respect the 1 ½ meters social distance at all times.
Wash and disinfect your hands regularly. There are several disinfection points, including a mandatory disinfection point at the entrance of the store.
We have taken the following precaution measures:
We continuously provide clean and disinfected surfaces.
We ensure that there are several disinfection points on each floor.
Cotton swabs are provided with the pin machine to enter a handsfree code if necessary.
There are screens between the staff and customers at the checkout
Distance markings have been established wherever necessary
All common facilities, such as toilets, are equipped with disinfection points and are cleaned continuously.
A maximum of 2 people can be present in one space at the same time. Please leave the used guitars on a stand, we will clean them before hanging them back on the wall.
Extra Openingtimes / Exceptions:
02-02-2020: 11:00 - 17:00 (Sunday)
01-03-2020: 11:00 - 17:00 (Sunday)
05-04-2020: 11:00 - 17:00 (Sunday)
13-04-2020: Closed
16-04-2020: 10:00 - 16:30
27-04-2020: 11:00 - 17:00 (Kingsday)
03-05-2020: 11:00 - 17:00 (Sunday)
05-05-2020: Closed (Liberation Day)
21-05-2020: 11:00 - 17:00 (Ascension Day)
01-06-2020: 11:00 - 17:00 (Pentecost)
07-06-2020: 11:00 - 17:00 (Sunday)
05-07-2020: 11:00 - 17:00 (Sunday)
02-08-2020: 11:00 - 17:00 (Sunday)
06-09-2020: 11:00 - 17:00 (Sunday)
04-10-2020: 11:00 - 17:00 (Sunday)
01-11-2020: 11:00 - 17:00 (Sunday)
06-12-2020: 11:00 - 17:00 (Sunday)
26-12-2020: 11:00 - 17:00 (Second day of Christmas)
31-12-2020: 10:00 - 16:00
01-01-2021: Closed
Address
The Fellowship of Acoustics BV (TFOA)
Moerheimstraat 144
7701 CJ Dedemsvaart
Netherlands
Contact
T. +31 (0) 523-232205