Eastman
Number One Worldwide Eastman Dealer!

Op zoek naar een goede gitaar tegen een vriendelijke prijs? Dan moet je zeker even een kijkje nemen in het indrukwekkende assortiment Eastman Guitars van The Fellowship of Acoustics!
Het Eastman gitaren assortiment van TFOA
Eastman ontwerpt en produceert inmiddels alle denkbare instrumenten binnen het spectrum van gitaren, van mandolines tot archtops en van dreadnoughts tot concertgitaren.
Bij The Fellowship of Acoustics lukt het ons gelukkig zo veel mogelijk nieuwe en tweedehands Eastman gitaren op voorraad te houden. Wat een gitarist ook zoekt, inmiddels biedt Eastman voor bijna alle spelers wel een serieuze optie.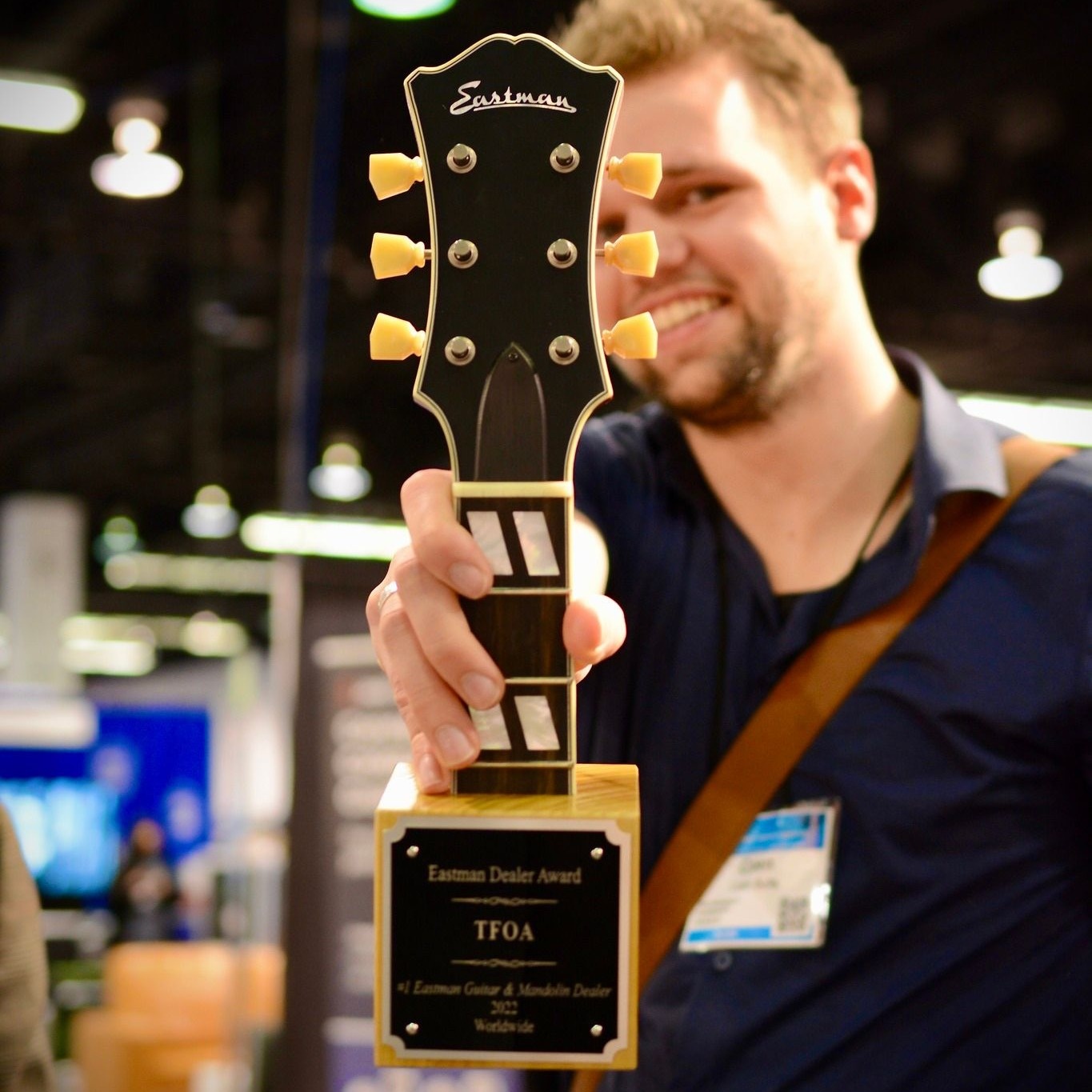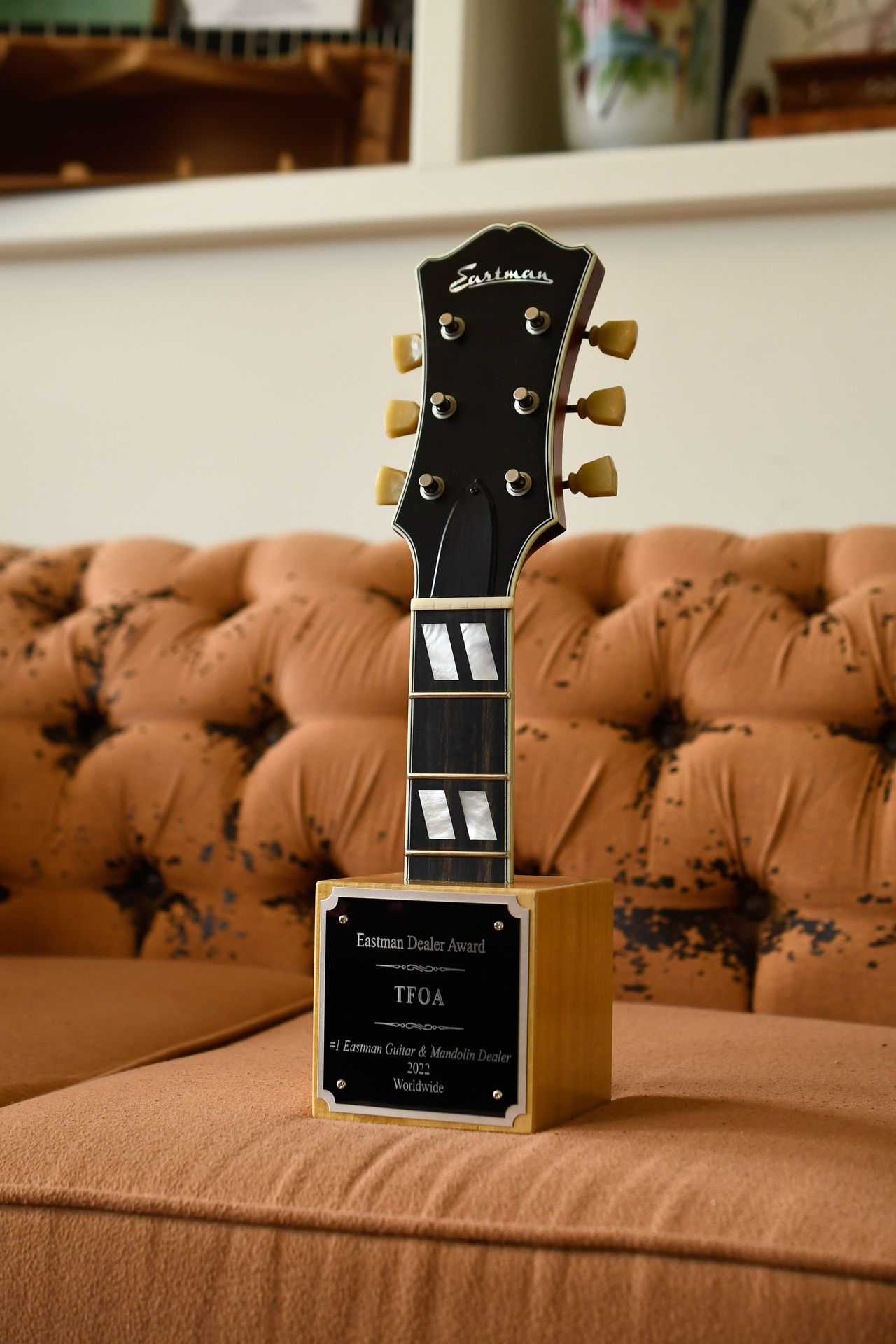 De beste betaalbare gitaren?
Soms krijg je gitaren in je winkel waarvan je zelf heel blij wordt, omdat je zeker weet dat een gitarist daar ook heel blij mee gaat worden. Of het nu het instapmodel is of een superchique gitaar voor een professional: van Eastman gitaren worden we altijd blij! En niet alleen vanwege de prijs, want die is bij Eastman altijd dik in orde. Vooral vanwege de kwaliteit.
Bij Eastman gitaren denken wij altijd: Vraag niet hoe het kan: profiteer ervan!
Bij een zoektocht naar de beste akoestische gitaar voor minder dan 2.000 euro kwam Fellow Milo niet voor niets uit bij een Eastman: 
Geschiedenis van Eastman
Toen Qian Ni afstudeerde aan de Boston University School of Music, richtte hij in 1992 Eastman Strings op. Dat begon met violen en later verschoof de focus naar gitaren en mandolines. Ruim 25 jaar na de oprichting is Eastman Guitars toonaangevend en één van de meest verkocht gitaarmerken in onze winkel. Niet alleen aan hobby gitaristen die iets moois én betaalbaars zoeken. Eastman is inmiddels ook geliefd door professionals zoals JB Meijers (The Common Linnets). Die man heeft het voor het uitkiezen, maar hij kiest voor Eastman in de studio. 

Wij snappen dat wel, want alle Eastman gitaren worden nog steeds met de hand gebouwd in de Eastman workshop in Beijing. De houtsoorten zijn zorgvuldig geselecteerd, de top is heel precies uitgesneden en tot en met de laatste afwerking geeft Eastman iedere instrument de aandacht die het verdient. Daarbij maken ze slim gebruik van de ervaring die ze hebben opgedaan met violen en dat zie je bijvoorbeeld in de bijzondere laksoorten (Nitro!) die soms uit de viool-makerij komen. Dit geeft schitterende instrumenten met diepe, warme kleuren en een unieke resonantie.


Een Eastman gitaar kopen
Het moeilijkste aan Eastman gitaren is daarom misschien wel: er ééntje kiezen. Want als wij een Eastman oppakken zeggen we meestal: Poeh! Lekker gitaartje. Dit is 'm!
Totdat we de volgende Eastman oppakken en dan denken we wéér: Poeh! Lekker gitaartje!
We zijn er dus apetrots op dat we ons de Number 1 Eastman Dealer mogen noemen. Worldwide!
Kom dus gerust eens langs bij The Fellowship of Acoustics in Dedemsvaart om zelf een Eastman gitaar te proberen. Wie weet loop je dan binnenkort met een Eastman gitaar de deur uit. En als je niet oppast met twee!