Erik Bogaards - 22 / Jun / 2021
Gibson SJ150 Noel Gallagher Signature Model
Today is gonna be the day Gibson is gonna throw a new model at you: a supersonic re-issue of the hitmaker behind Oasis: the SJ150.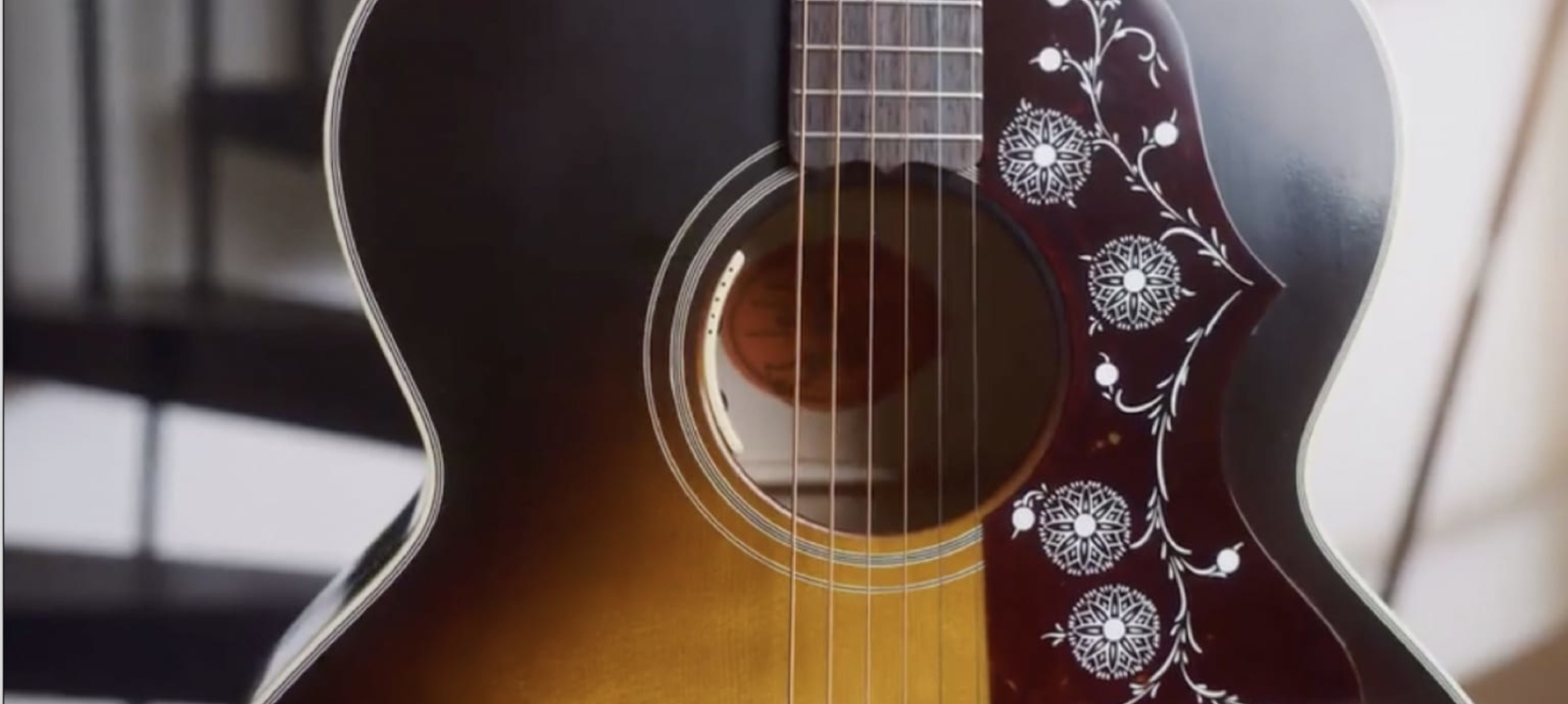 What do you do when you're a musician who's just starting to break through, but hasn't arrived quite yet? The first thing you do is look for your next piece of  'gear'. So when Noel Gallagher had written some Oasis hits on his entry-level Epiphone-  he felt he was ready for the next step: a real Gibson. The price of the SJ200 was a bit too steep at the time, but the slightly cheaper SuperJumbo 150 fitted his ear and his wallet perfectly. Adidas sticker on it for a bit of extra Mancunian-Mojo and this slightly cheaper classic was ready to follow Noel from studio to stadium. And the bathroom:
Sounds like an orchestra
Gibson's flagship acoustic guitar is the SJ200: a super fancy Jumbo guitar with all the bells and whistles you can dream of. Jumbos are pretty much the biggest guitar model you can get and the 'looks' of an SJ also draws attention. And yet: these giants shine in the background. Looking for a nice balanced sound for some strumming to accompany a singer? A Jumbo is your best friend. So we totally get that a minimalist singer-songwriter like Noel Gallagher falls head over heels for a Jumbo. Just a few well-placed chords can sound like a complete orchestra on these guitars, thanks to their sublime balance.
The SJ150 is a slightly simplified version of the classic SJ200, missing some binding on the neck, no gold, but 'tulip' tuners and some toned down decoration. Apart from that, the guitar is the same as the SJ200, so it has the amazing maple back and sides, a sitka spruce top with that glorious sunburst, a sturdy 'crown' mother-of-pearl inlay in the fretboard, a 'moustache' bridge and a nice slim neck (just under 44mm or 1.75 inch at the nut) and that killer Jumbo-sound.
According to Noel the Gibson crew in Bozeman Montana managed to make it now exactly as he bought it years ago. This time they fitted in an LR Baggs Anthem so that they are ready for the studio, the stadium and your bathroom.
The Adidas sticker is provided separately and a special hidden feature of these Noel Gallagher Signature Models seems to be that they explode when you play Wonderwall on it. Or they turn into a Champagne Supernova, but we haven't dared to try that yet. Are you bold enough to try it? Then please visit our supersonic store in Dedemsvaart, because we expect these Gibson guitars very soon.
Want to know more about prices and delivery times? Feel free to contact us.