Martin
Zeg je akoestische gitaar, dan zeg je Martin, want dankzij C.F. Martin klinken akoestische gitaren zoals ze nu klinken.
Bij The Fellowship of Acoustics zijn we meer dan alleen maar fan van Martin gitaren, we zijn ook bewonderaars. Waarom? Omdat Martin aan de basis heeft gestaan van de akoestische gitaar zoals we die nu kennen. Zonder de C.F. Martin & Co zouden we nu misschien alleen nog maar met nylon snaren spelen want gitaren met stalen snaren zouden na een paar jaar kapot gaan.
Het populairste akoestische gitaarmodel: de dreadnought zou niet bestaan, Eric Clapton 'Unplugged' was nooit opgenomen en John Mayer stond de helft van de tijd met lege handen.
Dankzij Martin ziet de wereld er gewoon een beetje mooier uit.
Geschiedenis
Koop je een Martin gitaar dan haal je dus een prachtig stuk gitaargeschiedenis in huis, want Christian Frederik Martin vertrok al in 1833 vanuit Duitsland om in de Verenigde Staten zijn geluk te proberen.
Met succes, want Martin slaagde er in die tijd als één van de eerste in om een goede steelstring te maken dankzij een vernieuwde manier van het plaatsen van de zangbalkjes (bracing) in de klankkast: de X-bracing. Toen revolutionair, maar tegenwoordig is dit de standaard bij steelstring gitaren omdat het zorgt voor de juiste stevigheid om tientallen jaren weerstand te bieden aan de trekkracht van de stalen snaren, terwijl het ook nog genoeg ruimte laat om het bovenblad te laten trillen.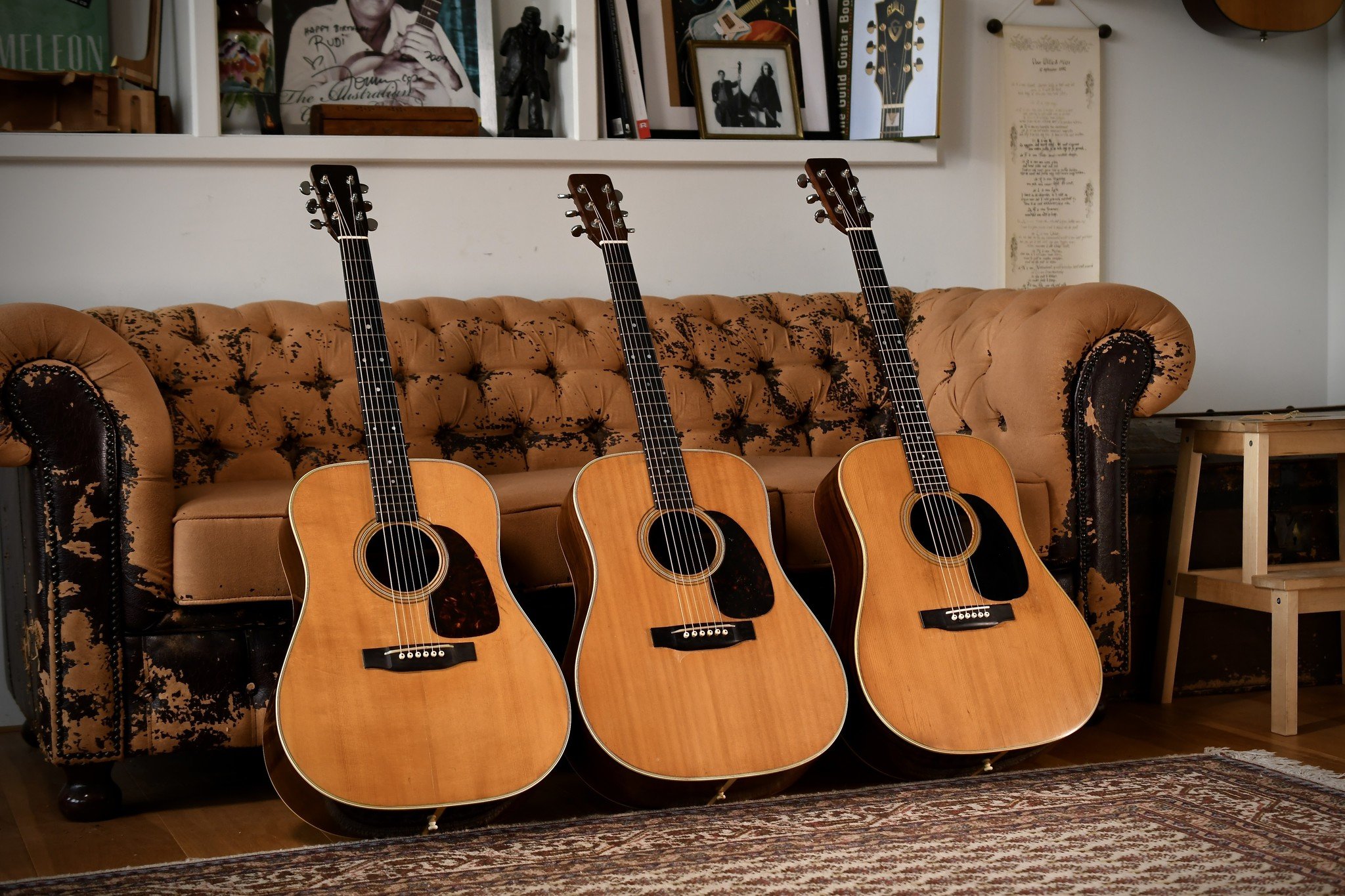 De dreadnought
Na de X-brace kwam er nog een grote ontdekking vanuit Nazareth, Pennsylvania. Dit gitaarmodel is iets meer dan een eeuw geleden bedacht door Martin om in een bandje met je gitaar iets meer weerstand te bieden aan een banjo en een mandoline. Daarvoor klonken de meer op klassieke gitaren gebaseerde  'concert' modellen een beetje te zacht. Dus maakte Martin de hals wat langer, de klankkast wat groter en dieper en dat alles net genoeg om ook nog bespeelbaar te blijven. En zie daar: het Orchestra Model D (Dreadnought) was geboren.
Een gouden greep, want naast meer volume biedt een dreadnought ook een anders klinkende balans tussen de snaren. Akkoorden strummen klinkt vaak fraaier en als je er met plectrum hard ingaat, blijft een dreadnought goed overeind. Echte alleskunners!
Het model is sindsdien het meest populaire model voor akoestische gitaristen, want ook andere bouwers doken er bovenop.  Het maakt Martin een gitaarmerk dat veel is gekopieerd, maar zelden geëvenaard. De Martin D18 en de D28 zijn tot op de dag van vandaag de 'Vader en Moeder aller dreadnoughts'
Een Martin gitaar kiezen
Door de rijke geschiedenis en continue vernieuwing, biedt Martin een heel rijk en breed assortiment aan gitaren voor ieder budget. De 'Little Martins' zijn een mooi beginpunt door het compacte formaat en de vriendelijke prijs en zeker geen kindergitaren. Zelfs Ed Sheeran is groot geworden met zijn Little Martin! Daarna volgen onder meer de Junior, Road, '1', X en Re-Imagined-Series met daarbinnen een ruime keuze aan modellen, houtsoorten en nog veel meer.
In onze winkel in Dedemsvaart hebben we daarom een speciale 'Martin-Room' om dit brede assortiment eens in alle rust uit te proberen. Net als Hannah Mae!
Heb je speciale wensen? Dan biedt de Martin Custom Shop de mogelijkheid om die droom te verwezenlijken. Hetzelfde team dat gitaren bouwt voor John Mayer, Eric Clapton en heel veel andere groten der aarde gaat dan voor jou aan de slag met jouw wensenlijstje! Wij kunnen daar goed bij helpen, want The Fellowship of Acoustics is één van de 35 dealers wereldwijd die zich Martin Custom Shop Expert mag noemen.
Wil je meer weten over de mogelijkheden, neem dan gerust contact met ons op.