What once started on street corners ended in packed stadiums and millions of streams. But what guitar did Ed Sheeran use to achieve all this?
Good news for anyone who wants to sound and play like Ed Sheeran: you can easily do so on a budget!
After some brief flirtations  with other models, Ed  Sheeran picked up the very affordable Martin LX1E little martin once he turned 16. A great, compact travel guitar with that real Martin sound and a  Fishman pickup, so you can also amplify it and combine it with a looper pedal. Sheeran made clever use of that when he was still busking at a train stations:
An added advantage of the little martin travel guitars is that they stay in tune very well and can withstand a bump thanks to the laminated back and sides and an almost indestructible neck of pressed birch wood. This makes the little martin a companion to join you everywhere, especially with the supplied travel bag. As Ed Sheeran put it: 'My whole world was in that bag'. 
Ed Sheeran has put these easy-to-play budget guitars on the map and Martin has since released several signature models based on the same little martin, with one very luxurious version for the Man himself:
But after seven years of touring with little martins, it was high time for something else...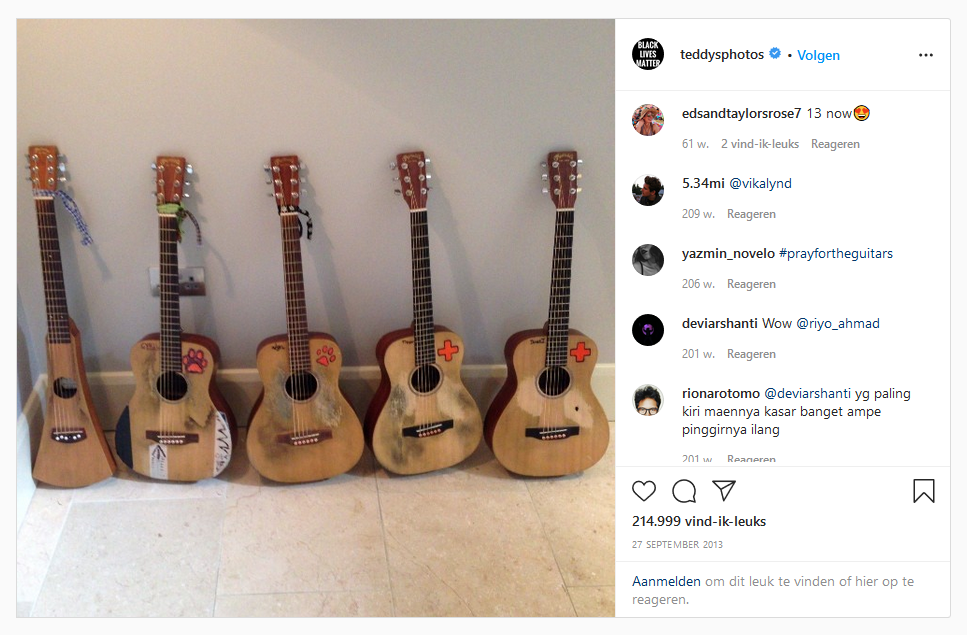 Sheeran had a fling with an Australian mini Maton and he sometimes plays a Fender Stratocaster, although those flings seem short lived. He found his new number 1 acoustic guitar a lot closer to home. As he has Irish blood running through his veins, Sheeran has always had a huge appreciation for the famous Lowden guitars. Fantastic instruments, but not the first choice to put in a backpack and play on the streets. Lowden guitars are known for their eye watering price tag and everything you get in return: a deep, dreamy sound, perfect finish, the best tonewoods and great intonation. 
But how do you turn that into an affordable roadworthy guitar that suits Sheeran? Fortunately, George Lowden came up with something:
Guitars with the clear timbre of Lowden: soft,  folky and a bit mysterious. Combined with the amazing playability you can expect from Lowden and thanks to a laminate back instead of solid wood and some smarter production, they have a very friendly price tag.
As the largest Lowden dealer in the Netherlands we are very pleased about this line from Ireland: Sheeran by Lowden guitars
Sheeran's sound is now within reach for everyone. Want to know more about these guitars? Or play one? Feel free to visit Dedemsvaart, but please contact us first:  Sheeran guitars are highly sought after and we don't always have all the models in stock. 
But we do we always stock Ed Sheeran's original dream guitars: Lowden. Also for left-handend players! And whether you're a left- or righthanded guitar player you can always try out guitars here in our store.