Erik Bogaards - 12 / Jan / 2022
How do I buy a guitar online?
Most of us prefer to play a guitar before buying it. But what if a guitar is too far away, or only available through a webshop? Just read these ten tips for buying an acoustic, electric or second hand guitar online.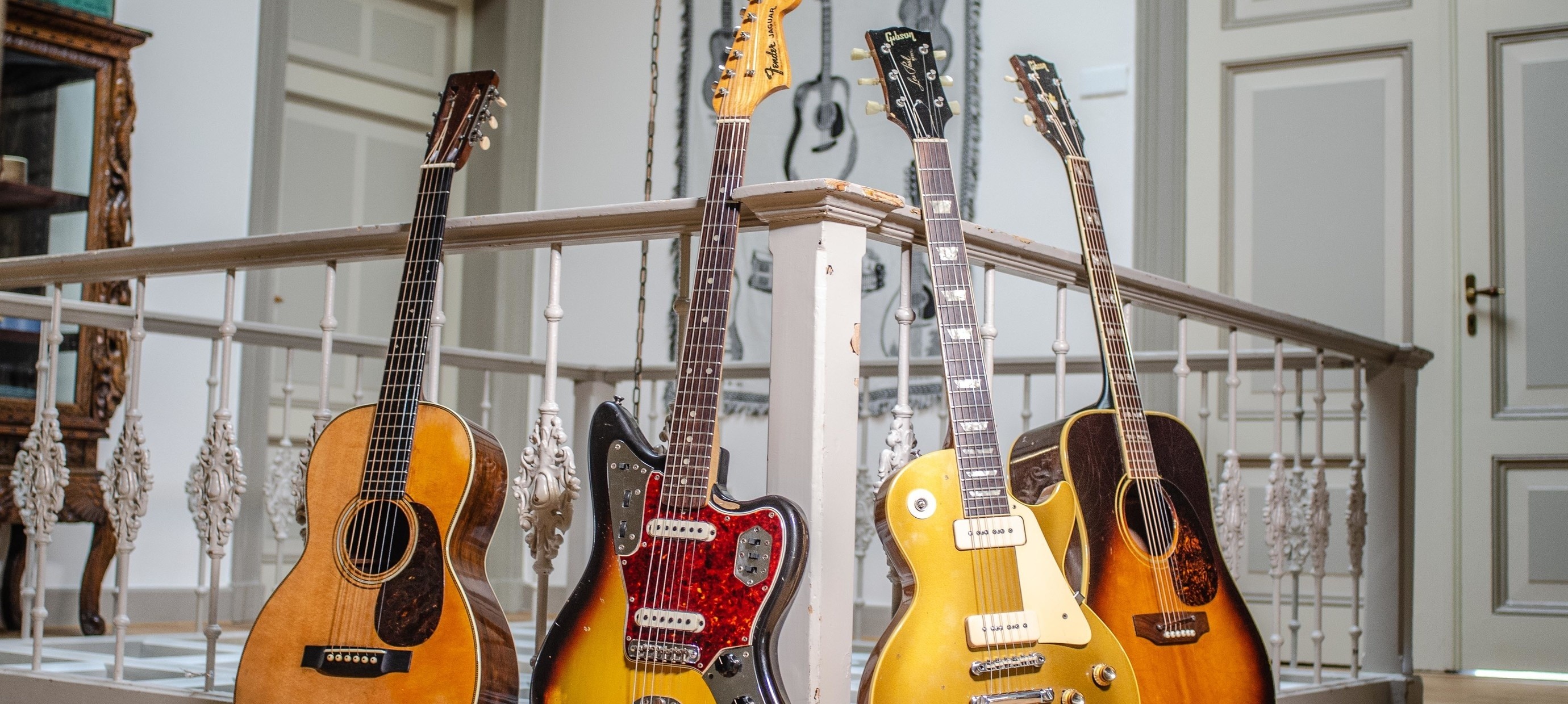 Tip 1 Check the pictures
With guitars it's often about that first impression: what does a guitar look like? Sometimes sellers only show 'stock' photos provided by the guitar builders and these pictures can give an impression what your guitar might look like. But there can be differences, like a different wood grain. This might turn out ok, but it can also be somewhat disappointing. Here at The Fellowship we photograph all the guitars we sell ourselves and we do so from different angles. Sometimes we place the instruments in a nice place in our store, but in addition we always provide pictures that are as natural and clean as possible, just to give you a really good and realistic impression of the guitar that you are about to order online.
Tip 2 Know your specs
In theory, every guitar is that magical sum of specs: the specifications. Think of types of tonewood, the length of the neck, the radius of the neck, the model and so on. All these things together determine a lot, (but not all!) of how such a guitar feels, sounds and plays. A difference in the  neck width of a few millimeters does not seem like much, but you can feel it immediately. It can be useful to know what you like and if you are going to buy a guitar online, an extensive list of specifications is useful. We spend a lot of time describing the guitars we sell online and we offer the possibility to search for and select guitars on the basis of specifications such as brand, price, but also the model and even the width of the neck. This will make it easier for you to find your guitar online.
Tip 3 Ask questions
A few pictures and some specifications and maybe even a demonstration video can give a nice impression of a guitar, but do not be afraid to ask questions! Maybe you mainly play chords with a pick and you have a heavy hand. So what does a guitar sound like with that playing style? Or are you more of a fingerpicker?  If you are going to buy a guitar online, make sure that you have got a good impression that is 'tailored' to your style. Are you buying a secondhand or vintage guitar? Maybe the seller can tell you more about the history. What extras, such as a suitcase, bag, guitar strap, stickers and tools are included? All of these bits of information can help to find out if a guitar is a 'match'. Do you want to know more about new, secondhand or vintage guitars from The Fellowship of Acoustics? Then you can always ask questions through:
+31 (0) 523-232205;
Or the Chat Function on our website.
Tip 4 Trade ins
If you buy something in a guitar store, there is sometimes the possibility to exchange or trade in old gear and guitars. But what about online? Most online sellers don't offer this service, but at The Fellowship we do offer trade ins, even if you order a guitar online! If you have something to exchange, please get in touch with us and more information can be found here.  www.tfoa.eu/nl/service/inruilen-en-verkopen/
We can also help with shipping and send good packaging material your way as an extra service.
Tip 5 Have your guitar set up
Have you found a guitar online that you want to order? Always have it set up before it ships! Why? Because some guitars are fine when they leave the factory, others not so much and guitars always need to settle after they travel. A good set up can make the difference between a nice guitar and a fantastic instrument. We sell hundreds of guitars a year and none of them leave our store without a set up according to your personal wishes. Here at the Fellowship that service is free of charge, because we think it is important that you are going to enjoy your guitar as much as possible. And it doesn't stop there, because if you buy a guitar from us, we would like to see you (or just your guitar)  back after a few months to 'fine tune' the guitar, if necessary. And yes: that service is also free.
Tip 6 Good travels
We know the horror stories of guitars that come out of the box with bruises, dents and even more serious fractions and blood shed. Couriers nowadays do more than 200 packages a day and that means that things can sometimes get rough in the distribution centers and delivery vans. To avoid major disappointments, it is important that a guitar is really well packed before it travels. Ask the seller about this. Ask for any additional costs, insurances and a track & trace code so that you can follow your package.
We have a lot of experience with different packaging, so we use custom boxes that will protect your guitar really well, we lower the string tension and if it anything goes wrong, our shipments are insured. 
Tip 7 Pay safely
Are you buying a secondhand guitar from a private individual, for example through the popular website Marktplaats? Then pay extra attention, because unfortunately scammers are also active there. Marktplaats offers services such as 'gelijk oversteken' for an additional fee, which can limit the risk.  If you order a guitar from an online seller, secure payment is usually no problem. Do you have a credit card? Then our tip is to take a good look at the costs and the extra services, because some credit card companies offer a free purchase guarantee for the first 30 days or more. That is a nice bit of extra coverage. We offer many payment options, of course including the major credit card companies.
Tip 8 Unpack carefully
You have chosen a guitar, paid safely, the instrument is well packed, the bell rings and there is your package... and then you still have to wait a while. That is difficult and that is why we stick a big, bright red sticker on all our boxes, asking you to wait 24 hours before unpacking. We do this because guitars sometimes stand in the cold for hours and when they suddenly get in 20 C degrees or more in a living room, the wood gets a bit of shock and that can be bad  for some finishes, such as nitro cellulose, which can then crack. It's hard, we know that, but waiting is best thing you can do for the latest addition to your guitarsenal.  
Tip 9 Try it
And then after a long day and night, you finally have it in your hands: your new online guitar! So: let's play! Our advice is to enjoy it as much as possible and try it out. Of course by playing on it as much as you can and not by immediately tinkering with it. If all goes well, the guitar is set up, so that is not necessary. Just try to get acquainted. Because if you don't like the guitar, you can often return it, but then it must be in its original state.
Tip 10 Returns
That brings us to our last tip. According to the rules for 'online sales' here in the Netherlands,  you have two weeks to return a product that you do not like and ask for a refund. Of course, this only applies if you buy a guitar in a store and does not apply to secondhand guitars from private individuals.
Obviously, the guitar must not suffer any damage and must be returned in its original packaging. Some sellers have additional rules for returns and it is best to inquire about them before you buy a guitar, or at least before you just send something back.
Here at the Fellowship we offer more, because we know that a guitar can sometimes enchant you immediately, and sometimes a new love sometimes has to grow on you. That is why, in addition to the normal rules for return, we give a lot of extra service. You get no less than 30 days to try out a guitar and if you announce a return, we will send a shipping label, so that the return does not cost you anything. After a quick check, you get a refund and/or we will be happy to help you find a guitar that does fit. You can read more about our services here
www.tfoa.eu/nl/service/retourneren/
During the lockdown, we offer free shipping ánd returns to all Fellows in the Benelux and Germany.
www.tfoa.eu/en/blogs/blog/the-fellowshippers-of-acoustics-free-shipping-retu/