Erik Bogaards - 27 / Aug / 2020
Lowden Guitars | Weekly Highlight
Why every guitarist must have play a Lowden guitar at least once.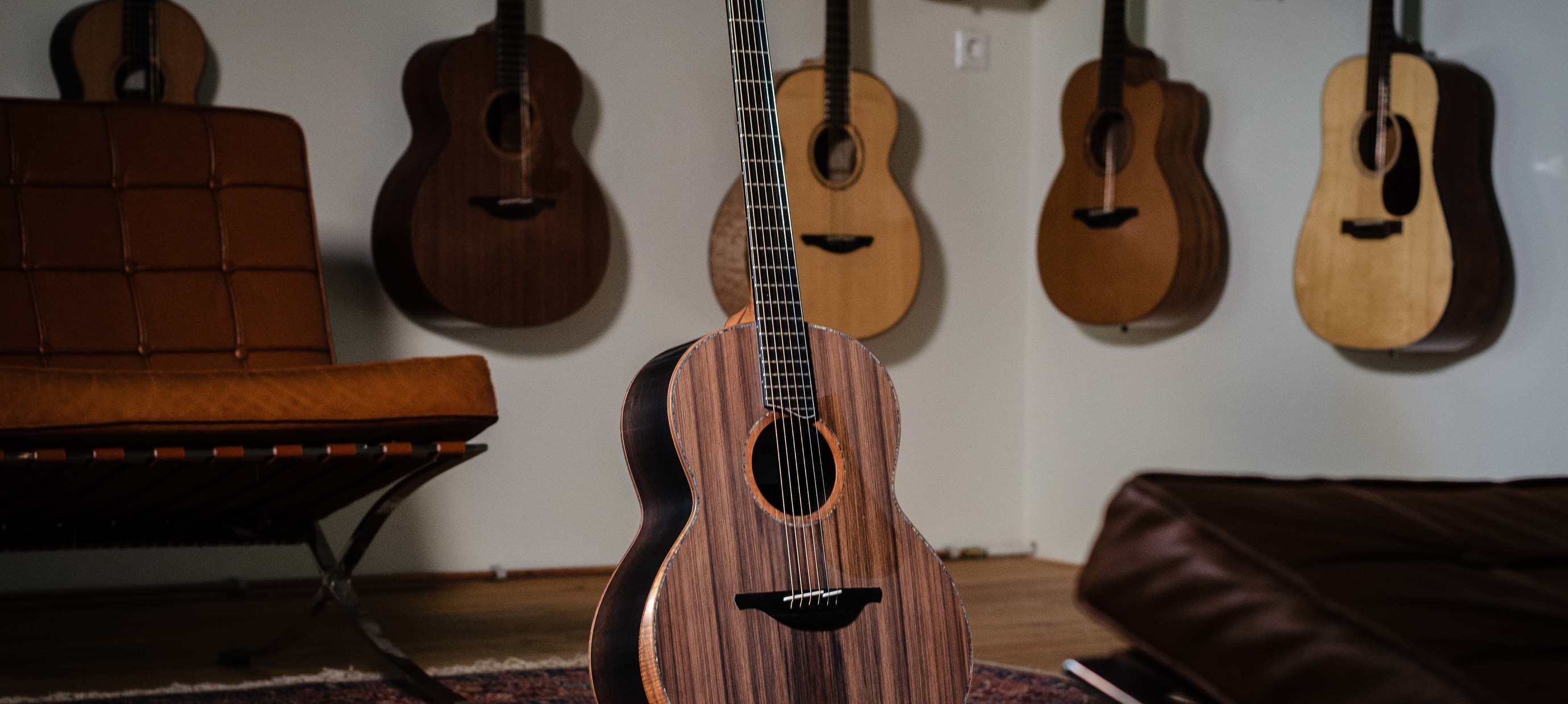 Sometimes it's hard to find the the right words to describe a guitar brand, but for Lowden juse one word will do: quirky.
That is exactly why every guitarist should play a Lowden at least once: there is just nothing  like it.  This is because the boutique guitar builder from Northern Ireland does everything just slightly different than everyone else. It's probably because George Lowden has been fiddling with pieces of wood since he was 10 years old trying to make a guitar. Since then he is mainly a self-taught luthier, with some very different and unique ideas.
Choosing Lowden models
You can tell Lowden is different by just looking at the models. Most guitar builders have a Jumbo, a  dreadnought, a slope shoulder, an orchestra model and a grand auditorium or models that are very closely based on these examples. With Lowden  you have to look real hard to find some indication of these models,  because Lowden guitars not only have different names, but they also have their own dimensions.
O-model
Is it a Jumbo? No. Is it a dreadnought? Nope. It's something completely different and this is the 'Mother' of all Lowden guitars. Since its introductions in the 1970s it has become a classic, because it is an absolute all-rounder. Fingerpicking, flatpicking, percussion guitar: it all sounds great.
F-model
Sits between the O and the S model and is therefore the 'intermediate body' of Lowden. Excels in  fingerstyle, but just playing chords is no problem at all.
S-model
For years the smallest model of Lowden, so you might expect the more compact sound of a parlor guitar.  It's so much more than that, because Lowden has managed to make these guitars sound great.
W-model
W stands for Wee, and that means small. Once conceived at the request of Gary Lightbody  (Snowpatrol) as a gift for Ed Sheeran. He played on little Martins, but always had a soft spot for  Lowden. It turned out to be the beginning of a  Sheeran guitar line created by  Lowden, as a more affordable alternative. Meanwhile, the W-models are now standard in the Lowden line up.  Delicious little guitars, easy to play with and a surprisingly full sound, even in the lower registers.  
Wow factor!
Pick up a guitar from Lowden, play one chord and there is just so much to notice.  Whichever model you choose: the finish is of the highest level, giving them dazzling looks. But it is not just looks, because most of these seemingly artificial adornments have a practical function as well. For example, the strings fall neatly into the bridge, which saves hassle with bridge pins when you change strings.
Often they have a beautifully finished  arm bevel for some extra comfort.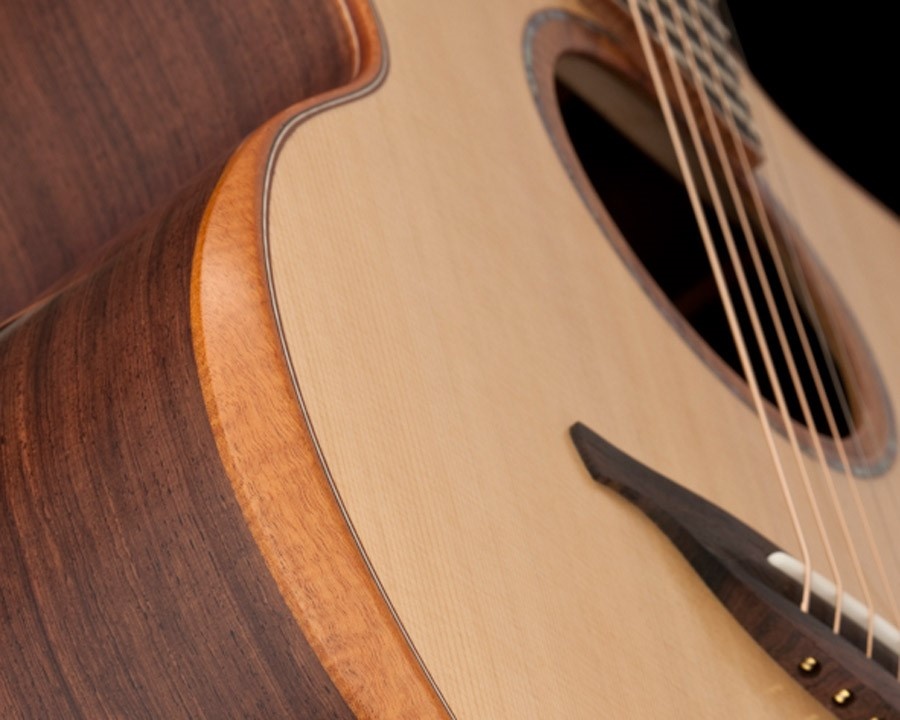 The neck is not made of one piece of wood, but made from five seamlessly combined and beautifully contrasting woods. That looks fantastic and makes the neck more solid.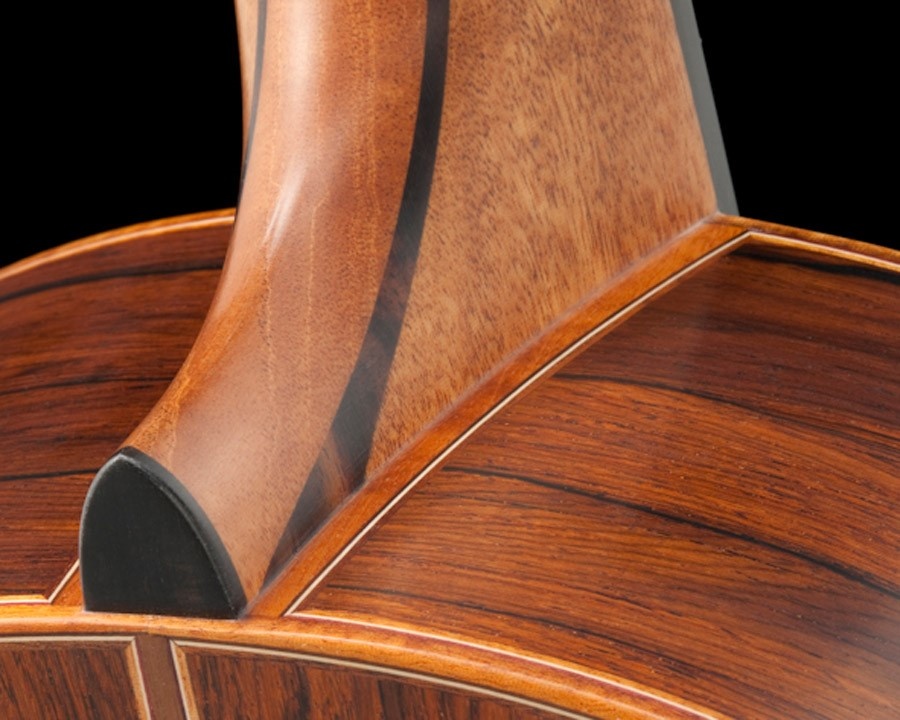 And last but not  least: wood selection. George Lowden has a fantastic nose for tonewood that sounds good and looks enchanting. Once upon a time in Dedemsvaart we had this mesmerizing  Cocobolo Lowden  for sale in our shop, which has now found its way to a very lucky owner. Fortunately, we have still got some pictures.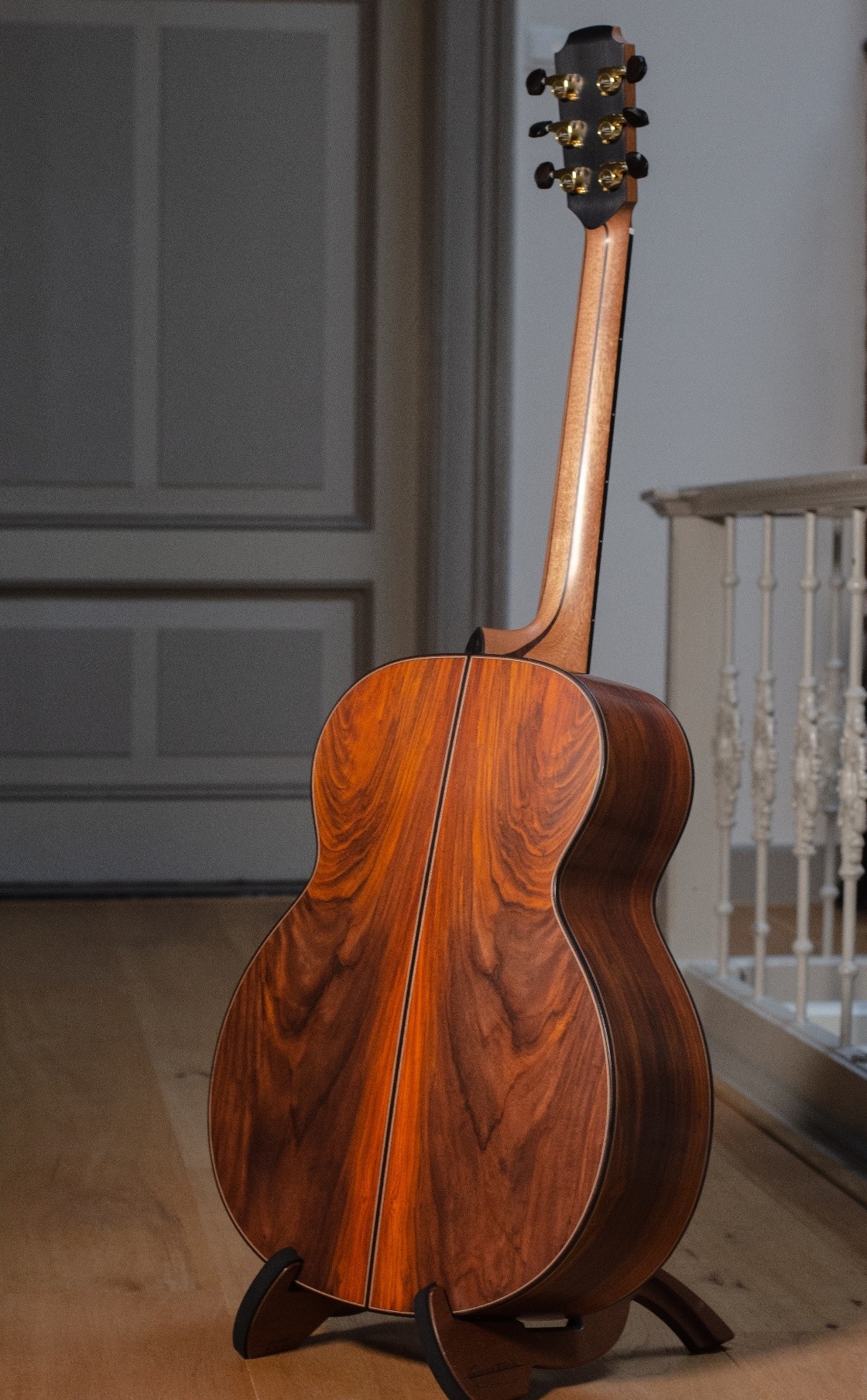 With his extra ordinary wood selection, Lowden showes himself again as a quirky pioneer who was one of the first to work with unusual but very suitable and sustainbale tonewoods such as walnut, blackwood and sinker redwood  for  guitars.
Most of the time we talk about the 'sound' of a guitar, but that's where Lowden takes things one step further: he really wants to give guitars their own voice. With all that perfection from woodchoice to the flawless finishing, you might worry that a guitar can become somewhat sterile.  That is never the case with Lowden.  All of his instruments have something mysteriously appealing rather than distant cold perfection.
Give a Lowden guitar a different tuning and something magical happens that you rarely find with other guitars.  Not only on steel strings, because Lowden also makes perfect electric guitars  and highly sought-after nylon models.
Others about Lowden
Richard Thompson, Jaap  Kwakman, Gary  Lightbody, Alex de  Grassi, Jan Akkerman, Luka Bloom and a lot of other artists have chosen a  Lowden and love it. Why? They all have their own reasons, but playability, the beautiful wood that resonates in everything you play and the way Lowdens handle different tunings are often mentioned.
Over the past 45 years all this Irish innovation has made Lowden guitars something elusive. Something you can't really put your finger on, but you still know is there. Do you want to put your finger or an entire hand on a Lowden? You can do so in in Dedemsvaart. We always have Lowden guitars in stock, both acoustic and electric, and for left handed players as well. We're open!!
Custom Shop
Many customers who buy a Lowden from us see this as a gift to themselves. Do you have very specific guitar wishes? A combination of wood types? Different model or finish?  Fan fretted?  Lowden can also do this through their Custom Shop program. Anything is possible there and we have already been able to help several customers to put together their dream guitar.  Feel free to contact  us if you want to know more.