Davey van Essen - 11 / Jan / 2023
Overdrives: A Buyers Guide!
We're in love with the overdrive! For most of the Fellows here, it's the first pedal we ever bought. To help you get through the wide variety of models available, here's a little buyers guide.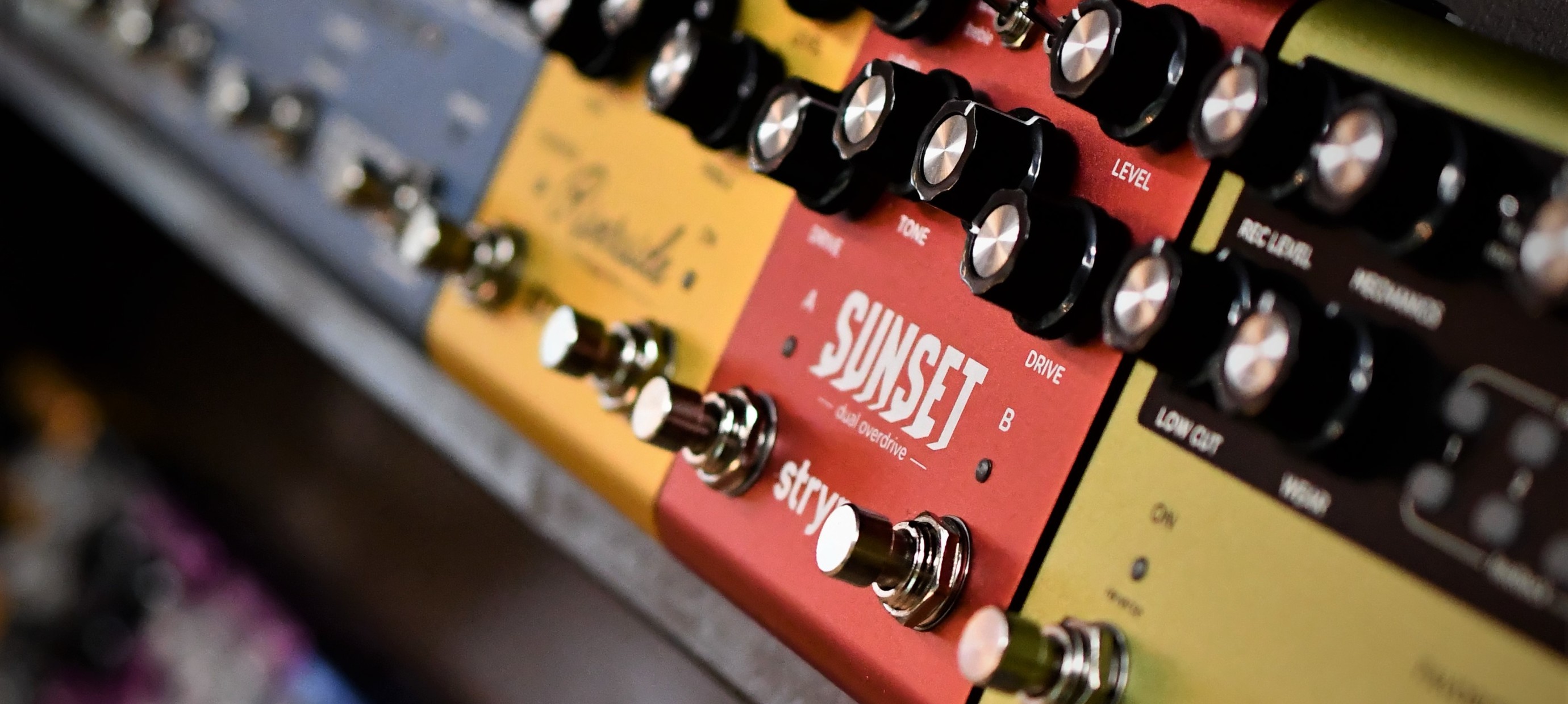 Overdrives are fairly easy to come by these days and are arguably the most popular form of guitar pedals around. Because there are so many different versions, we'd like to make choosing one a little easier. In this simple buyers guide we'll discuss the most famous variants.
How do overdrives work?
Overdrive naturally occurs when you crank a tube amp. Due to the sheer volume of a cranked tube amp this wasn't accessible for everyone in the 60s (before pedals were invented), let alone today! So guitar players found a way around it by simply destroying the speakers of their amps. This resulted in some great sounds, for example: You Really Got Me by The Kinks. Dave Davies got this (in)famous tone by slashing his speaker with a razor blade. 
But let's get straight to the point(s): How does an overdrive pedal work? Diodes in the circuit make sure to 'clip' your signal, dividing overdrives into two main food groups based on the circuit. Soft clippers, and hard clippers. 
Notable soft clippers are pedals like the Ibanez TS808, the MXR Duke of Tone and the Nobels 
ODR1.
At the hard-clipping side of the spectrum we have the co
veted Klon Centaur over(priced)drive 
and the Boss Blues Driver.
Soft Clippers
The most popular of all overdrives are soft clippers, which have been around since the 1970's. Soft-clipping happens when your guitar signal extends beyond the clean headroom and reaches its ceiling. Here, the waveform is compressed providing a smooth type of gain. The most famous type of soft clipper, and overdrive in general, is the Ibanez Tubescreamer. 
Ibanez's Tubescreamer
The tubescreamer was designed by Ibanez in 1978. There are a lot of versions like the 
TS808, 
TS9
and the TS10. 
The classic Tubescreamer sound is very mid focussed, which makes it ideal for cutting through a mix. It 
fattens up the sound of single coil guitars (like Strats) and makes your sound tighter and more aggressive. 
Because of this quality it was (and still is) very much loved by guit
ar players like John Mayer, Stevie Ray Vaughan, Mark 
Tremonti and many more!
Marshall's Bluesbreaker
The Bluesbreaker's circuit was technically based on a legendary amp: The Marshall Model 1962 C
ombo, aka the Bluesbreaker. It got this name because of Eric Clapton's use of the amp
on the 
'Beano' album by John Mayall and the Bluesbreakers.
In 1991 Marshall decided to make a Bluesbreaker pedal
. Although it didn't exactly sound like the amp in question, it had its own sound. Unlike the Tubescreamer, 
The Bluesbreaker sound is very transparant and low

 in 

gain. Ideal for edge of break

up tones and 

boosting the gain of the amplifier without colouring the sound. Notable users of the Bluesbreaker 

circuit are: John Mayer, Chris Buck, Mick Ronson, Joey Landreth and fellow Dutchie Paul Davids! 
Hard Clippers
Hard-clipping overdrive pedals also extend your guitar signal beyond the clean headroom. But unlike a soft clipper, these will simply cut off the signal as it exceeds the headroom, which produces a more aggressive, edgier sound. Although they can be more harsh to the ear, many players find them more dynamic and get better mileage out of the guitar's volume knob. 
Pro Co RAT 
Most distortion pedals can be filed under hard clippers and the Pro Co RAT is arguably on the most popular. In 1978, it was invented in Kalamazoo, MI. Scott Burnham and Steve Kiraly first had the idea after playing, repairing and modifying all the available distortion pedals on the market. They wanted a pedal that could go from overdrive to distortion and then all the way to fuzz.
Numerous variations of the original RAT pedal are still being produced today, but it's also inspired many builders to make pedals that are arguably just as good. Here at TFOA, we're big fans of JHS' Packrat. The PackRat is the ultimate tribute to the 40+ years of rodent evolution and its impact on the guitar's sound. Artists from every genre have used the iconic tones in this unassuming black box to create their sounds, including Nirvana, John Scofield, Pink Floyd, Metallica, REM, the Eagles, Jeff Beck and Radiohead. 
The Klon Centaur 
The Klon circuit is a very cont
roversial topic in the guitar world. It was first designed by Bill 
Finnegan in 1991 and at the time there weren't a lot of boutique pedal builders, 
the then astronomical price tag of $395 wasn't a big hit. Since then however, it's gained a lot of hype!
 So much so, that an original Klon centaur will set you back between $3000
-
$7000 
on the used market nowadays. 
Although it's a hard clipper, it doesn't sound as harsh as a distortion because it's blended with a clean boost circuit which has no clipping, meaning you can still hear your clean guitar signal. Because of this, the guitar retains its dynamics and "amp-like" sound.
If you (like most guitar players) don't want to spend that absurd amount on a pedal there are a 
lot of Klones, these are way more af
fordable, well made and sound (almost...) just as nice! 
The Klon is a very rich and compressed drive, great if you want an amp-like distortion. It's also 
very versitile, it can be used as a boost and it stacks great with other overdrives and distortions.
"Amp in a Box"

 Drives
Amp in a box drives are pedals that are based on iconic amp circuits like the Marshall Plexi, Vox AC30 and 
Dumble Overdrive Special. They're great for situations where you can't bring your own amp but still 
want a similar sounding gain stage. You c
an also use them to reshape your amp, for example: you 
can make a deluxe reverb sound like a cranked Marshall! 
There are a lot of versions of every drive circuit, some true to the original whilst others are modified.

At the end of the day it it all comes down to personal preference, t

he 
best way of finding a new dr
ive is to simply try them! Here at TFOA we have plenty of overdrives, be it vintage, modern 
or boutique. 
You can order them online but if you have the chance, stop by our shop! Coffee's on us.