Erik Bogaards - 17 / Jan / 2023
The Ultimate Martin Custom Shop Experience
Ordering a guitar that you have never seen, felt or heard before and it will set you back thousands of euro's. Is that really a good idea?
The longer you play and the more you learn about guitars, the clearer your preferences become. You know which model you like, which types of tonewood appeal to you, what the guitar should look like and in your head you can even hear what your dream guitar sounds like. The only thing is: that perfect guitar often doesn't exist yet. Obviously you can wait and hope to some day you run into The One. Or... you can have it built!  But ordering a guitar you don't know yet is a big, and often expensive gamble. For anyone who is hesitant about having a Custom Shop Guitar built: this is my story about this leap of faith. Spoiler Alert: it all ends well. Very well.
Who is going to build my Custom Shop Guitar?
If you have ever been to the Guitar Villa in Dedemsvaart then you know: there is an abundance of guitars to choose from.  Martin, Taylor, Lowden, Gibson, McNally, Collings and many, many more brands hang on the wall to watch and play. This offers a great opportunity to find out what suits you, but can also be overwhelming. After a first visit, you might have so many guitars go through your hands that you end up confused.
But if you play guitar for a while, you delve into it a little bit and try guitars more often, then likes and dislikes will automatically appear. For example, you might fall for everything Lowden guitars has to offer. That dreamy sound, the ease with which these guitars handle a different tuning and then that glorious fit and finish; it's all almost impossible to resist.
The boutique guitars made by Kevin Ryan, Collings and many others come eerily close to perfection every single time we see them. And then, of course, there's the iconic Martin Guitars. The brand that has been at the basis of steelstring guitars as we know them today. The brand that gave us the dreadnought, the OM, the X-brace and the brand you hear on thousands of albums. Martin is the benchmark that many builders pursue, but rarely match. And the brand that radiates a certain simplicity and sounds that to me sounds the way a guitar should sound. It is 'just right'.
And if you want a Martin Custom Shop guitar a Martin Custom Shop Expert Dealer is THE place to be and The Fellowship is one of four in the EU. Expert Dealers have an extensive knowledge of what Martin has to offer, plenty of examples in store, they offer more options and have shorter wait lists.
Choosing a particular brand to build your Custom Guitar is important, because even though a luthier will create a guitar based on your preferences, they all work within a certain bandwidth that suits the style they've developed over the years. So choose a luthier that is already close to something you like. At The Fellowship of Acoustics they have a lot of experience with many different Custom Shops and luthiers, so you can see and hear the differences and discover the styles of a wide array of guitar builders before you take this step.   
Which model Custom Shop Guitar?
I love the full sound of a dreadnought guitar, but the size of this model doesn't really fit me. When I play on it more than an hour, I feel my shoulders. That's why years ago I chose an Orchestra Model that I have enjoyed playing for hours and hours. A great guitar, modern sound, very precise and super reliable. But the desire for a guitar with a different character remained. So I bought that beautiful 'Yesterday' movie guitar, the Martin CEO7 and it was a wonderful addition.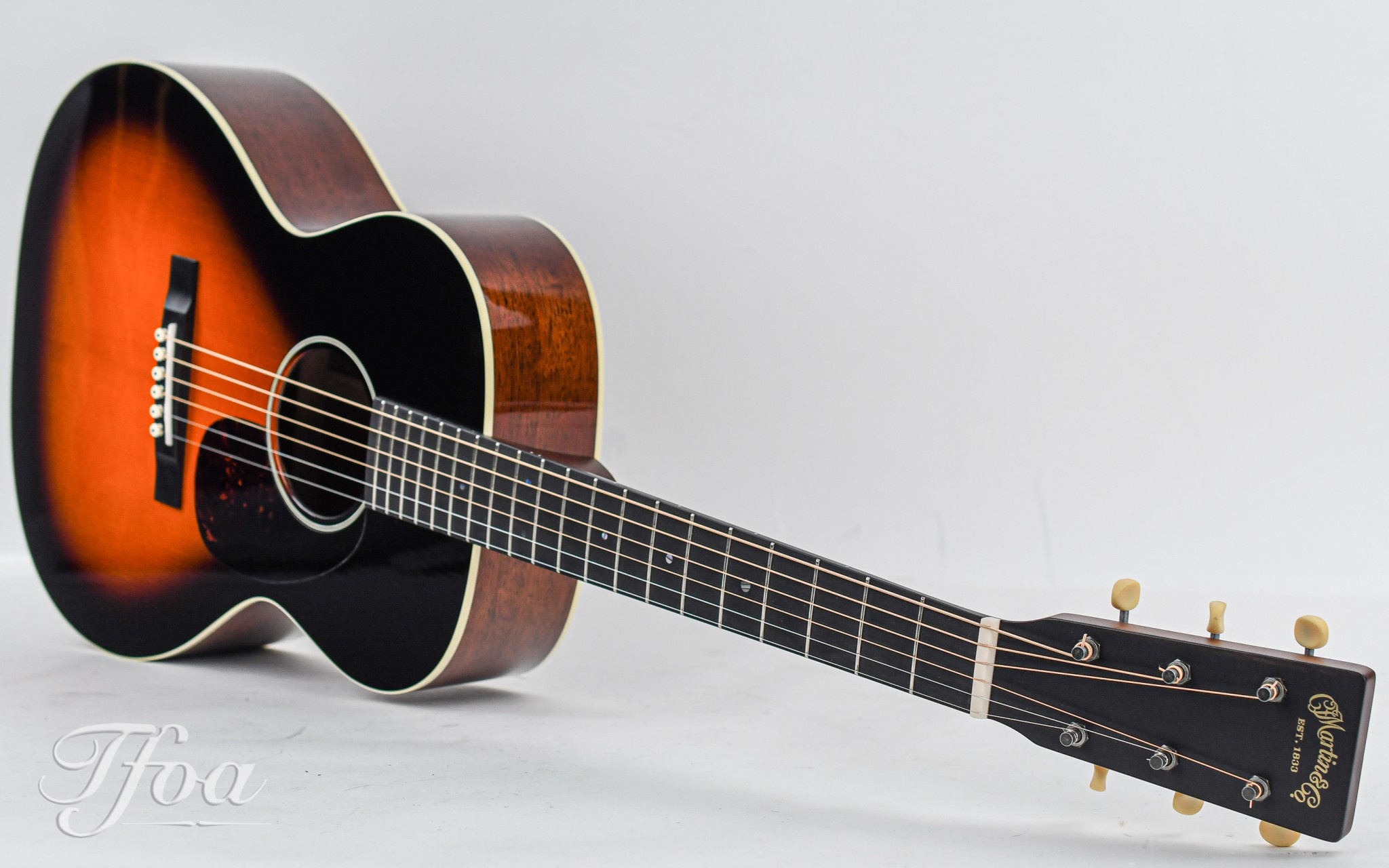 Nice and bluesy, lots of volume and killer looks. Only that neck (Mod V) I just didn't really get along with. It wasn't bad, but it wasn't great either. So the search continued and  I played on several Atkin guitars and was impressed by their sound. Most of the guitars I picked up with a short scale also felt good right away. And I was floored by a second-hand Custom Shop Martin 00018 and fell in love instantly. Great neck, blissful sound, but found the size of the CEO7 just a little more pleasant. I tried a standard 0018 and knew: this model, but with some extra Custom Shop Magic, then it's just right.  
This quest for the ultimate guitar model is different for everyone and a large part of the unique Custom Shop experience. Because there's only one way to figure out what fits best: try it. As much as you possibly can.
Which neck for my Custom Shop guitar?
After deciding on the model, the neck of the guitar is of course super important. And very, very personal! Many guitarists who once started on an electric guitar and who are now looking for a fine acoustic guitar, want a thinner neck. Those who grew up with acoustic and classical guitars are more likely to look for something a bit more sturdy to grab. Do you want a wide or a narrow key? A normal scale length for a bit more tension on the strings and that extra push when strumming chords? Or a short scale to make bends a bit easier? It's all possible! And where the differences seem small on paper (we often talk about millimeters), the difference sometimes feels enormous. Martin offers a choice of more than 10 'profiles' that all feel slightly different.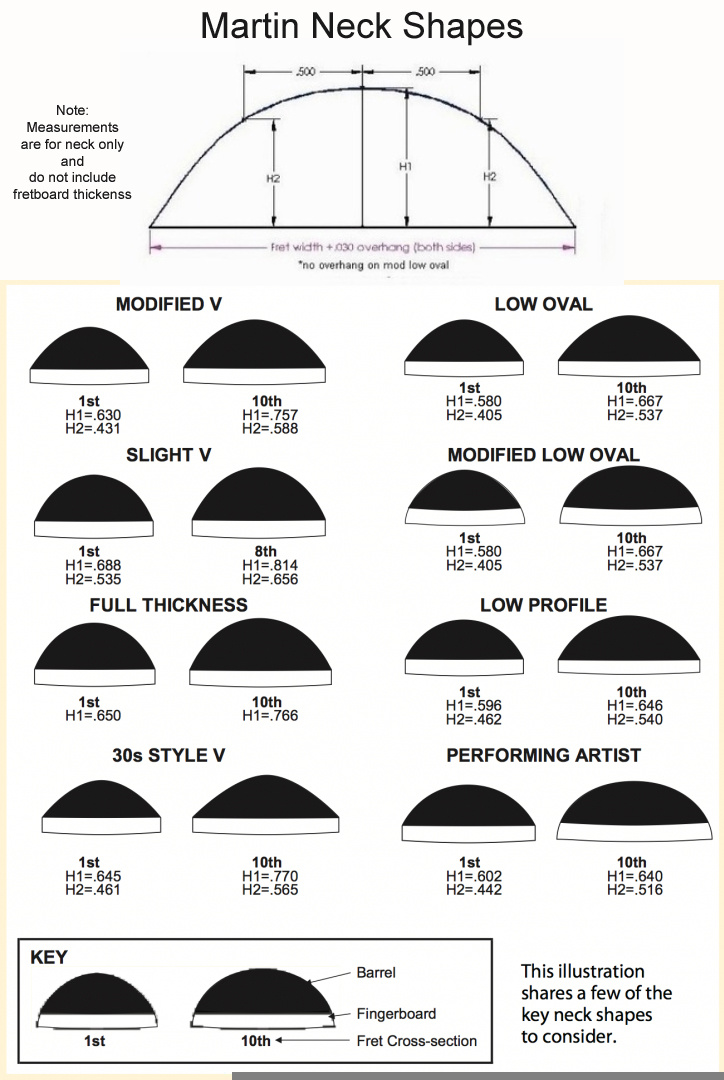 Again, the advice is: try! I immediately felt at home on Martin's most popular, easily playable, modern neck: the modern low oval with high performance taper. Other players might be missing some grip and girth, but for me that felt just right.
Which tonewood for my Custom Shop Guitar?
The possibilities with tonewood combinations are endless and it might help to have a look at the most important properties of the most common types of tonewood.
In recent years I regularly played guitars with a torrified top and was always impressed. Using a special treatment, the wood is 'baked' in an oven, which accelerates the aging process. It adds more stability and a more direct, 'drier' sound that resembles a vintage guitar. Because I wanted to build a small all-rounder that I can strum and fingerpick,  I was torn for a long time between sitka (easier on the ear, warmer, but also a bit more muddy if you are going to dig in) and adirondack (more power, precision, suitable for strumming, but less friendly and sometimes a bit shrill). In the end I went for torrified sitka. That doesn't have the overwhelming boom of adirondack, but to me torrefied sitka also sounds just right. Especially combined with mahogany, but here I wanted to add something extra. Something that is more than just right, if only because of the story behind it: sinker mahogany.  These are old trees that have been lying at the bottom of the river for decades and have now been reclaimed. Due to this slow aging in extreme conditions, it sounds different and often somewhat richer than 'normal' mahogany.
What type of finish for my Custom Shop Guitar?
With the 'finishing touch' you can give a guitar an extra push in a certain direction. Some builders swear by "modern" finishes that dry quickly and are very scratch-resistant. Other builders stick to the more traditional nitro-cellulose finish, as it is supposed to sound better. Others say that the type of finish does not really matter that much, but the thickness with which it is applied can be decisive. The thinner the finish, the better the guitar resonates and sounds. But too thin does not offer enough protection, so it is always looking for the right balance.
Martin developed a different type of finish especially for their Authentic Series: the Thin Finish in order to approach the authentic sound even better. The finish is 40% thinner, making it more fragile, but these guitars sound great. For me, this finish added just that little bit more than just right.
How do you create a Custom Shop Guitar?
So here's how I got my wish list for the Ultimate Custom Shop Guitar:
Brand: Martin
Model: 0018
Tonewood: Sitka (torrefied) Sinker Mahogany
Finish: Nitro-cellulose Thin Finish
Making this list is a unique, surprising journey that you can have a lot of fun with and yes, it takes time. How much time, is different for everyone, but it took me a little over half a year, during which I played a lot of guitars, went to beautiful places, had really nice conversations and learned a lot. Not only about what is on offer, but also about what I like and don't like. That makes it a once-in-a-lifetime experience that offers much more than 'just' buying a guitar, because over time it does more and more become your own.
If you have a clear idea of what you want, you can create a Custom Shop guitar yourself with the configurator on Martin's website.
ATTENTION!  There are prices in dollars, but they don't say much here in the EU. Shipping, importing, exchange rates and distribution agreements, ensure that Martin guitars in Europe are sold for different prices.
And it is good to know that the configurator gives a good impression, but it does not show you everything. Martin Custom Shop Expert Dealers have direct lines of communication with the builders in Nazareth . For example, the Thin Finish is not an option in the configurator, but it is a possibility. The color, the bracing, the inlay, the type of glue and even the guitar case: almost everything can be adjusted to your liking. But Martin does not stop there. Do you want a replica of a museum piece Martin, built where the original came from? The Custom Shop is happy to work with you on any wish you have! Are you looking for specific inlays? Yes, they can! Even Brazilian rosewood is available through Expert Dealers every once in while, so the sky is the limit.
Are you planning to have a Custom Shop Martin built? Then a Martin Custom Shop Expert is your best partner. They can show you a lot of examples and know everything about all the possibilities and they can provide you with tailor-made advice. Like many of us mere mortals, my wishes were limited by a budget and even though the Custom Shop builts extremely exclusive guitars, Expert Dealers are more than happy to help customers with far more moderate demands.
The Wait...
Once you have virtually assembled the guitar, you will receive an extensive confirmation and order form with all the details. You sign and agree, pay the deposit and then the least fun part of having a Custom Shop Guitar built begins: the excruciatingly long wait. Through a 'normal' Martin dealer you have to consider waiting times of well over a year. Fortunately, Expert Dealers get priority treatment, so it takes around 10 months, depending on your wish list.
Can I change anything about my Custom Shop guitar during construction?
While you wait for your Martin Custom Shop guitar you normally have no influence on the further construction, unless you have a more elaborate and expensive guitar built. But in most cases the order form is the most important document, because what it contains is executed and you can no longer make any adjustments. If you want to have a guitar made, where you have something to say during construction, for example about the exact choice of tonewoods before you make a final decision, then a much smaller builder who keeps you informed at every step may be a better match.  Through an Expert Dealer there are some possibilities to get photos from the Custom Shop as it is being made, but otherwise Martin will usually quietly make your guitar as Martin does. While you wait... and wait... and wait...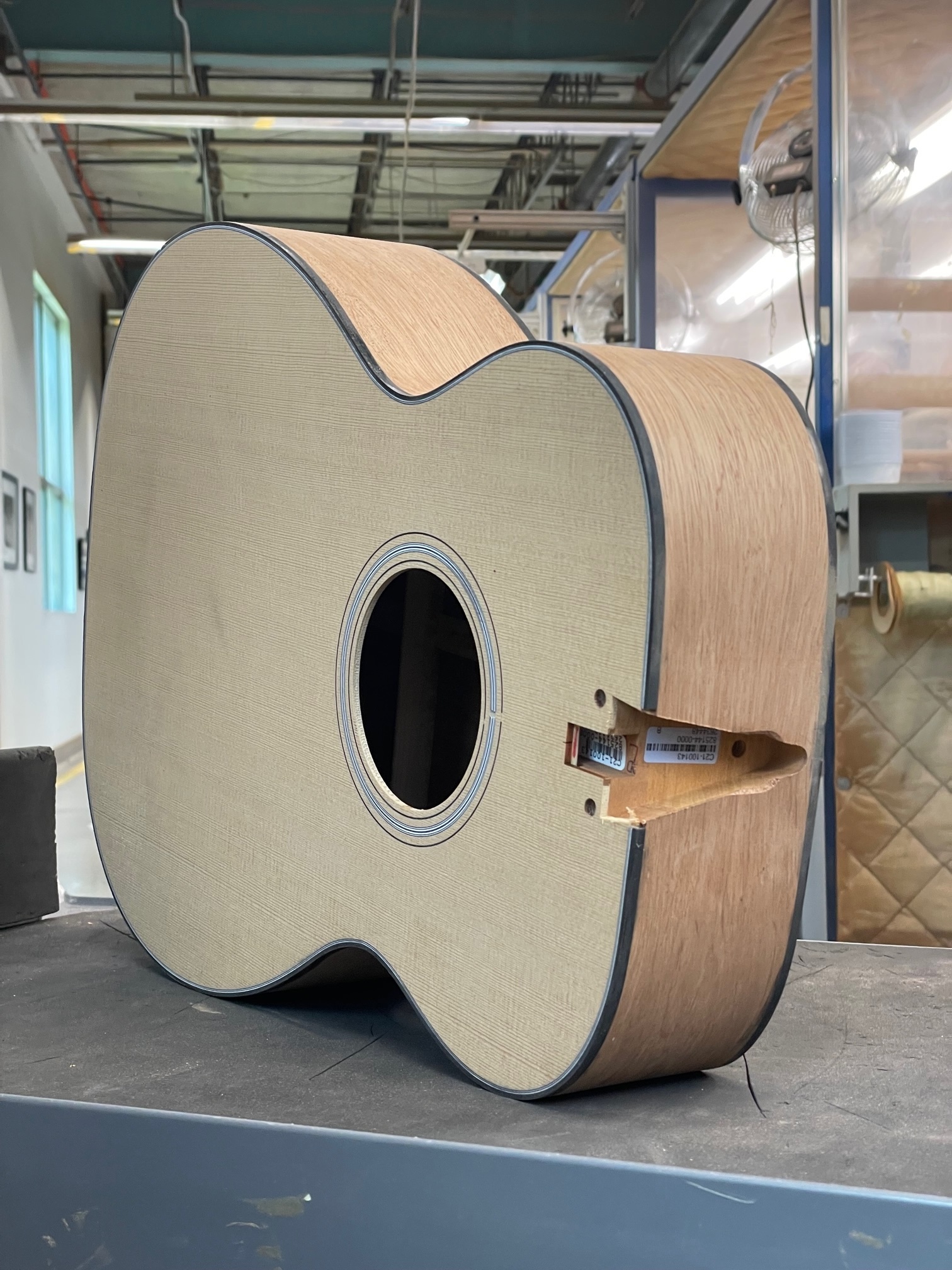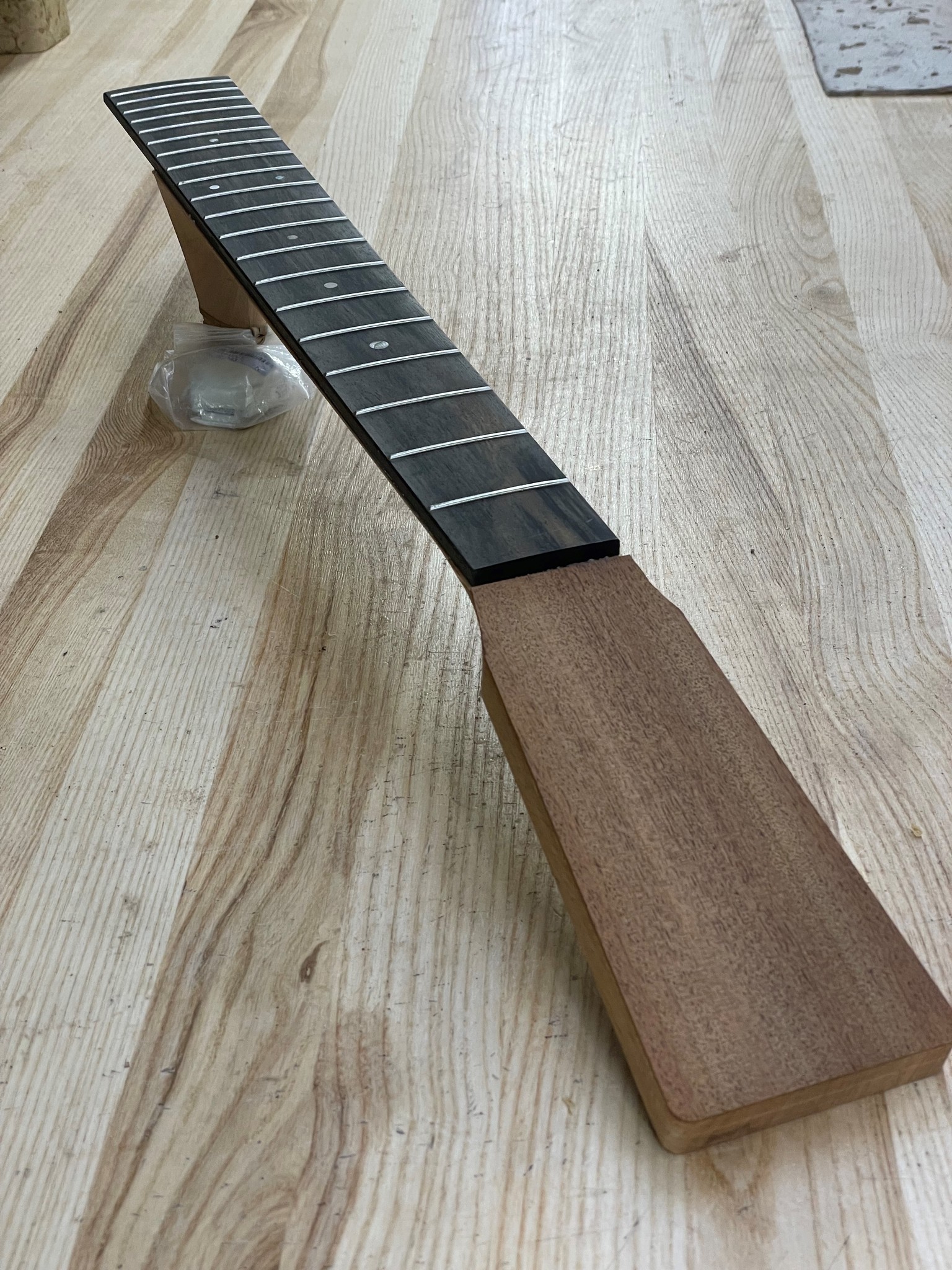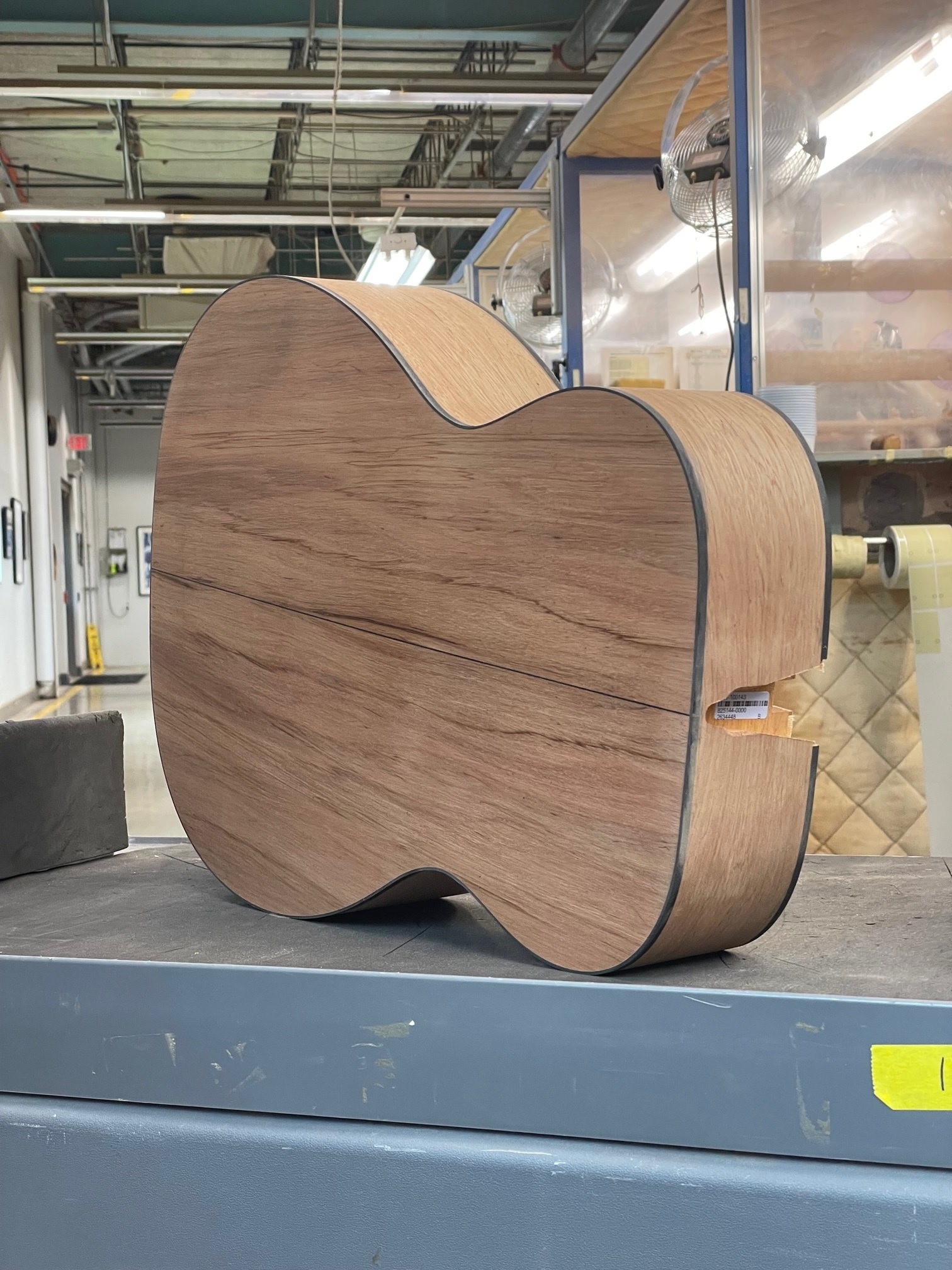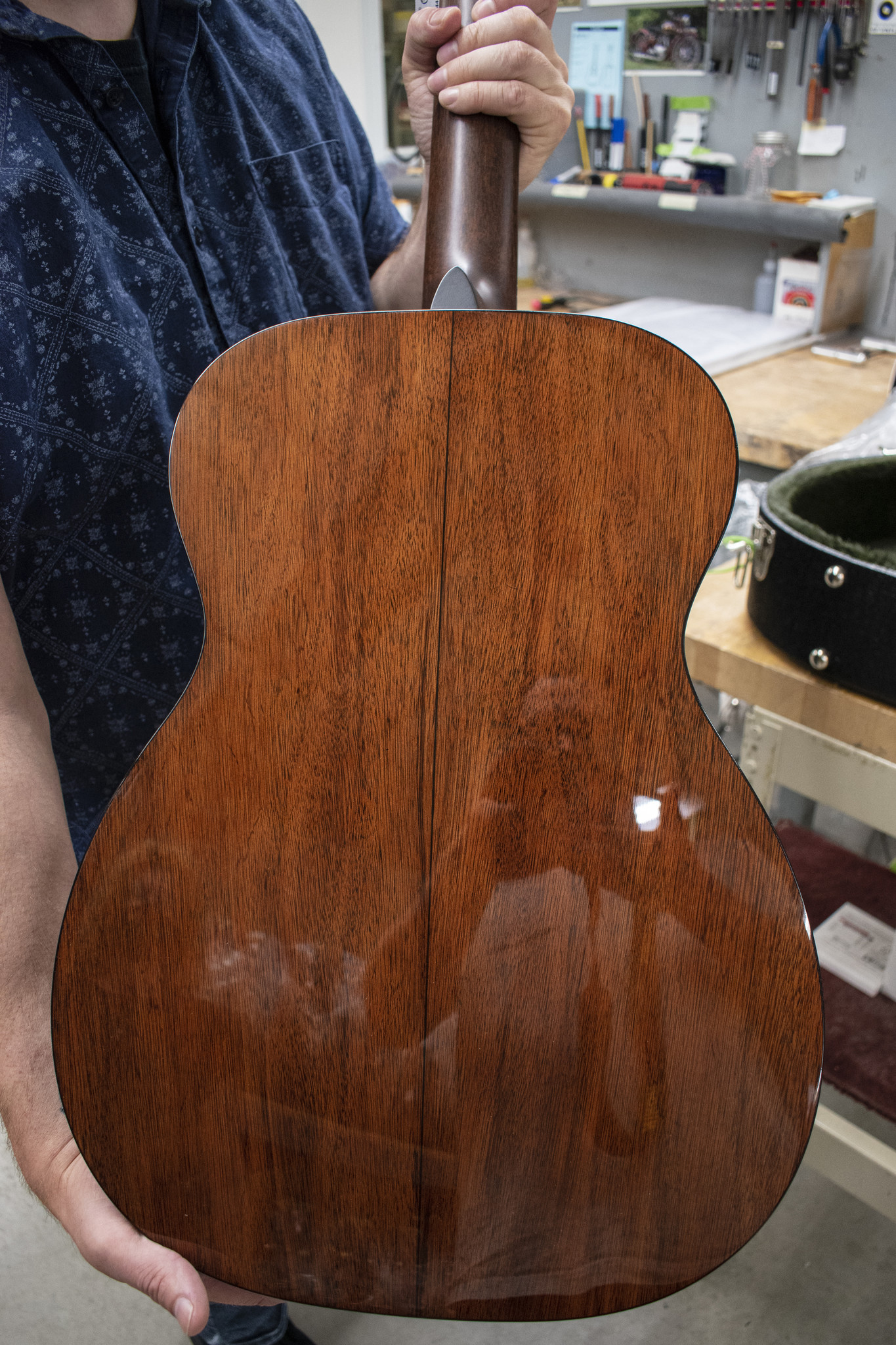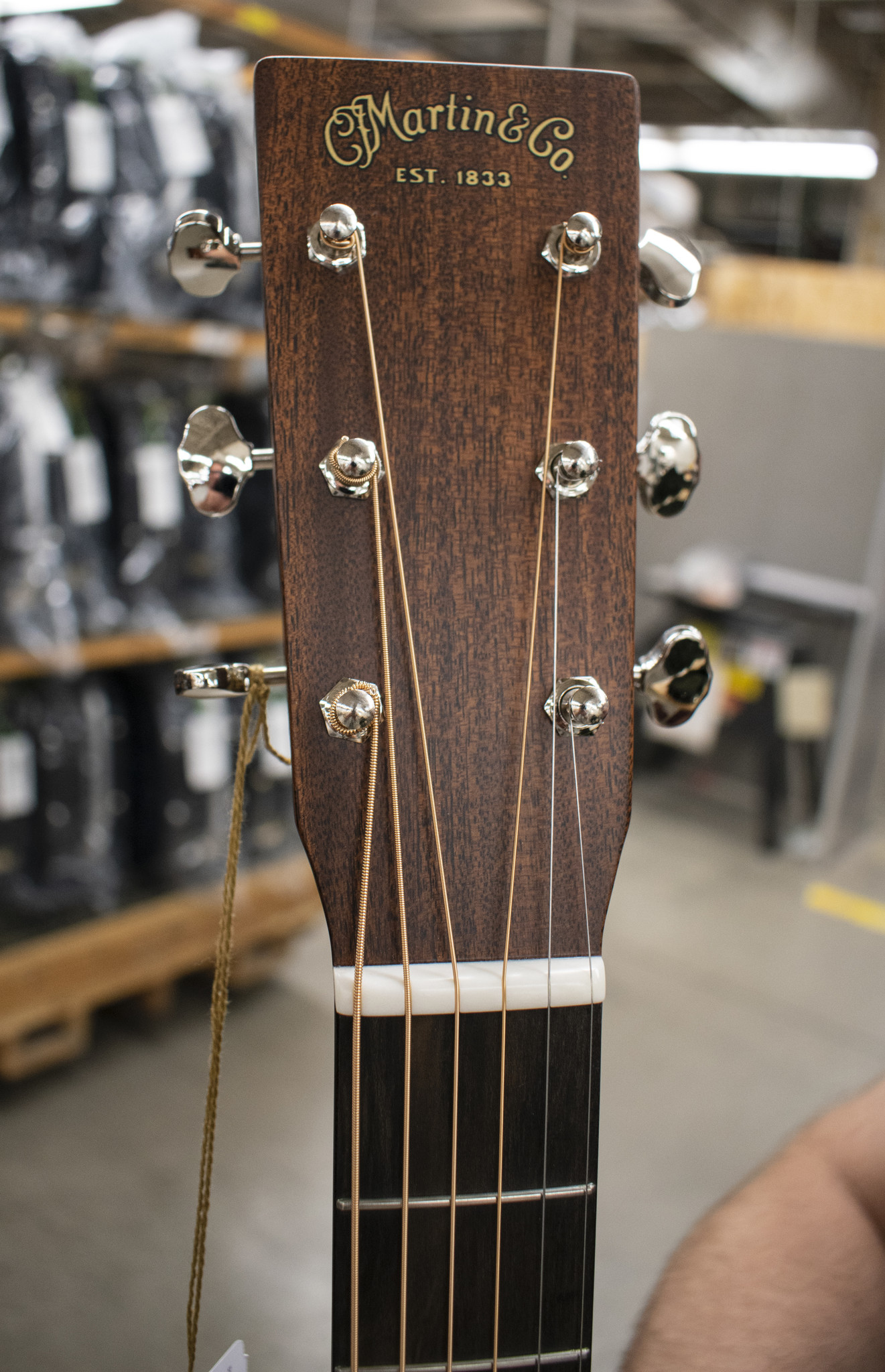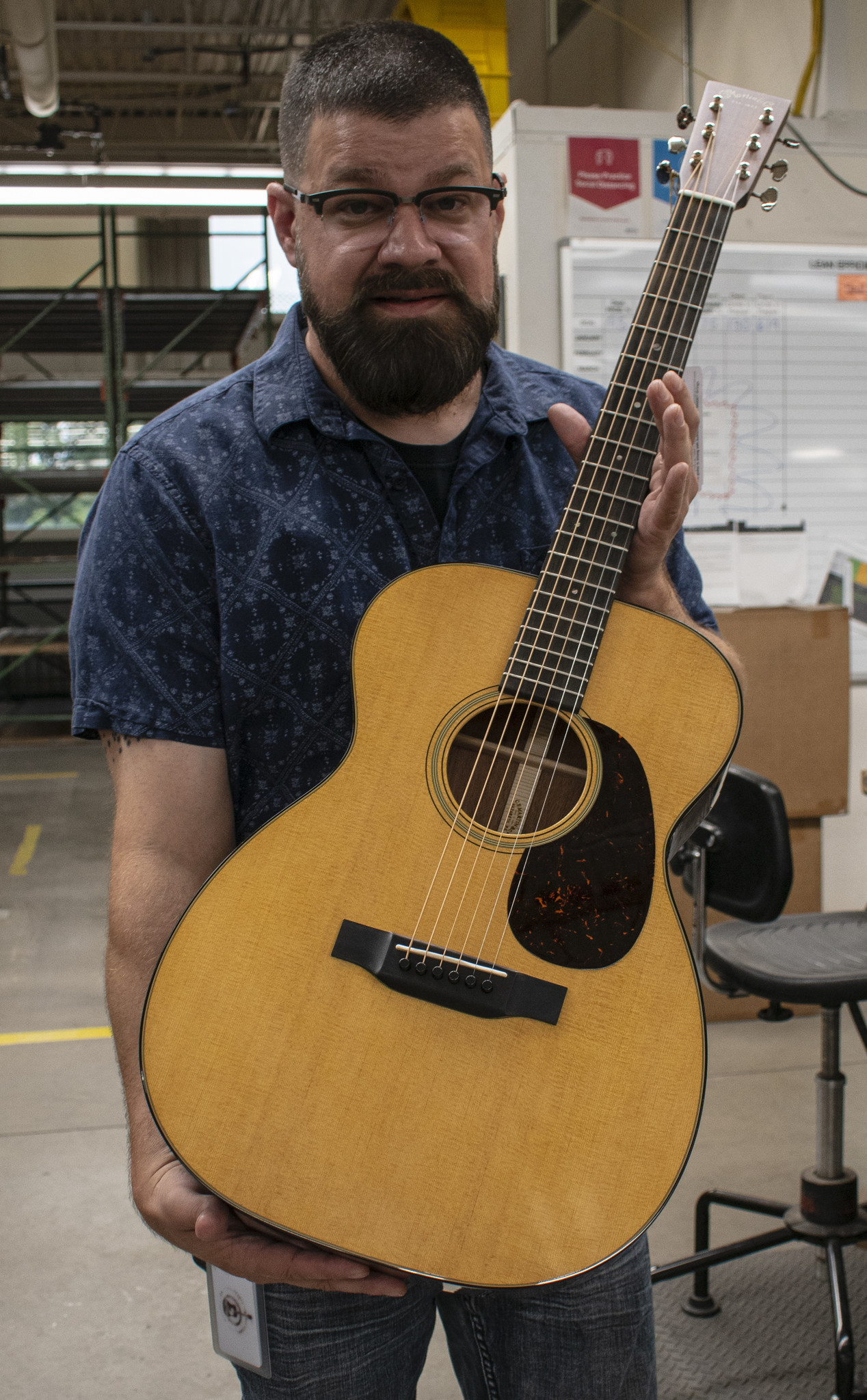 How much does a Custom Shop Guitar cost?
A Martin Custom Shop guitar is not cheap, but if ordered wisely the price may not be too bad. For example, The Fellowship of Acoustics ordered a batch of Custom Shop Martin guitars with an adirondack top adding a very modest upcharge. Now you can go all out in the Martin Custom Shop, but you don't have to. A slightly different choice of tonewood or finish usually results in an upcharge of hundreds of euros rather than thousands. So you can order a guitar with some extra Martin Custom Shop Magic starting at around 4,000 euros (prices at the end of 2022). If you add more extras, more expensive types of tonewood and rich decorations, prices quickly go up.
Final delivery and aftercare
And then, after 10 long months, the time has finally come: a phone call from The Fellowship that my Custom Shop 0018 is ready. You open the suitcase and your eyes see the guitar that has only existed in your head until then. You grab it, you feel the neck, which already feels a bit like coming home, you hit a G-Chord and there is that delicious Martin-Sound that gets that extra push thanks to the Thin Finish and you know: this is more than Just Right. This is Just Better!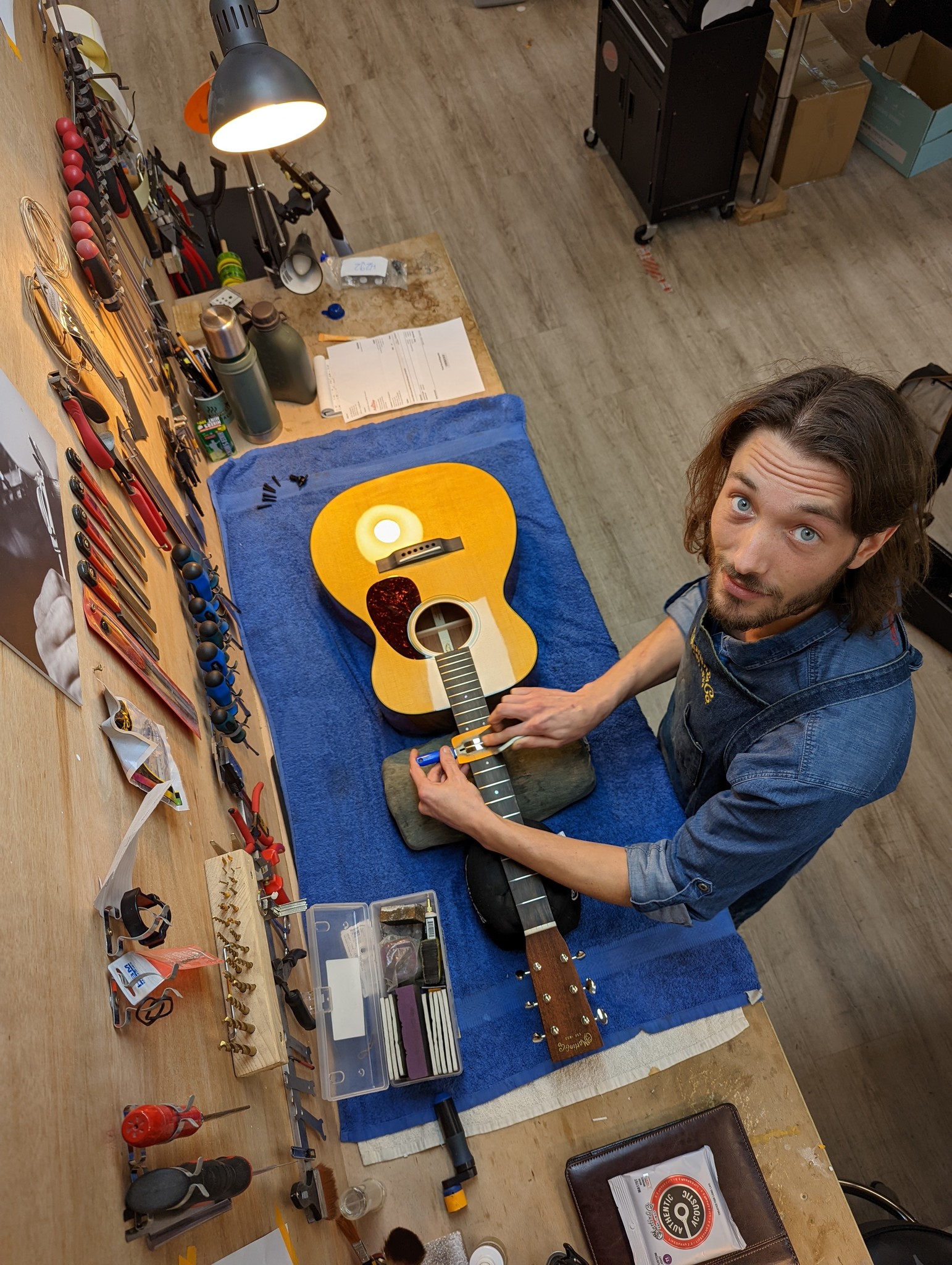 What to do if you don't like a Custom Shop Guitar?
So it turned out that exciting leap of faith was a great idea, because the result exceeds my wildest expectations and it feels like a privilege to own and play such a guitar. But what if you  don't like a Custom Shop guitar? Of course, I also asked Fellow Coen that question before I started this adventure. His answer: "That almost never happens, but if it does, you don't have to buy it. You will then only lose your deposit of 500 euros for the costs incurred and we will figure something out. Ultimately, we want you to buy a guitar with which you are not just happy, but very happy and we simply don't stop until you are."
Would you like to know more about having a Custom Shop Guitar built by Martin or another luthier?  Feel free to get in touch by mail, chat or phone. Or visit the magical Guitar Villa in Dedemsvaart. The coffee and the Custom Shop Guitars are ready!