Erik Bogaards - 07 / Feb / 2023
Tonewood Spotlight: Walnut
A beautiful tonewood, with great dramatic figuring, very affordable and sustainable and last but not least: that TONE, folks! Walnut simply has it all.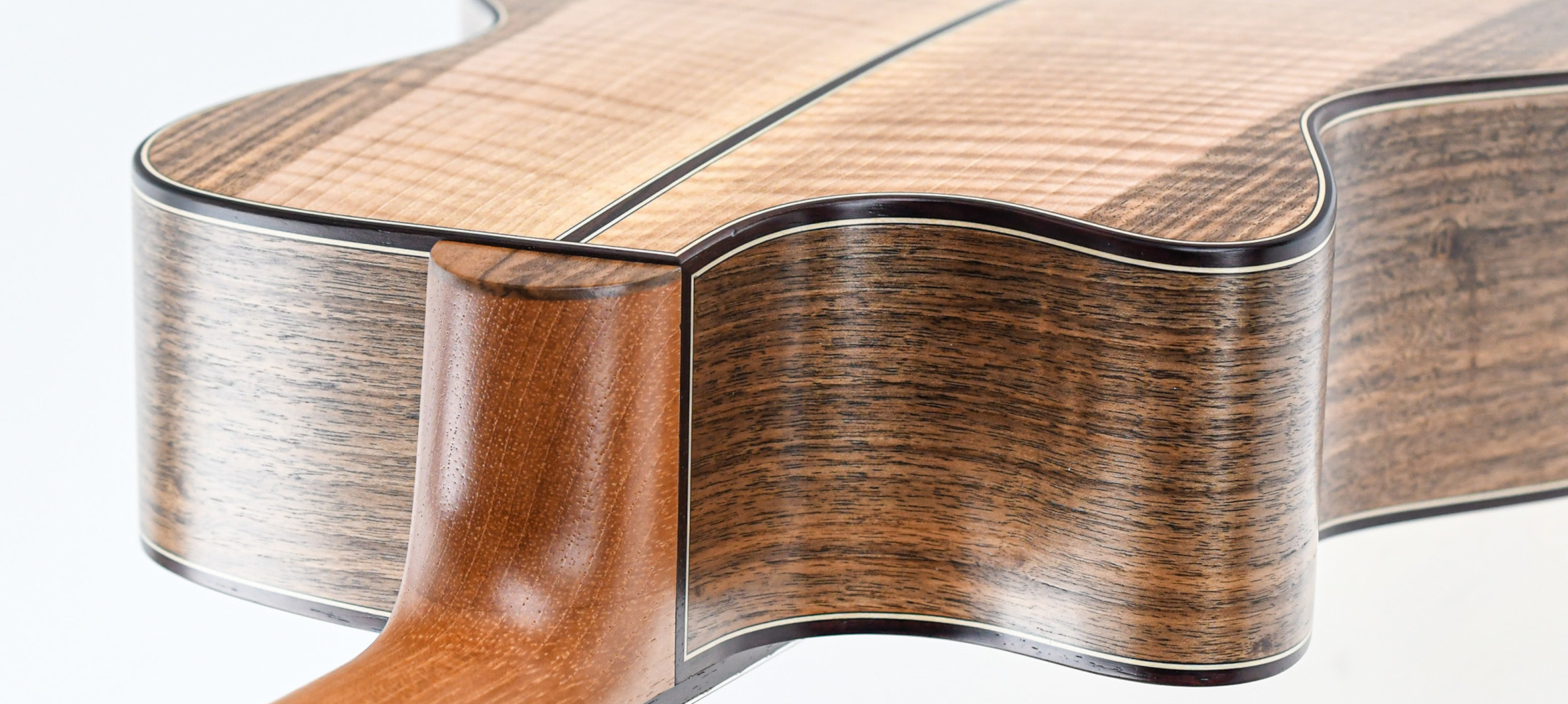 When it comes to finding the perfect tonewood for an acoustic guitar, it's often either mahogany or rosewood. That is a bit of a shame, because there is so much more to choose from like, maple, myrtle, ovangkol, even old oak and then there is the star of this article: walnut. Used by some of the most iconic guitar makers in history like Gibson, Martin, Fender and Taylor for very obvious reasons.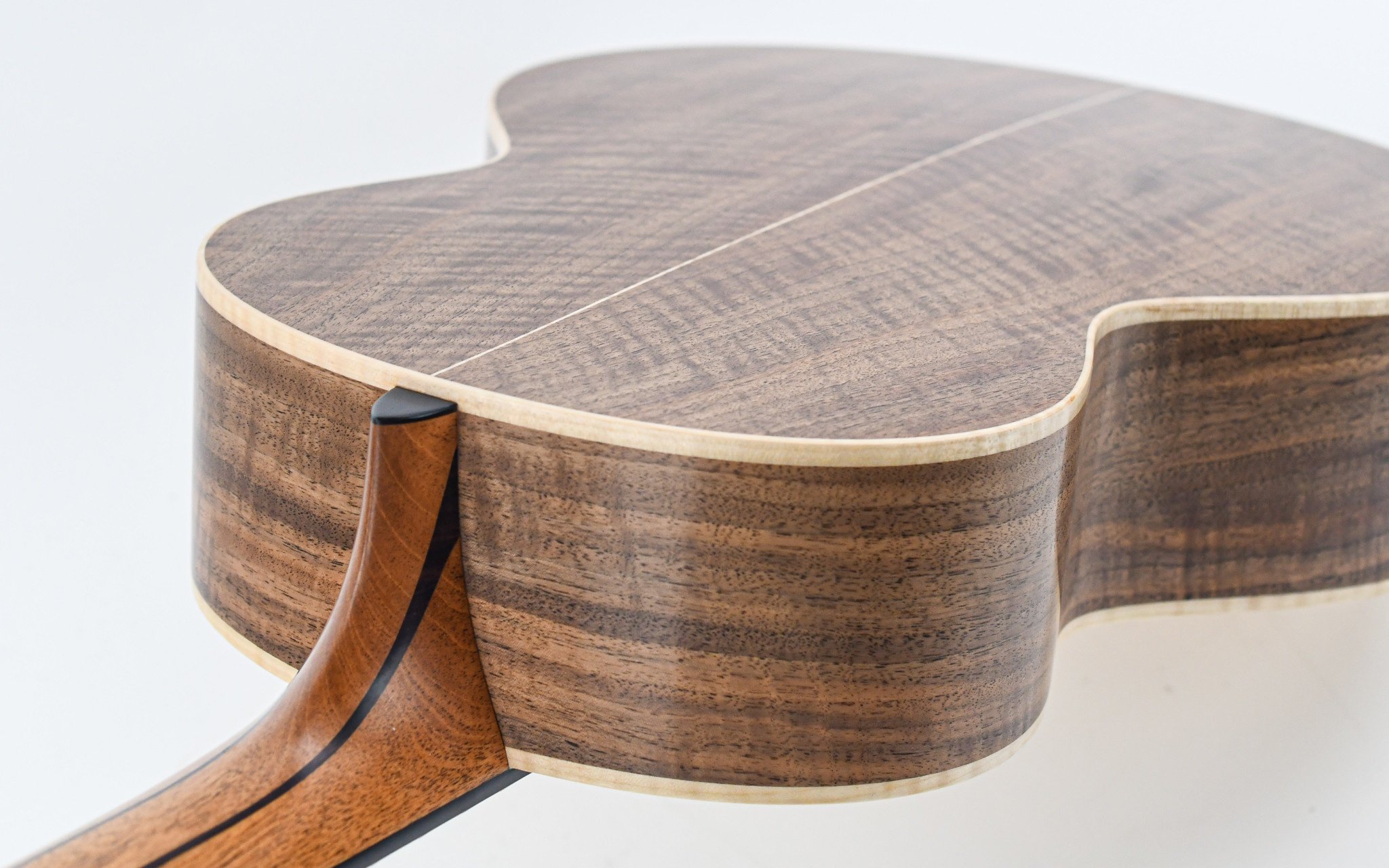 Walnut looks and sounds great!
Walnut is a tonewood that not only provides a unique sound but also gives you very attractive aesthetics. it usually has a dark brown color with a straight grain, which gives it a unique look, but we have seen lots of examples of stunningly beautifully figured walnut. It is a dense wood, which helps to create a very clear and focused sound, with great sustain. It is sometimes compared to maple, but we feel that walnut really has a voice of its own, because when properly used, it tends to cover the whole spectrum from low to high frequencies very well. Some would argue that if a maple and a mahogany tree would have a little baby-tree it would be walnut. With just a pinch of rosewood for those glorious lows. Being this clear Jack of all Trades, walnut is a great choice for a number of different genres, going from blues to more modern fingerstyle players, singer songwriters and everything in between.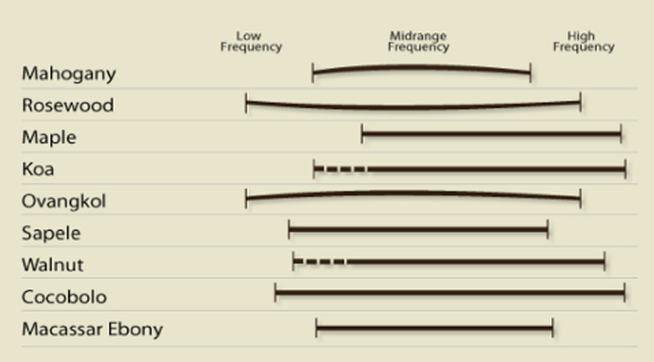 Affordable and sustainable tonewood
A luthier like George Lowden has been using walnut for decades, because he simply loves it. "It is one of my favourites since 1991 for all body sizes, because there is nothing like it for clarity and definition." Combined with cedar, you really can not go wrong with walnut. Pair it with alpine spruce and the magic happens.
And if you are looking for a nice nylon crossover guitar with a nice modern sound, walnut is a great option for nylon guitar that simply 'pops'.
Over the years we have seen a lot of great walnut guitars from mostly smaller luthiers, but now the larger guitar companies have discovered walnut, so for 2023 we expect to see and hear this great tonewood a lot more. Gibson uses it on their new Generation series and now Taylor has introduced an all new American Dream Series with walnut back and sides. Soon Taylor will also be adding walnut tops to their Academy series. We cannot wait to get our hands on those!
For luthiers, walnut is a great material to work with, as it is widely available, affordable and is both strong and durable, so you can get a walnut guitar without breaking the bank. We are very pleased to see that Furch has added walnut to their blue series, offering a great solid wood guitar at a very reasonable price.
In terms of sustainability, the slow growing walnut is usually a better choice than some of the other more exotic tonewoods available. If you ever have the opportunity to visit our GuitarVilla, you might want to stroll through the beautiful garden and maybe stumble upon a walnut tree in all its glory. Inside our store in Dedemsvaart we always have over 1.000 guitars in stock, so there is always some walnut for you to hear as well as compare to other tonewoods.
Our Fellows are happy to help you, and the coffee is ready!