According to some, this is "a guitar like a flamethrower"...
Mark Lettieri may not be known to huge crowds, but a lot of guitar-enthusiasts know him all to well. Mark excels in the background of countless songs we all know from David Crosby, 50Cent, Eminem,  Snoop Dogg, Adam Levine and many, many others have turned to Mark for his guitar skills.
Mark is one of those players who can play just about anything, but he it is never 'in your face', he always shines by just doing what is best for the song, with just enough 'snap' in his style to ever so slightly leave a signature mark. Besides being a session player he is also a composer, teaches through  JamPlay  and Soundslice and now he has made his first signature guitar with no other than Paul Reed Smith
It should come as no surprise that an all-rounder and versatile player like Mark is looking for a guitar that doesn't excel at just one aspect of guitar playing. He wanted a guitar that does just about everything very well. His funky, jazzy accompanying work make the two single coils of a Strat an obvious choice, but to show what else he has in the store, a humbucker is a very welcome addition.
Thanks to that set up, there is now a guitar that you could describe as a PRS  Superstrat: swamp-ash  body, maple neck and fretboard, 25.5 inch radius, oval tuners, custom designed humbucker and 2 single coils, 5 position switch, 3 knobs for tone and volume and an amazing two way tremolo.  
Sounds familiar? Yes, but this time it was put together by mr. Smith and he left no part untouched in search for perfection. He spent a year tinkering to get the pick ups to do what he and Mark envisioned. The tremolo is new, the neck inlay  is specially developed, the design of a flower (Fiore) on the truss rod cap is made by Mark's mother.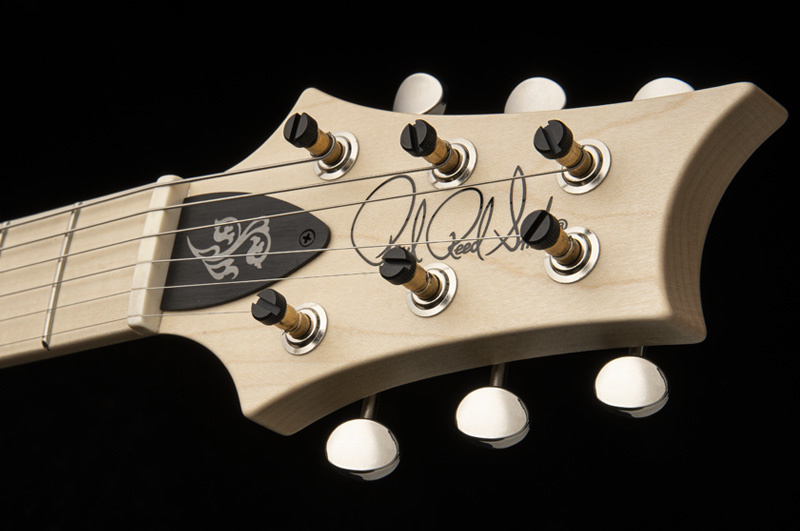 The two gentlemen have given a completely different twist on a recipe that we may have known for a longtime. The result is a guitar that will capture a lot of hands and hearts, simply because it is a dream for session musicians, cover band players and home musicians who prefer to just keep on playing, rather than switch guitars all the time. According to a friend of Mark's, this is a guitar 'like a flamethrower': it burns a lot of the competition.  
Want to know more about the PRS Fiore? Feel free to contact us about availability and prices.

Specs
Body Wood        Swamp  Ash

Finish    Nitro  over Cellulose (CAB)

Number of Frets              22

Scale Length       25.5"

Neck Wood        Maple

Neck Shape         Fiore

Fretboard Wood              Maple

Fretboard Inlay                  Birds

Truss Rod  Cover              "Fiore"(flower) Logo

Bridge   2-Point Steel Tremolo

Tuners Vintage-Style

Hardware Type                 Nickel

Treble Pickup     Fiore

Middle Pickup    Fiore

Bass Pickup         Fiore

Controls              One  Volume  and  Two  Push/Pull Tone Controls  with  5-Way Blade  Pickup  Switch

Strings PRS  Signature,9.5-44

Included Accessories       PRS Premium Gig-Bag