Erik Bogaards - 05 / Nov / 2021
They are back: Taylor Guitars!
We proudly present the Comeback Kid that was gone but never forgotten: Taylor Guitars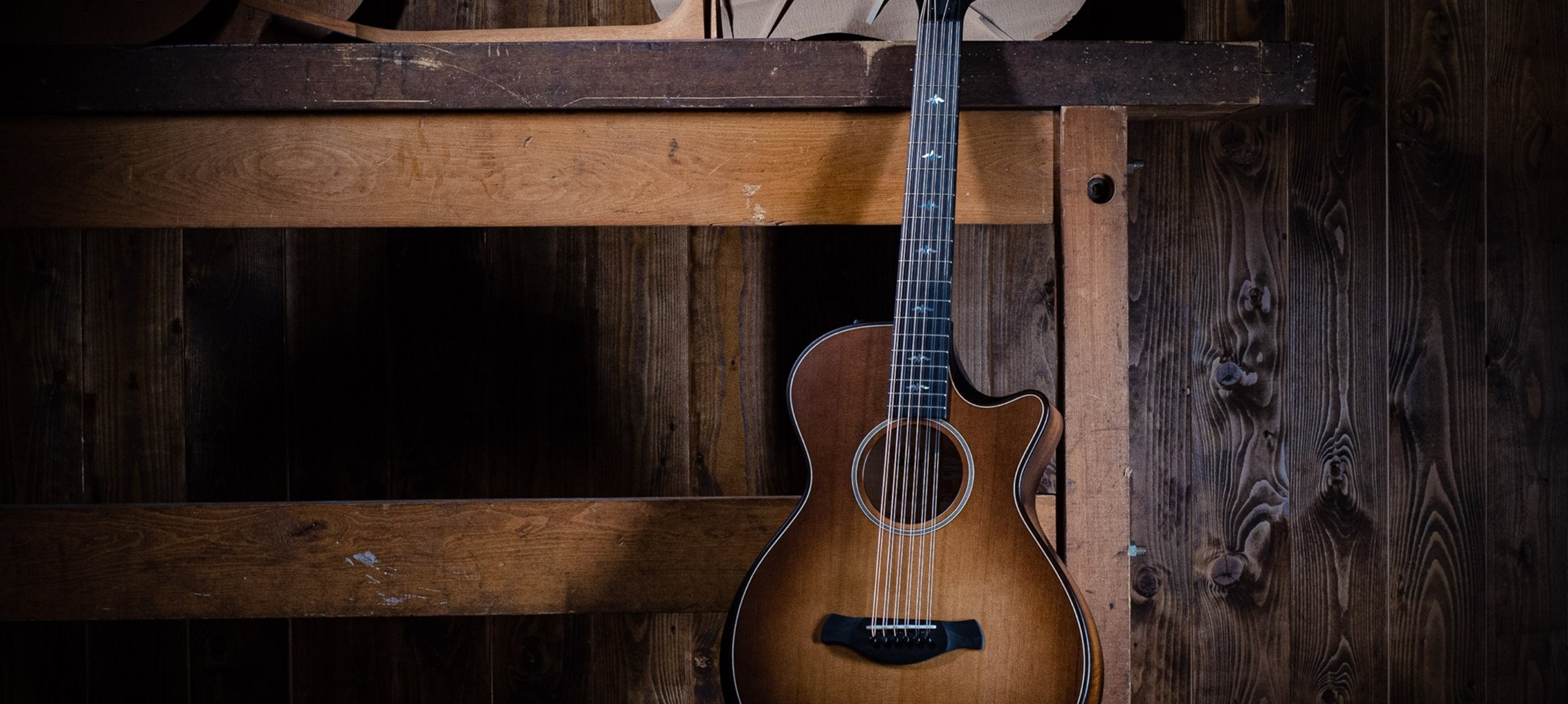 Fellow Coen is delighted with our latest acquisitions from El Cajon, San Diego County. "Taylor has been making quality guitars at an extremely high and constant level for years, their service is excellent and they are really innovative and refreshing at Taylor, so these awesome acoustic and electric guitars are a perfect fit for The Fellowship of Acoustics," says Coen, who has been working on this for a long time. His conversations with Taylor started during the 2020 NAMM Show in Anaheim.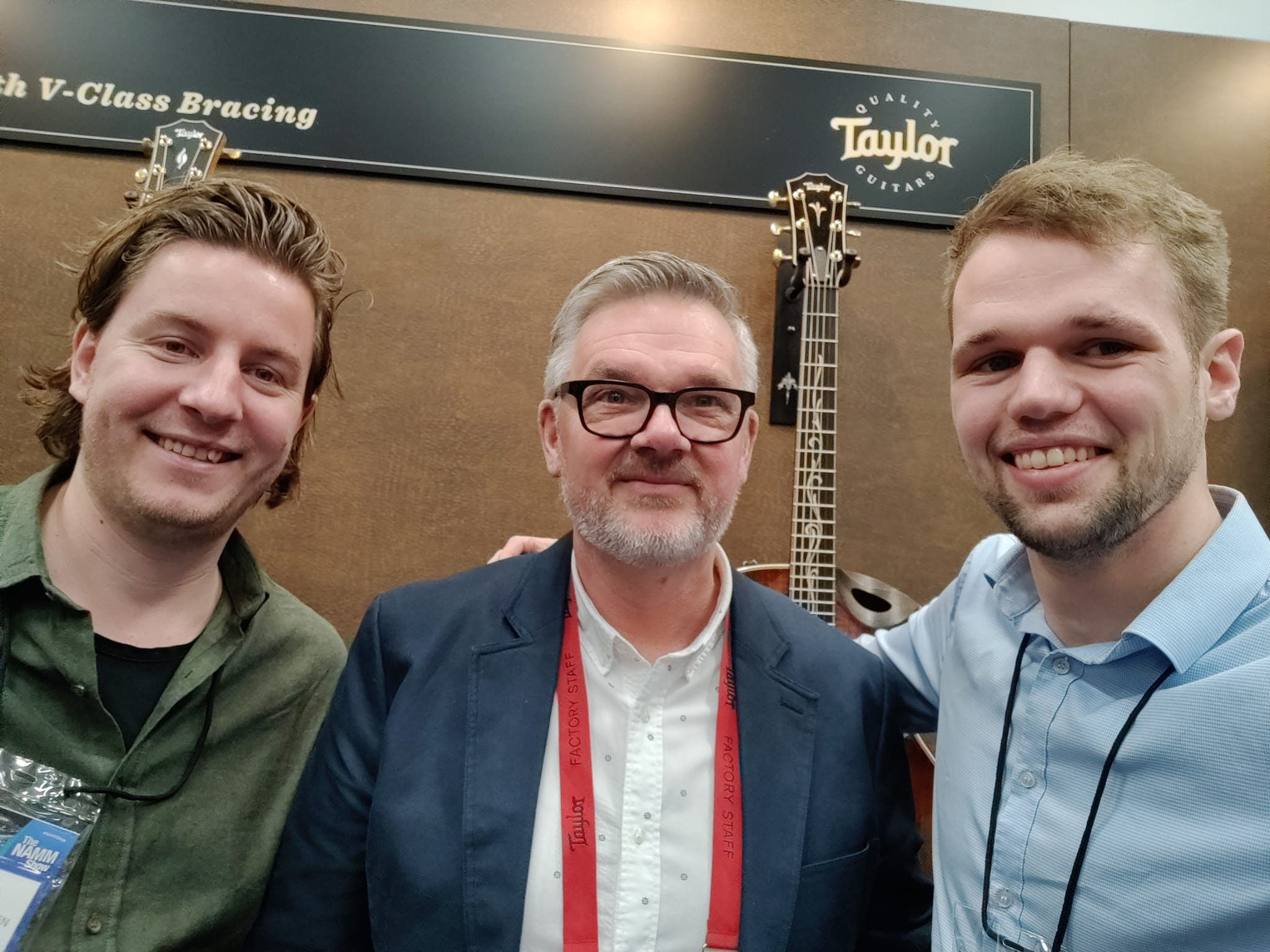 Fellows Marc and Coen meet with Sales Rep. Peter Samuelsson to get the best deal for lots and lots of beautiful Taylor guitars during the NAMM show 2020.
There was some delay for obvious reasons, but now they are finally here!
Taylor Builders Edition
Just take a look at the new Taylor Builders Editions guitars, that just oozes with craftsmanship. Bob Taylor has always been a smart innovator and this 324CE Builders Edition shows that. Inspired by old violin makers, such as Stradivarius, Bob Taylor tried to get his materials not from far away, but from source them locally and by setting himself that challenge he came up with a unique body made of 'Urban ash'. These trees grow in various places in the United States and once they are fully grown they are cut down and usually processed into pulp. Ouch! Together with master builder Andy Powers, Bob Taylor discovered that this local wood is very similar to the excellent tonewood mahogany and it grows in their back yard. This continuous search for improvement makes Taylor such a fascinating luthier.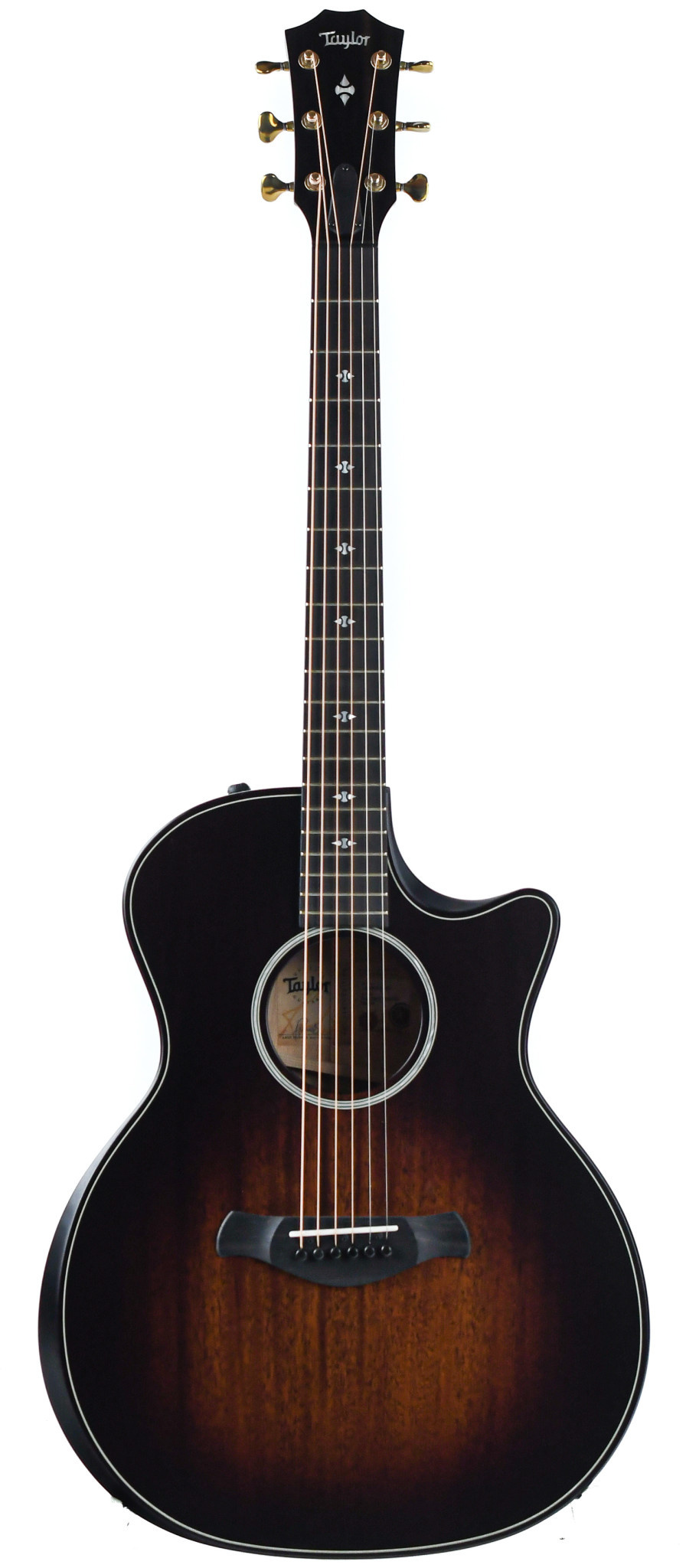 In these Builders Editions we see even more of the sublime quality of Taylor's High End guitars. A great Tobacco Kona sunburst that is more than just beautiful, because Taylor also developed a 'silent finish' that makes much ´rubbing noises´ when you play it. That is very useful in the studio, if you want to capture just the guitar sound with a very sensitive microphone.
Furthermore, we see the V-Class bracing  and that is also another unique find by Taylor that ensures perfect intonation over the entire neck and a good balance between stiffness and resonance.
Not only are the edges of the neck and body of the Builders Edition rounded for even more playing comfort, the bridge is also super ergonomic. Gotoh tuners and the already built-in ES2 pickup system make this guitar a loyal companion for the professional musician and really any guitar enthusiast.
Made for guitarists
These are just a few examples that show Taylor looks beyond the technique of building a guitar, because they don't make guitars 'like we've been doing this for over 100 years'. Instead, Taylor focusses on the hands in which such a guitar ends up and what making such a guitar demands from the world around us.
Do you want to travel with your guitar? Then Taylor makes a guitar that is a smaller, puts it in a super solid bag and calls it the Taylor Mini. Wonderful and beautiful compact guitars that sound much bigger than they are.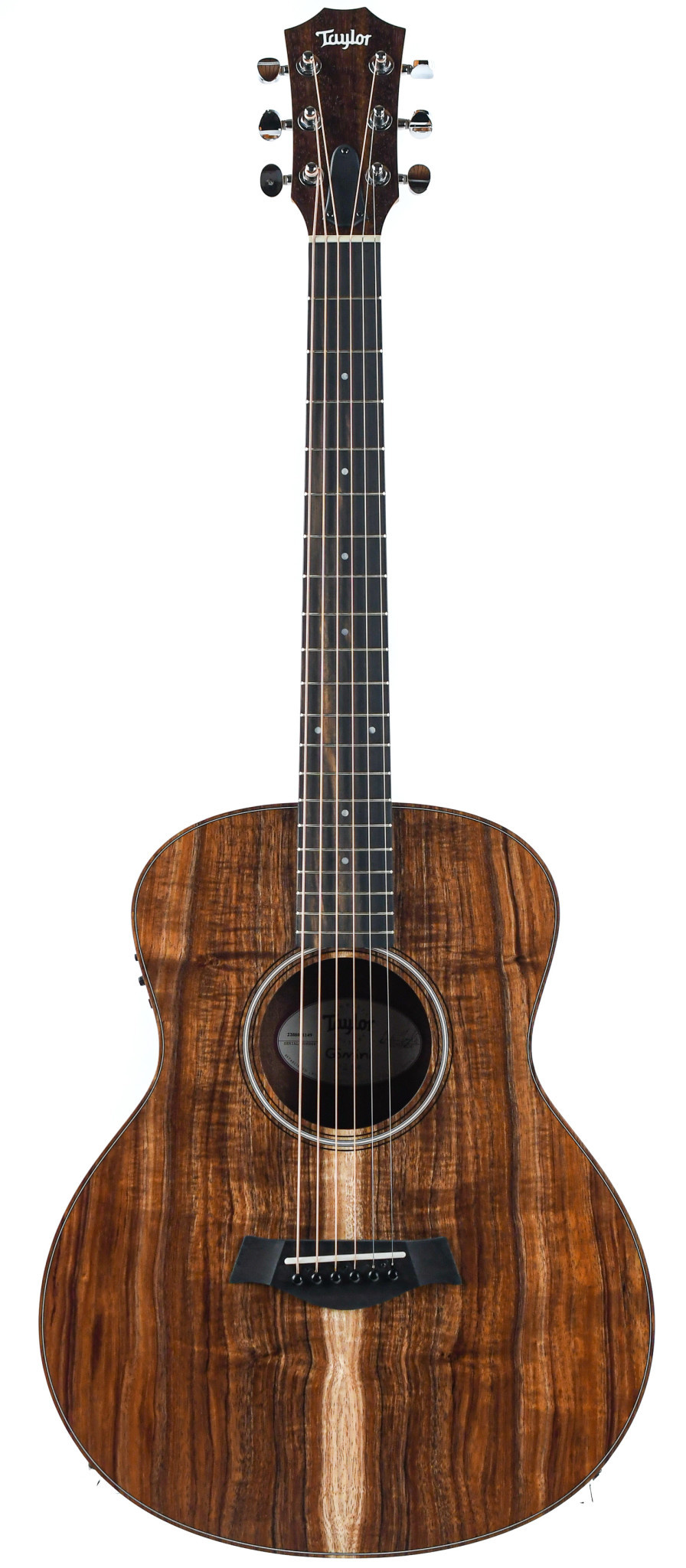 Are you looking for a guitar that has all the goodness and grandness of a dreadnought model, but with the finesse of an OM? Then Taylor simply creates a Grand Auditorium that combines the best of those two worlds and turns it into a flagship like the 914CE.
Are you looking for a 12-string guitar that sounds like a cathedral and plays mostly like a dream? Taylor succeeds like no other with the 652ce. How? By just putting the strings a little differently on this guitar. Smart!
Maybe you are looking for the ultimate beginner guitar that is not too expensive, but that you can play for a long time and with pleasure. Taylor's Academy Series offers that, because for a very reasonable price, you get a guitar with a super comfortable bevel that you normally see on more expensive models. Add to that, ease of play, a great sound, a built-in tuner, a pick up and a sturdy bag and you have something in your hands that you can use for years to come.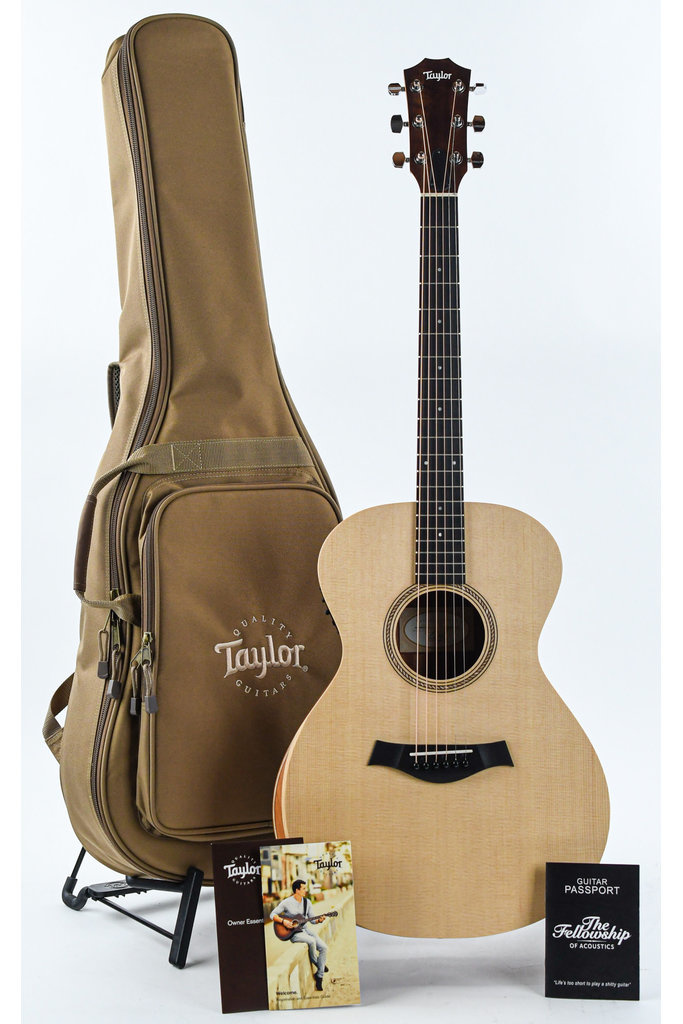 Sustainable guitars
Taylor thinks it is important that your guitar is not at the expense of the world around us, but rather adds something to it. That is why the company is a pioneer with the use of new types of wood and the replanting of new ebony trees in Africa and Koa in Hawaii. By doing so, the company is sure that the wood they use is sustainable and they are now also a wood supplier to other companies.
This sustainable philosophy is rooted deep in Taylor's DNA and that makes this luthier a bit like Ben & Jerry Ice cream: not traditional, quality comes first, slightly contrarian, and everything they do should go hand in hand with an eye for our environment.
Recently, the shares of the company have been given to the 1200 employees in stead of an investor or other large company. According to the founder, the reason for this is very simple: his own people, who have contributed to the enormous success, understand better than anyone else what Taylor stands for and are therefore the best guarantee that the company will continue to do what is so good at for a long, long time: making excellent guitars.
Taylor Custom Shop
In just over 40 years, Bob Taylor has managed to create a guitar empire with something for almost every player and every budget, including electric guitars! But if you still have specific wishes, then almost everything is possible thanks to the Taylor Custom Shop? Other colors, different types of wood, unique inlays: the sky is the limit, because in the Taylor Custom Shop is all about your guitar wishes.
The Fellowship of Acoustics is an official Taylor Dealer and we have also been selling many other brands for years. That is why we have been able to help many customers with putting together a dream guitar and that is now also possible together with Taylor through our magical store in Dedemsvaart. Feel free to contact us or come by. The coffee and the Taylor guitars are ready!